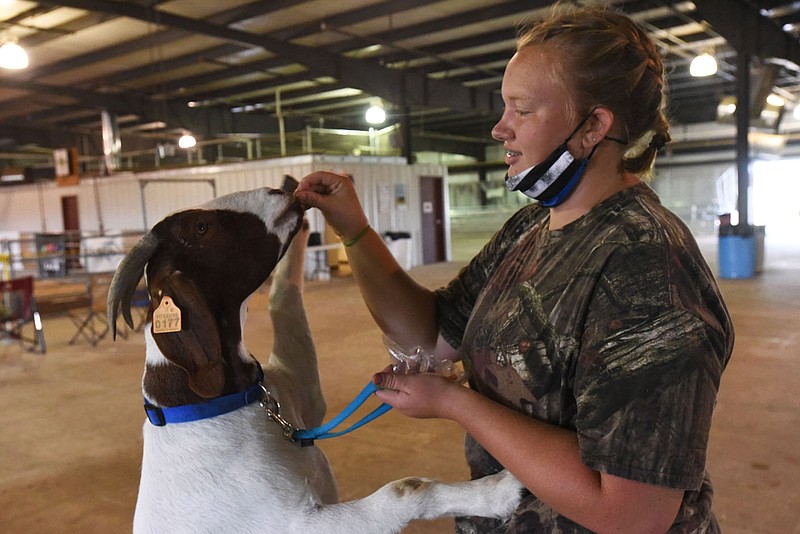 COUNTY FAIR TREATS Kimberly Caswell of Gentry gives on of her goats a treat on Tuesday Aug. 4 2020 at the Benton County Fair. Dairy cattle judging takes place today. The fair runs through Friday, but only entrants and their families are allowed at the fair this year, said Susan Koehler, fair manager. Go to nwaonline.com/200805Daily/ to see more photos. (NWA Democrat-Gazette/Flip Putthoff)
BENTONVILLE— The kids keep enjoying what they love about the Benton County Fair even without the spinning carnival rides and golden funnel cakes.
Families from across the county are heading to the fairgrounds and setting up for shows daily. The 116th Benton County Fair opened Tuesday and is running a limited schedule. Attendance is only for exhibitors and immediate family because of covid-19. Animals are taken home daily.
Eleven-year-old Aubrey Dickinson is a fourth-generation livestock handler showing her two goats, Opal and Simone. Showing her goats is a way to show off months of training animals, cleaning pens and even moisturizing pigs, she said.
Getting ready for the fair starts as early as March or April, Aubrey said.
Todd and Savannah Dickinson, Aubrey's parents, have both been showing animals since they were children. Both have degrees in agriculture and knew they wanted their kids to be a part of it. Aubrey's little brother, Dax, plans to show his goat, Snickers.
"It's definitely lots of hard work," Savannah Dickinson said. "There are mornings, afternoons, weekends that they don't want to do it, but, all in all, they love it."
Misty Martin and her children know hard work. Waking up at 2 a.m. to feed baby goats, milking goats before school and working sheep are all normal occurrences for the family. Martin's children have been involved with livestock since they were toddlers.
"We get out there and do it together," she said.
Learning the animal's personality is one of the parts that balances the work, said Hayden Harris, Martin's son. The animals become a part of the family from the feisty ones to those who follow people around like puppies, he said.
Hayden said he had a goat who enjoyed eating an occasional funnel cake washed down with a Dr. Pepper when he showed at the fair.
The youngsters get the chance to share the animals' traits with competitors as well as people who aren't usually around livestock.
The chance for her kids and so many others to be able to show their animals and all the work they have done is important, Savannah Dickinson said. The fair is the only place some people show their animals, she said.
The fair is only open to registered exhibitors and limited immediate family this year. All livestock is checked in and released daily. People may not like the limited attendance at the fair this year, but it's necessary for the event to be able to happen, Savannah Dickinson said.
"It's really sad to see the fair be like this, one day in, same day out," Hayden said. "But at the same time, I'm just happy that we are able to show."
Megan Pigeon has been competing at the fair for years. She has been showing flowers at the fair for eight or nine years, she said. She enters flowers and sometimes plants from her mother's greenhouse business, where she also works.
"Even though it is a little different because of the coronavirus, it's still really fun to enter stuff in the fair," Pigeon said. "I've always done it, ever since I was a little kid. Even if it was crafts or sewing stuff or vegetables."
The biggest goal for the fair board was making sure the youth in Benton County would be able to show the projects they have spent a year or even longer working on, said Ashley Hays, Fair Board president.
"You've got families that have been a part of this county for generations, and it's an ongoing cycle where their kids and their grandkids continue to participate in the fair," Hays said.
Abbi Ross can be reached by email at [email protected] or on Twitter @AbbiRoss10.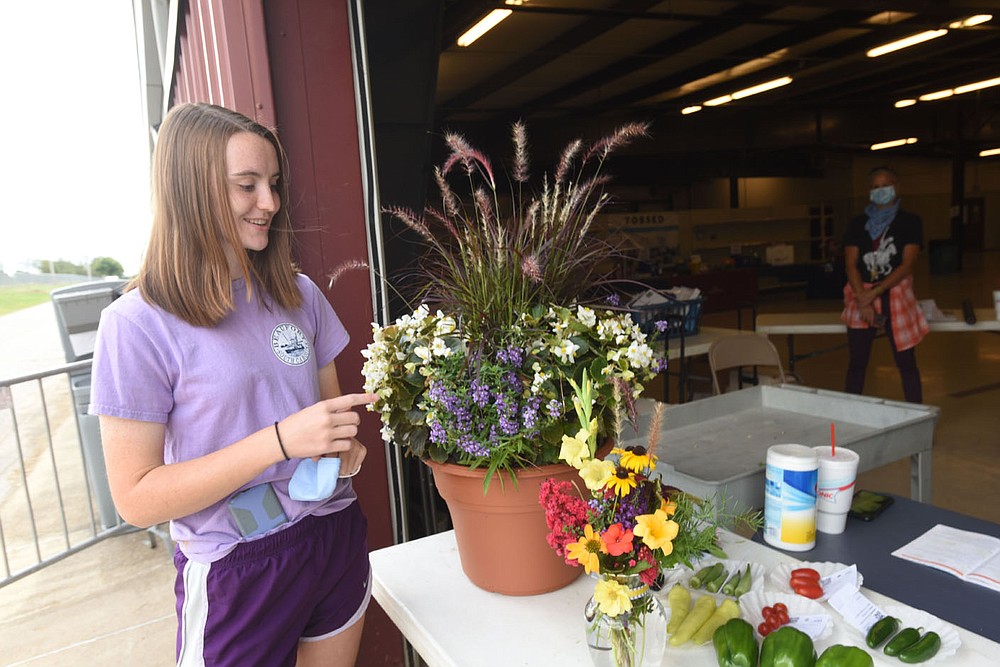 FLOWERS AT THE FAIR Megan Pigeon of Siloam Springs enters on Tuesday Aug. 4 2020 her home-grown flowers and vegetables for judging at the Benton County Fair. Pigeon is a member of Bloomfield 4H and has entered items at the fair for about 9 years. Dairy cattle judging takes place today. The fair runs through Friday, but only entrants and their families are allowed at the fair this year, said Susan Koehler, fair manager. Go to nwaonline.com/200805Daily/ to see more photos. (NWA Democrat-Gazette/Flip Putthoff)
Sponsor Content
Comments