Sara Manning and William Drew were married in May 2005. They met when William flagged down Sara's car for an interview with Red Bull Energy Drink. "Every cute girl we saw driving down the highway, we were like, 'Wife, come back!'" William says. "Sara came back. I won the lottery on that one."
William Drew flagged down Sara Manning in 2004, directing her to a job interview that ultimately led to a marriage proposal.
Sara grew up in North Little Rock but had visited a friend in Los Angeles who worked for Red Bull Energy Drink.
The first time I saw my future spouse:
He says: "I was waving at her as she drove down the highway."
She says: "He was acting like a complete goofball, jumping up and down in front of my car."
On our wedding day:
He says: "I was emotional because of the process of taking the vows and betrothing myself to another person and Sara laughed at me."
She says: "I laughed at Will because I thought he was laughing — I thought we were trying to break the tension — but he was actually crying and he thought I was making fun of him."
My advice for a long happy marriage is:
He says: "Have a professional therapist in your life. Healthy people see doctors."
She says: "Definitely. It's a pre-emptive strike and I think they give us tools that have been extremely helpful to deal with situations. I always want to ask someone who knows more than me."
"I was just finishing up my undergrad and coming home for the summer before my first real job," Sara says.
Her friend put a call in to the Arkansas Red Bull representative, paving the way for her to get a job interview -- basically an audition -- for a position with Red Bull's Mobile Energy Team.
"The job was basically driving the truck around, handing out free Red Bull, so you had to have a lot of energy," Sara says. "It was really a lot of fun and a pretty good gig for $10 an hour in 2004."
The interview was in a warehouse in Maumelle, which Sara drove right past the first time. Their supervisors knew the place was hard to find and asked William and another guy to stand outside watching for her.
"Every cute girl we saw driving down the highway, we were like, 'Wife, come back!'" William says. "Sara came back. I won the lottery on that one."
Sara couldn't understand what they were saying from inside her car.
"He was just acting like a complete goofball, jumping up and down and trying to wave my car down," Sara says. "I just heard them yelling and being crazy."
After she was hired, she and William were sent out together in the Red Bull truck, crossing college campuses, setting up at sports events and visiting retail businesses to pass out samples of Red Bull for the company. At one point they went to Bentonville to represent Red Bull. Several of their colleagues drove their own vehicles; William rode with Sara.
"On the way up there we were kind of sizing each other up," William says.
He asked her three questions during their trip: mayonnaise or Miracle Whip, whole milk or skim and butter or margarine.
"I think I failed all of them," Sara says.
One night back home, they saw Shrek 2 and went bowling.
"That was our first date that wasn't labeled a date," William says. "It wasn't like 'Hey, let's go on a date?' It was like 'Hey, you want to hang out after work?'"
Red Bull later sent them to a baseball game, and afterward, they wandered into a piano bar in Little Rock's River Market District.
"That's when I knew I was in trouble," William says. "We wanted the piano person to play a song, but none of us wanted to tip him. Before we knew it, Sara was sitting next to him on the bar, like, 'Hey, play the song.' And he played it. I was like, 'I have no control over this moment.' I knew from the beginning what I was getting myself into."
Sara says William pursued her.
"He was a little dogmatic in that," she says. "He pretended he was interested in books because he knew I was an avid reader. It was hilarious."
William bought a copy of Dracula during a trip to Barnes & Noble Booksellers to impress her, although she didn't believe he would ever read it.
They dated less than six months before William proposed.
Sara had spent most of the day painting cabinets in the kitchen of the house she had just bought. She and William had discussed marriage, and William wanted her to go with him to ask her father for his blessing so he would be prepared to propose when he was ready.
"I ducked down in the seat while he went inside," she laughs.
William suggested they get something to eat afterward, and as they drove, he asked her to hand him some matches from the glove compartment of his beloved navy blue Volkswagen Jetta with a New York Yankees sticker on the back. She had no idea why he asked her to hand him matches -- he doesn't smoke and wasn't looking to start a fire.
"He told me not that box; below the other box, and it was clearly a ring box," Sara says.
She rolled her eyes at his methodology, but she said yes.
"She couldn't resist me," he says. "So there's that."
They were married on May 14, 2005, at Marlsgate Plantation in Scott.
Sara and William both got food poisoning during their honeymoon in Tulum in Mexico's Riviera Maya, but fortunately neither has been that sick since.
The Drews live in North Little Rock with their son, Liam, 8. Sara is the fund development director for the Arkansas Imagination Library, and William teaches chemistry at Little Rock Central High School.
"We are polar opposites in almost everything," William says. "But I think there are things that I would never experience if Sara didn't push me to do them, and I think I do a good job of supporting Sara when she's afraid to do something that's going to be a drastic change."
Sara agrees.
"Absolutely," she says. "He's a rock. I feel like our marriage has been really fun."
If you have an interesting how-we-met story or if you know someone who does, please call (501) 425-7228 or email: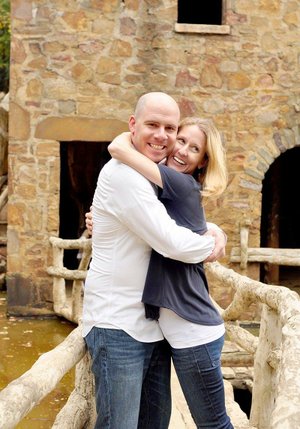 Photo by Special to the Democrat-Gazette/Amanda Brooks Photography
William and Sara Drew celebrated their 15th anniversary this year. "I feel like our marriage has been really fun," Sara says. "We've had some serious ups and downs and we've made it, together."
High Profile on 09/29/2019
Print Headline: Summer job builds romantic energy for couple
Sponsor Content
Comments