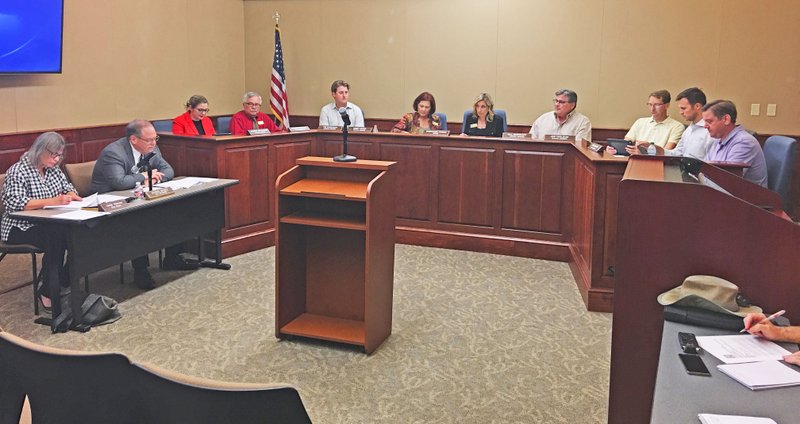 NWA Democrat-Gazette/MIKE JONES Bentonville's City Council meets Tuesday night. The Slaughter Pen Mountain Bike Park will get improved vehicle access after the council approved spending the money.
BENTONVILLE -- The Slaughter Pen Mountain Bike Park will get improved vehicle access after the City Council approved spending the money Tuesday night.
A low-water crossing has washed out, impacting vehicle access area, said David Wright, Parks and Recreation director. There must be access to the bike park for emergency and city maintenance vehicles, Wright said.
The council unanimously voted to spend $39,500 with Ecological Design Group to redesign the damaged area. The plan is to put in box culverts and do some nearby stream remediation to keep the area from washing out, Wright said.
The single-track trail is on the mountainside just north of Northwest A Street and east of North Walton Boulevard. It is designed specifically for mountain bicyclists, according to the city's website.
The council also unanimously approved annexing a little over 7 acres into the city. The land includes a portion of the Slaughter Pen bike park in the county, Wright said. The annexation was a cleanup action to bring all the bike park trail into the city, Wright said.
The 7.23-acres is on Northeast A Street just north of its intersection with Tiger Boulevard. The land will be in Ward 2, according to city documents.
The council, among other items, also unanimously:
• Recommended creating the Bentonville Utility Board. The board will be comprised of five members, said Travis Matlock, electric utilities director. The city will advertise for applicants for six weeks beginning Monday. Interviews will be held after that, Matlock said. The board will act much like a Planning Commission would, Matlock said. The board will concentrate on water, sewer, wastewater and electric issues, he said.
• Recognized Tom Boyle's retirement after more than 19 years with the Police Department. Chief Jon Simpson and several other officers were in attendance. Boyle was presented with a framed proclamation, and he was given the flag that flew at the department Aug. 9, the day he retired.
• Approved Mayor Stephanie Orman's appointments of Dennis Cherry to the Airport Advisory Board and Jeff McClelland to the Northwest Arkansas Conservation Authority Board. Cherry's term will expire Sept. 27, 2022. McClelland will fill Mike Bender's unexpired term,which will end Dec, 31, 2022.
• Approved a bid awarding Lights by Sparky for $42,728 for downtown square light installation.
The council sped through the agenda in about 25 minutes.
NW News on 09/25/2019
Print Headline: Slaughter Pen access area to see improvements
Sponsor Content
Comments