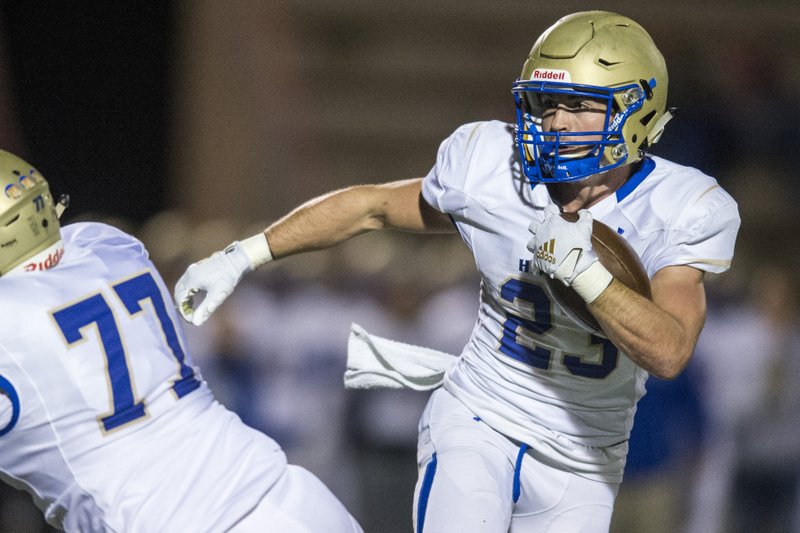 Harrisons Gabe Huskey (23) looks for an open route during the game against the Vilonia Eagles at Vilonia Eagle Stadium on Friday October 11th 2019. - Photo by Jeff Gammons
A game involving a 7-0 team against a 2-5 team doesn't appear too interesting until you take a closer look.
It's Harrison vs. Alma, one of the best high school football rivalries in Arkansas.
I've covered many state championship games and Harrison's 10-7 victory over Alma on a gorgeous fall day in 1999 remains one of my favorites. That's when Tommy Edwards kicked a 26-yard field goal as time expired after catching a 20-yard pass on third-and-long to set up the play.
Harrison knew it would be in for a fight after edging Alma 9-7 in a conference game weeks earlier before the rematch at War Memorial Stadium in Little Rock. Harrison fans have visions of another trip to Little Rock, but the players and coaches on the Goblins' sideline tonight know they can't overlook the Airedales despite their poor record.
Alma will even carry some momentum into tonight's road game following consecutive wins over Morrilton and Clarksville. The win over Morrilton came as a surprise, especially to Morrilton fans.
That's when Olaf Olsson, a foreign exchange student, kicked a 38-yard field goal with 18 seconds left to clinch a 29-28 victory for Alma over the Red Devils. That's the same Morrilton team that gave Harrison fits before falling 39-34 in the 5A-West Conference opener.
Harrison is undefeated but a 17-15 win over Vilonia three weeks ago is a reminder the Goblins can't overlook any team, especially Alma.
Harrison celebrated 90 years of football last week with a 24-7 victory over Greenbrier. On paper, Harrison is a better team than Alma, but the Airedales will certainly make them prove it.
RICK'S PICK Harrison
Other games involving teams from Northwest Arkansas (selections are capitalized).
CLASS 7A
Rogers Heritage at BENTONVILLE WEST
BENTONVILLE at Rogers
FAYETTEVILLE at Springdale
SPRINGDALE HAR-BER at Van Buren
LITTLE ROCK CATHOLIC at Fort Smith Southside
Fort Smith Northside at NORTH LITTLE ROCK
CLASS 6A
GREENWOOD at Benton
Siloam Springs at EL DORADO
CLASS 5A
Huntsville at FARMINGTON
Clarksville at GREENBRIER
Morrilton at VILONIA
CLASS 4A
PEA RIDGE at Berryville
GRAVETTE at Green Forest
GENTRY at Prairie Grove
Lincoln at SHILOH CHRISTIAN
OZARK at Dover
Elkins at POTTSVILLE
DARDANELLE at Subiaco Academy
MENA at Waldron
CLASS 3A
Greenland at CERARVILLE
BOONEVILLE at Charleston
Mansfield at LAMAR
West Fork at PARIS
CLASS 2A
MAGAZINE at JC Westside
HECTOR at Lavaca
HACKETT at Mountainburg
LAST WEEK 21-6 (77 percent)
OVERALL 151-39 (79 percent)
Preps Sports on 10/25/2019
Print Headline: Undefeated Harrison can't overlook 2-5 Airedales
Sponsor Content
Comments