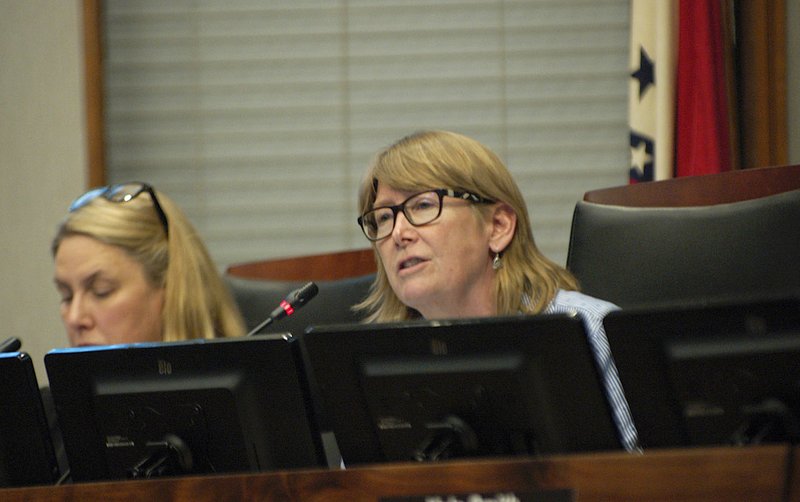 NWA Democrat-Gazette/STACY RYBURN Teresa Turk (right), Fayetteville City Council member, speaks Tuesda during a council meeting at City Hall. The council considered a proposal to bar the city from buying products made of expanded polystyrene foam but left the item on its second reading.
FAYETTEVILLE -- City Council members expressed support for a proposal to bar using city money to buy expanded polystyrene foam products, but stopped short of passing it, discussing ways to broaden the measure's regulatory power.
The council took up the proposal for the first time Tuesday. It would prevent the city from buying single-use products made with expanded polystyrene foam, commonly referred to as Styrofoam. The move also would prohibit vendors, concessionaires or food trucks operating on city property, such as parks or off-street parking lots, from using containers made with the material.
Council member Teresa Turk sponsored the ordinance, which will take effect Nov. 1 if passed. Turk asked her fellow council members to hold the item until the May 21 council meeting so residents could have more time to read through it and suggest any changes.
Turk said the city should lead by example.
"Anything that we can do to encourage reducing our waste, I think, is a good thing," she said.
Council member Sarah Marsh asked for an amendment, which the council approved, to exclude construction material from the ordinance.
Five members of the public spoke in favor of the ordinance, saying it's a good start. Some said the city should do more.
Resident Nathan Hudson said it's easy to forget how much trash people create after it's thrown away.
"We really don't see the real effects of plastic, Styrofoam, things that don't break down," he said. "Third-world countries don't have the ability to get rid of it like we do."
Council members who spoke all supported the proposal and began discussing ways it could be expanded. Matthew Petty said environmental emergencies demand emergency action.
"I'm eager to vote for it," he said. "But I also think the time might be right to go all the way."
City Attorney Kit Williams said he hasn't had time to research an ordinance covering a ban on private business' use of expanded polystyrene foam. The ordinance the council considered Tuesday has a narrower scope and invokes the city's right as a property owner to dictate what goes on at its own property, he said.
"I want to make sure that when I go to the next step on this to a regulatory procedure that we're doing it as carefully and effectively as possible," Williams said. "I just want to be careful we don't trip going out of the starting gate."
In other business, the council voted 8-0 to accept a contract with Revival Architecture to restore the Woolsey farmstead on Broyles Avenue near Farmington. The contract covers services over two years totaling more than $84,000 worth of work.
The work in the contract includes bidding and construction oversight for a permanent stabilization for the house and construction drawings of interior finishes, along with on-site consulting. Work that will begin next year covers other features of the farmstead, such as outbuilding restoration and reconstruction and landscape restoration.
The effort to restore one of the city's original homesteads began in 2014. The city's capital improvements plan through 2022 has $744,000 budgeted overall for the project.
The last few years have been spent cleaning the area and keeping the nearly 180-year-old home from collapsing on itself. Its former inhabitants, Samuel and Matilda Woolsey and their 13 children, were some of the earliest settlers of European descent in Washington County.
Marsh said the city owes it to future generations to preserve such a piece of history.
"I recognize we have a lot of demands on our budget," she said. "I think we're taking a very responsible, slow pace on this and we're just doing what we can as we can."
Other items
Fayetteville's City Council met Tuesday and approved:
• Rezoning a lot at 1924 S. Ashwood Ave., west of Razorback Road in the Fayette Junction neighborhood, from a residential single-family district allowing up to four units per acre to one allowing up to eight units per acre.
• Buying a car wash system for $532,583 to serve the city's fleet. The new system will go in the city's shop building on South Happy Hollow Road.
• Spending nearly $19.6 million to build the foundation for the library expansion, which includes mechanical, electrical, plumbing, framing and other basics. The money comes from the bond issue city voters passed in 2016.
Source: Staff report
NW News on 05/08/2019
Print Headline: City mulls polystyrene foam measure
Sponsor Content
Comments