No one knows how many mountain bikers crash each year in Northwest Arkansas, but everyone expects the number to increase as the area adds people and trail miles.
The vast majority of injuries are minor, typically scrapes and cuts that can be treated in the field, said Kelly Williams, director of Oz Mountain Bike Patrol. A small number require stitches, he said. The patrol is a Bentonville-based group of volunteers who attend mountain biking events to assist participants with minor injuries.
"There's a saying with road bikers: It's not if you're going to go down, it's when you go down," he said. "With mountain bikers, it's not when you're going to go down, it's how many times you're going to go down."
Mountain bike riders can take a few precautions to improve the chances their injuries will be minor when they go down, experts said.
An average of two miles of bike trails are built each week in Arkansas, with about three-quarters of that in the greater Northwest Arkansas area -- Benton, Washington, Carroll and Newton counties and in the Buffalo River region, according to Erin Rushing, executive director of NWA Trailblazers, a nonprofit trail development organization.
The Bentonville Fire Department has seen a small increase in bike-related incidents on soft surface trails over the past three years from 11 in 2016 to 16 in 2018, according to Matt Perkins, a captain at the department.
First responders have attended to dislocated joints, broken bones -- broken collarbones are an especially common mountain biking injury -- and some spinal injuries on the Bentonville trails, Perkins said.
He reiterated many injuries are not serious and go unreported.
Officials estimate there's around 325 miles of soft-surface trails in the region, most of which are in Benton and Washington counties, but the figure includes Carroll and Newton counties.
BY THE NUMBERS
Northwest Medical Center in Bentonville saw 46 cyclists either admitted to the hospital or transferred because of injuries last year, according to numbers provided by Brendi Gale, trauma program coordinator.
The hospital's trauma team worked on cycling-related injuries 30 times in 2018. That number is inclusive of all biking injuries, including those sustained on soft-surface and paved trails and the road.
Criteria that could trigger a trauma team response include an altered sense of consciousness, two or more long-bone fractures, respiratory distress and ejection from a bike, Gale said.
Spine and neck fractures, broken ribs and clavicle injuries are common biking injuries the hospital sees, she said.
Washington Regional Medical Center treated 20 people injured in bicycle wrecks in 2018 and six so far this year as of May 1, a spokeswoman said.
The numbers include all types of bikes and only represent accidents that required patient to be admitted to the hospital or required immediate surgery, she said.
Sauls had her share of spills prior to her serious crash last year, causing sore shoulders, dirt rash and even a broken wrist.
Death from mountain biking injuries are rare, but it does happen. At least one person died from injuries suffered on a Northwest Arkansas trail.
Nicolas Shoults, 62, suffered a fatal head injury when his bike went off the trail, according to a Dec. 13, 2017, article in the News-Leader in Springfield, Mo. He was wearing his helmet.
Shoults was taken to an Arkansas hospital before being taken by helicopter to Mercy Hospital Springfield where he died, according to the article.
The article doesn't mention which trail he was riding on, but his widow, Velvet Shoults, said it was at Slaughter Pen Mountain Bike Park in Bentonville.
Velvet Shoults is the trauma program manager for Northwest Health Systems. She and her colleagues, as well as first responding agencies, bike organizations, advocates and trail builders, are implementing efforts to protect those who use the growing Northwest Arkansas trail system.
BIKE PATROL
The Oz Mountain Bike Patrol assists riders with less-severe injuries -- those that can be treated with first aid attention.
The patrol was established in Benton Country just prior to the International Mountain Bicycling Association holding its World Summit in Bentonville in fall 2016. The patrol has 30 members, according to Williams.
The patrol's stop-sign red biking jerseys make them easy to identify at any of the 25 biking events they have on their calendar this year.
Patrol recruits spend their first year as an ambassador, signified by a turquoise colored jersey. They receive training in first aid, CPR, trail-side bike repair and the protocols of the patrol, Williams said.
Recreational riders can't call the patrol for help, but some members carry a first aid pack when riding for fun, Williams said. He said he has directed four people to the hospital for stitches while biking on a trail.
Washington County doesn't have an organized bike patrol. Brannon Pack, director of the Ozark Off Road Cyclists, a nonprofit mountain biking organization in Washington County, said that's because the closeness of the trails in Bella Vista and Bentonville to city amenities and neighborhoods makes it easier for volunteers to patrol them.
Steven Pereira, a member of Ozark Off Road Cyclists and ambassador with Oz, said he would like to start a Washington County patrol.
"Our trails are always being ridden on, and they need some kind of patrol out here," he said.
INJURY PREVENTION
There are precautions bikers can take to prevent or mitigate injuries.
The most basic one is to wear appropriate safety equipment, especially a helmet, officials said. Other mountain biking equipment includes gloves, which prevent sweat from interfering with the rider's grip on their handlebars, and knee pads to shield a rider's legs from scrapes when he falls.
Bikers should ride within their skill level, not ride alone or not ride aggressively if they are alone, officials said.
The region also needs to continue to add trails that give users a chance to develop riding skills, Pack said.
Amenities like the Runway Bike Park in Springdale or the skills park at Gregory Park in Fayetteville provide riders of any age the chance to practice on obstacles in a more controlled setting, officials said.
"As long as we continue to focus on progressive opportunities for the community, then we'll continue to insulate ourselves from some of those injuries because we're giving [riders] a recipe for success," Pack said.
Northwest Health Center in Bentonville is also spearheading efforts to establish the first Think First chapter in Arkansas.
Think First National Injury Prevention Foundation is a nonprofit whose mission is to prevent brain, spinal cord and other traumatic injuries through education, research and advocacy.
The real success of a trauma program is to use gathered data to help prevent injuries, Shoults said.
"Injury prevention is a staple in trauma care," she said. "What we're saying is, 'Look at what's coming in through your door and figure out how to keep it from happening.'"
Sauls is back on the seat of her mountain bike. Despite potential dangers, she encourages others to get involved in the sport.
"The more you get out there riding, the more confident you're going to be, and you will wreck," she said. "That's just part of it. Just like in any sport, you can get hurt, but, in the end, it's definitely worth the time and the effort because it's just an amazing sport to get into."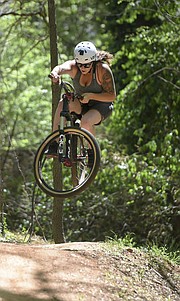 NW News on 05/05/2019