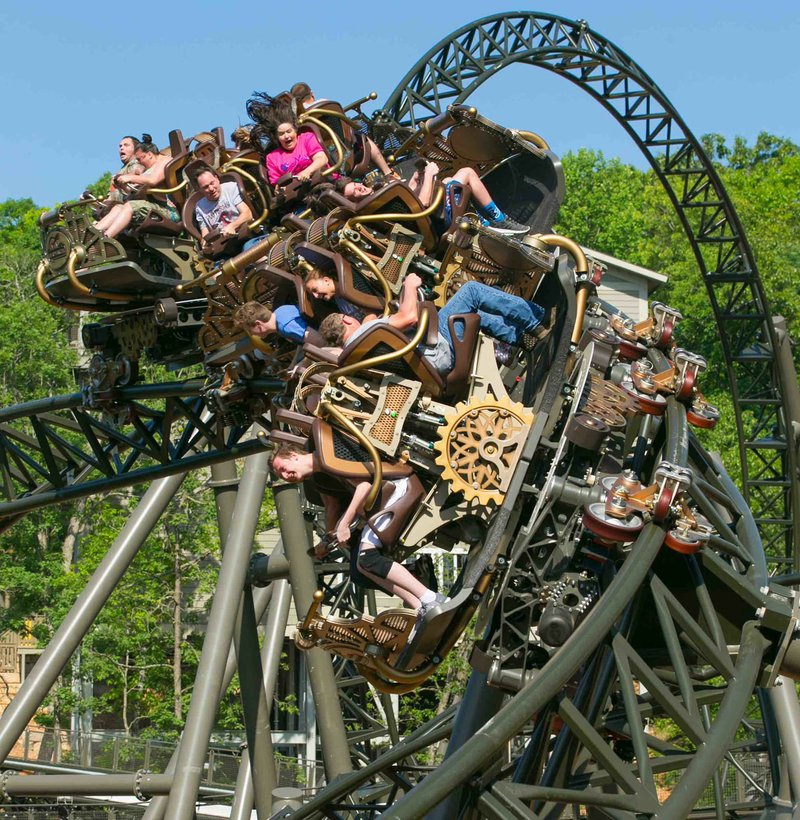 Photo courtesy Silver Dollar City Roller coaster fans came from all over the world in 2018 to ride Time Traveler, the world's fastest, steepest and tallest spinning coaster. The $26 million investment in Time Traveler, along with its other award-winning attractions, shows and food, proved to be a winning formula for the 1880s-style theme park, which counted nearly 2.2 million guests in 2018, the highest numbers in the park's 59-year history.
Sometimes it's not the newest or the faster roller coaster that is your favorite -- even if you're attractions manager at Silver Dollar City. For Nick Breithaupt, the answer depends on who he's riding with.
"Thunderation is my favorite right now, because it's the one my son wants to ride," says Breithaupt, adding that his son is 8. But if he's on his own, just popping out into the theme park to survey his domain, the boss' choice is PowderKeg. "That launch at the beginning takes my breath away every time!"
FAQ
Silver Dollar City:
Spring Break
WHEN — 9:30 a.m.-6 p.m. March 13-17, 20-24 & 26-31
WHERE — Branson, Mo.
COST — $58-$68
INFO — silverdollarcity.com
Thunderation, explains the Silver Dollar City website, is an 81-foot tall, high-speed coaster with a scenic view of the Ozarks. The train begins its journey propelled by gravity until cars reach the coaster's only lift. The lift carries passengers 121 feet into the air before dropping them 81 feet at speeds up to 48 mph. The runaway mine train takes a spiraling drop and races through an underground tunnel before returning to the loading station.
While Thunderation is a pretty traditional roller coaster, Breithaupt says, PowderKeg is not. Called a "launch coaster," it goes from 0 to 53 mph in 2.8 seconds thanks to a compressed air launch -- and then adds spiraling turns and "floater" hills at speeds up to 64 mph. After the initial blast of speed and a 110-foot drop, riders soar through the trees over six acres on 3,500 feet of track for what promises to be a "truly wild ride experience."
"The great thing is, Silver Dollar City has seven roller coasters," Breithaupt says, "so if you love roller coasters, but you don't want to go upside down, we've got you covered. And if you love adrenaline, we can provide that too."
Time Traveler, which opened last spring, was the first of its kind, drawing coaster fans from around the world for its 50 mph speeds, a 10-story drop, a 95-foot vertical loop, a dive loop and a zero G roll, all totaling almost 2 minutes of screaming, laughing, heart-pumping excitement. Created by Mack Rides of Germany, it is unique because its cars spin while the rest of the ride happens. It's a controlled spin, promises Breithaupt, but it makes every single ride different.
Debuted in 2013 -- and just as unique in its own way -- is Outlaw Run, a wooden coaster that was created to do things wooden roller coasters don't do -- offer a double barrel roll, drop 16 stories at 81 degrees, twist upside down three times and travel 68 mph.
That's four. The final three coasters are the original, Fire-In-The-Hole; the smallest, the Grand Exposition Coaster; and the one with the best view, Breithaupt says: WildFire.
Fire-In-The-Hole, says Breithaupt, is a great coaster for beginners. It has high-speed drops and surprises -- plus a storyline about the Baldknobbers -- but no inversions. The Grand Exposition Coaster is great for even younger kids with dips and turns compressed into a 262-foot track that rises just over 10 feet into the air at speeds up to 20mph. And WildFire is a high-flying, multi-looping, cobra-rolling coaster that Breithaupt promises will leave riders breathless. Traveling at speeds up to 66 miles per hour, WildFire features five inversions -- a half-loop/half-roll (an Immelmann loop, in coaster terms) inversion, vertical loop, cobra roll (counts as two inversions) and a corkscrew.
Oddly enough, Breithaupt didn't grow up loving coasters for the sake of coasters.
"I was there for the company," he says. And that's what he loves about Silver Dollar City. "It's all over the place," he says about who rides. "It's not just kids, not just dads; you see a lot of moms, a lot of families -- and everybody is having a great time!"
NAN What's Up on 03/10/2019
Print Headline: Ride Like The Wind
Sponsor Content
Comments