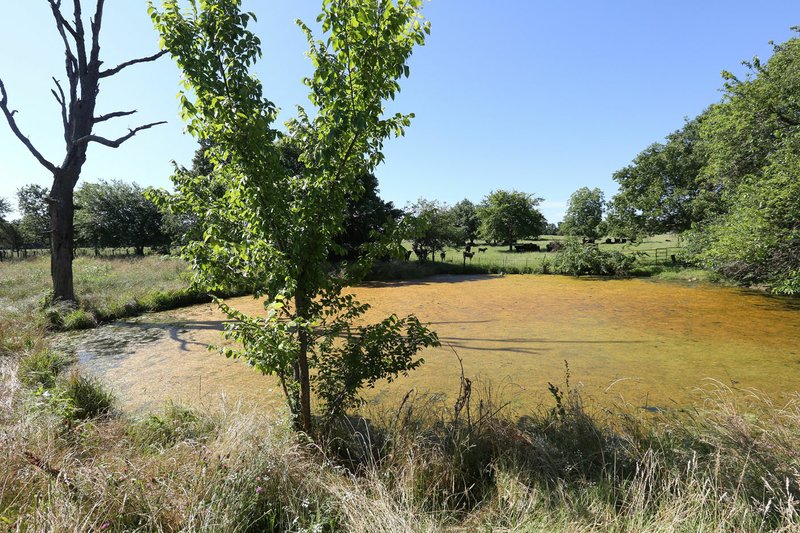 File Photo/NWA Democrat-Gazette/DAVID GOTTSCHALK A discolored pond is visible on Lawrence Bowen's property on June 13. His property that backs up to the Bethel Heights Lincoln Street Waste Water Treatment Plant system. The plant system is allegedly dumping untreated water on the private property.
Bethel Heights released a statement on its website today denying any allegations of operating its wastewater treatment plant outside of its permit.
The Arkansas Department of Environmental Quality sent the city a letter Wednesday, giving the city until the close of business Friday to come up with an interim plan to get its sewage problems under control.
The city statement makes no comment on the letter.
Bethel Heights' wastewater treatment plant has operated for at least five years out of compliance with its permit, department records show. On May 6, the agency gave Bethel Heights officials until Aug. 9 to develop a plan to fix the system after a February inspection found it again out of compliance.
Document
Bethel Heights Sewage Letter
View
Document
Bethel Heights Sewage Response
View
The city's statement notes the city plans to submit a report by Aug. 9.
The state environmental quality department collected samples around the city's wastewater treatment plant July 16 that showed fecal chloroform levels higher than the laboratory tests typically used to monitor wastewater could measure, according to the latest test results provided to the department. But the statement acknowledges an Aug. 9 deadline imposed by the department in May to develop plans for a permanent fix.
Today's statement from the city says city officials believe wastewater runoff on neighbors' property was caused by rain. It also blames the high fecal levels on the livestock operation for which the family have used the land.
NW News on 07/30/2019
Print Headline: Bethel Heights issues statement about waste water treatment
Sponsor Content
Comments