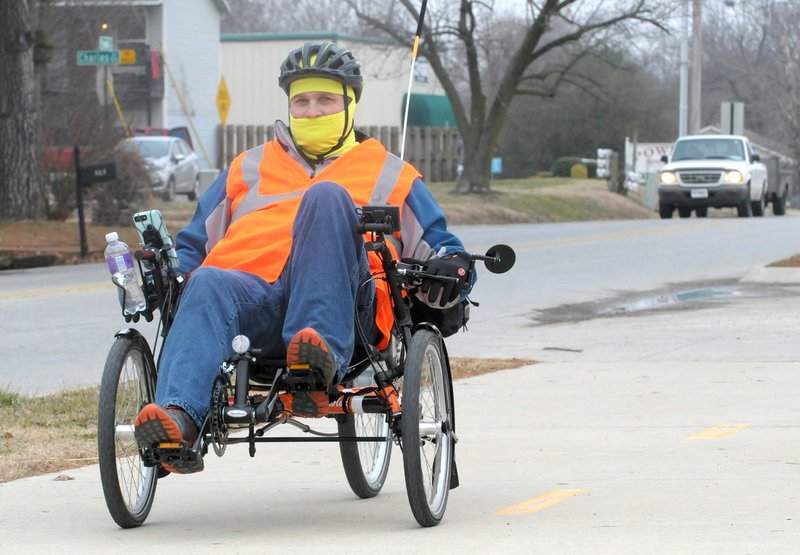 NWA Democrat-Gazette/DAVID GOTTSCHALK Jason McCrory rides Tuesday on the Powell Street Section of the Razorback Greenway in Springdale. McCrory started in Centerton and was heading to Fayetteville for lunch and then returning to Centerton on the recumbent tricycle. Representatives of Toole Design gave a presentation of their draft report for a transportation system that includes pedestrians, cyclists and motorists.
SPRINGDALE -- Planning Commission members got their first look Tuesday at the possibilities for "safe streets" in the city -- streets safe for pedestrians, cyclists and motorists.
Representatives of Toole Design gave a presentation of their draft report for a transportation system that includes all three.
Carol Kachadoorian, a senior planner with Toole, began with an explanation of the four types of bicyclists typically found in communities. They range from those who are not able or not interested in cycling to those who feel highly confident while riding their bicycles through the town, she said.
"If nothing else, you design for those who are 'interested, but concerned,' about bicycle safety -- the largest group at about 51 to 56 percent of the riders," Kachadoorian said. "Those who are somewhat confident or confident are going to ride anyway.
"We design for all ages and abilities to get the most number of people interested in biking."
Kachadoorian went on to describe eight different bicycle "facilities" a city could create. Those included low-traffic neighborhood streets, dedicated bike lanes, protected bike lanes, two-way protected bike lanes and shared trail paths for biking and walking.
"When we were here in December, you talked about a desire for infrastructure for traffic monitoring," she said. She then linked each bicycle facility to traffic flow and speed.
For example, a neighborhood greenway, typically in a subdivision, is a low-stress bike ride, she said, with only about 2,000 cars a day traveling speeds no higher than 15 mph. A road with a bike lane would carry about 4,500 vehicles a day at 20 mph. But a road with a protected bike lane would carry more vehicles at higher speeds and have flat or painted boundaries, she said.
"The city's vision is we want to be a bike- and pedestrian-friendly community; a healthy community; a live, work, play community," said Patsy Christie, the director of the city's Planning Department.
BikeNWA, a nonprofit regional bicycle advocacy organization, with a Walton Family Foundation grant, arranged for Toole to consider bike ways for Northwest Arkansas. The design representatives have reviewed the city's master street plan and transportation plans. Their work has included construction materials and procedures, requirements for utility easements and intersection planning.
Commissioners shared concerns about community education, implementation, cost and public acceptance.
"Whatever we deliver will suit your community. It will not be 'cookie cutter'," Kachadoorian said. "We will deliver resources that will help you continue to put it on the road map. Your decisions will be based on the city streets, public dollars. You can implement it as development occurs with retrofitting and capital improvement projects."
"It's putting tools in our toolbox, so we can move forward with implementation," Christie said.
BikeNWA worked with the city's public works department in November to install a protected bike lane along Holcomb Street and Maple Avenue, a pilot project to link Springdale's revitalizing downtown area with the hospital and public library. Similar projects are found in Fayetteville and Siloam Springs.
Springdale City Council member Mike Overton said he hears daily questions and complaints about the pilot. In fact, he reported hearing no positive comments. "They have difficulty trying to make turns and meeting school buses," he said.
Springdale Fire Chief Mike Irwin admitted the department has experienced some issues as its emergency vehicles approach traffic. "The cars have no place to go, and we don't have anywhere to go either."
Commission member Payton Parker said he expects more positive comments when the season changes, weather warms up and people start using the bike lane. The pilot will remain in place for a year.
"People in Springdale are very passionate about their vehicles," responded Kevin Parsley, chairman of the Planning Commission.
"You still have to get people through the city every day," Kachadoorian said. "But there's got to be a way to compromise. You can put a major emphasis on how it will affect motorists as well as bicyclists. We want the streets to be safe for everyone."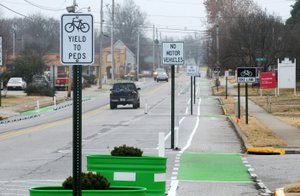 NWA Democrat-Gazette/DAVID GOTTSCHALK A section of the protected bike lanes on Holcomb Street are visible Tuesday in Springdale.
NW News on 01/16/2019
Print Headline: Plan for 'safe streets' presented
Sponsor Content
Comments