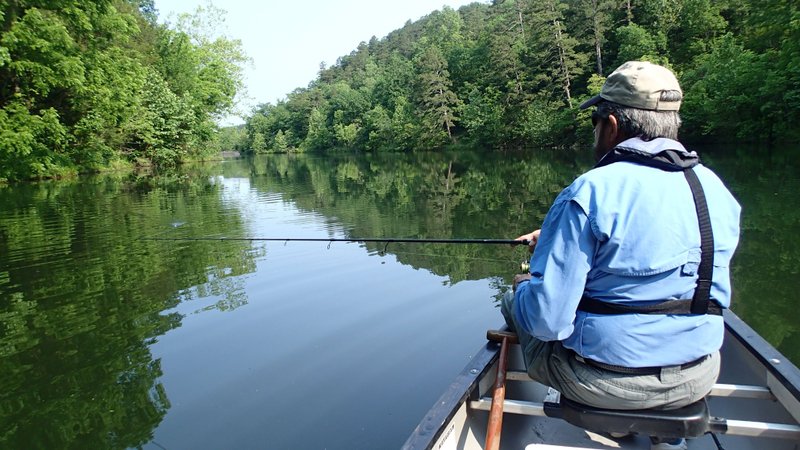 NWA Democrat-Gazette/FLIP PUTTHOFF Russ Tonkinson fishes for largemouth bass in this file photo.
Beaver Lake
The lake level is falling slowly and the black bass are biting.
James Whittle at Hook, Line and Sinker in Rogers said bass are biting spinner baits, plastic worms, hula grubs and jig and pigs. Try fishing around rocky banks, points and bluff walls.
Crappie are biting minnows or jigs fished near standing timber 10 to 20 feet deep. Striped bass are scattered. Anglers report catching stripers in the Hickory Creek area, the islands north of the Arkansas 12 bridge and the Rocky Branch area. Use brood minnows or shad.
Average surface water temperature is in the mid-50s.
Beaver tailwater
Lisa Mullins at the Beaver Dam Store said the best bait for trout fishing is Power Bait in bright colors combined with a waxworm. Nightcrawlers may also work.
The top lures are small spoons, small jigs and countdown Rapalas. Gold and red or silver and gold are good spoon colors. For fly fishing in low water, try size 16 midges. Good colors are blue, black and copper.
Lake Fayetteville
David Powell at the lake office said crappie are biting well close to the intake tower near the south end of the dam. Hair jigs are working well. Fish 8 to 12 feet deep on sunny days and shallower on cloudy days.
Black bass are biting plastic worms, jig and pigs or spinner baits.
Lake Sequoyah
Toby Carroll at the lake office recommends fishing for crappie or catfish by the old bridge. Use minnows or jigs for crappie 5 to 6 feet deep. Use liver on the bottom for catfish.
Bella Vista
Hook, Line and Sinker in Bella Vista recommends fishing for black bass with spinner baits or jig and pigs at any Bella Vista lake.
Swepco Lake
Kenny Stroud in Siloam Springs said black bass fishing is good with plastic worms or Ned rigs. He recommends rigging plastic worms Carolina style.
Siloam Springs Lake
Stroud said anglers report catching black bass with jerk baits, jig and pigs or plastic worms.
Eastern Oklahoma
Stroud recommends fishing at Lake Eucha for crappie with minnows 15 to 20 feet deep by the bridge. Use jerk baits or jig and pigs for black bass.
Table Rock Lake
Focused Fishing Guide Service said black bass fishing is tough on clear, calm days but better on cloudy, breezy days.
Try a small football jig combined with a finesse craw along points and rocky banks. Jigging spoons and ice fishing jigs may also work along gravel points and flats 25 to 55 feet deep. Try a spinner bait near wood cover.
Sports on 12/03/2019
Print Headline: NWA fishing report
Sponsor Content
Comments