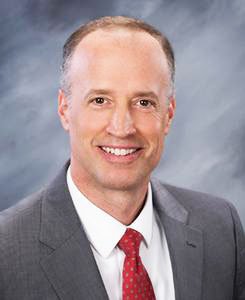 Aaron Burkes
HIGHFILL -- The Northwest Arkansas Regional Airport board is offering the executive director's job to a former Republican legislator from Rogers who is president of a state agency.
The board members did final interviews Thursday with three candidates to find a replacement for Scott Van Laningham, executive director and CEO. The candidates were Kelly Johnson, director of the airport, Aaron Burkes and Steve Hennigan.
"It was a long day of good discussions and they came back with a decision," Van Laningham said.
The board offered the job to Burkes, Van Laningham said. Burkes is president of the Arkansas Development Finance Authority.
Van Laningham said Burkes accepted the job and the salary and benefits were being negotiated Thursday evening.
Burkes is expected to start Nov. 1, Van Laningham said.
Burkes worked in banking and real estate development in Northwest Arkansas before taking a job in economic development in Iowa. He represented Rogers in the state House of Representatives from 2007-09.
The University of Arkansas announced in March 2015 that Burkes was going to be its associate vice chancellor for business affairs. Instead, he decided to serve as the president of the finance authority at the request of Gov. Asa Hutchinson.
Russell Reynolds Associates, an executive search firm, handled the search for Van Laningham's replacement.
More than 30 people applied for the position. The board interviewed six candidates a few weeks ago and narrowed it to the final three.
Hennigan is an assistant general manager for operations at George Bush Intercontinental Airport in Houston.
The airport began succession planning in October. The board hired Russell Reynolds in November.
The regional airport has 47 employees and a 2017 budget of about $24 million. Van Laningham makes just more than $200,000 per year.
The average annual salary is about $250,000 for the similar position at 10 airports, including Little Rock; Tulsa, Okla.; Memphis, Tenn.; and Omaha, Neb.
Russell Reynolds is expected to recommend to the board how duties will be divvied among top management and what the organizational chart will look like.
Hiring a chief executive is a priority so several others can be hired for leadership positions, including a chief finance officer, a chief operations officer and possibly a chief business development officer, which would be a new position.
The board is paying Russell Reynolds about $200,000.
NW News on 09/28/2018
Print Headline: Regional airport names Burkes new leader
Sponsor Content
Comments