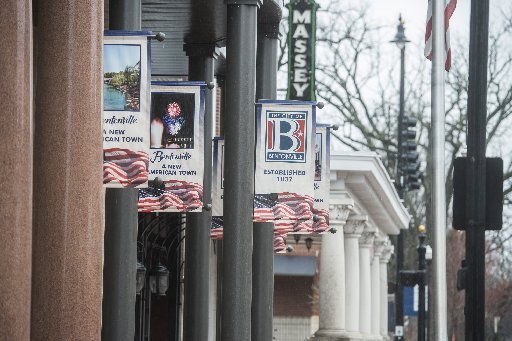 FILE PHOTO The Bentonville City Hall building.
BENTONVILLE -- Residents along four roads will have to wait a bit longer before getting sidewalks after City Council members asked for more details.
The Engineering Department is looking to add sidewalks on Morning Star Road and Northwest 15th, Southwest D and Southwest 20th streets.
The Projects
Bentonville is considering installing sidewalks in the following areas:
• Morningstar Road from Arkansas 12 to the entrance of Harbin Point Apartments.
• Northwest 15th Street from Bella Vista Road to the Walmart Neighborhood Market.
• Southwest D Street from Arkansas 102 to Southwest 20th Street.
• Southwest 20th Street from Southwest D Street to Walton Boulevard.
Source: Staff Report
City officials asked the council at its Tuesday meeting to a contract with Allgeier, Martin and Associates for design and engineering services for the projects. The agreement wasn't to exceed $175,330.
Bryan Wick, engineering project manager, said the construction cost estimate developed by city staff for the four projects was $500,000. He said the cost could change once engineering designs are completed.
Council member Bill Burckart said engineering costs are typically between 7 percent to 8 percent of the total project cost.
"It just seemed high to me," Burckart said Wednesday of the design and engineering cost. "It's worthwhile to take a look at."
Burckart asked Wick at the meeting for the approximate square yardage of the sidewalk and for the preliminary engineering estimate from the firm. Wick apologized for not having those numbers at the meeting and said he could get them to the council.
The council agreed with a 7-0 vote at its meeting Tuesday to postpone approving money for the design services. Council member Tim Robinson was absent.
The city doesn't have an overall sidewalk development plan. The Trails and Active Transportation Committee, consisting of city staff, reviews a list of requested sidewalks and selects which ones have priority, said Shelli Kerr, interim planning director.
"They look at distance to schools, if it's a missing link in an otherwise connected sidewalk, if it would provide a critical connection to services, cost to install, if drainage improvements are required, and what is available in the annual budget for sidewalk improvements," she said.
The city used to use Community Block Development Grant money to build sidewalks but stopped using the federal program a couple years ago.
It was clear the city would continue to build sidewalks with general fund money once it stopped receiving grant money, said Mayor Bob McCaslin.
There were restrictions with the grant money the city doesn't have to take into consideration any longer, he said.
"This is far more flexible and far more responsive to the citizens' needs," McCaslin said.
Engineering for the four projects should take three to four months once money for it is approved, Wick said Wednesday.
"Construction would not happen until after the first of the year once the design is complete and funding is in place," he said.
NW News on 09/27/2018
Print Headline: Bentonville mulls sidewalk projects
Sponsor Content
Comments