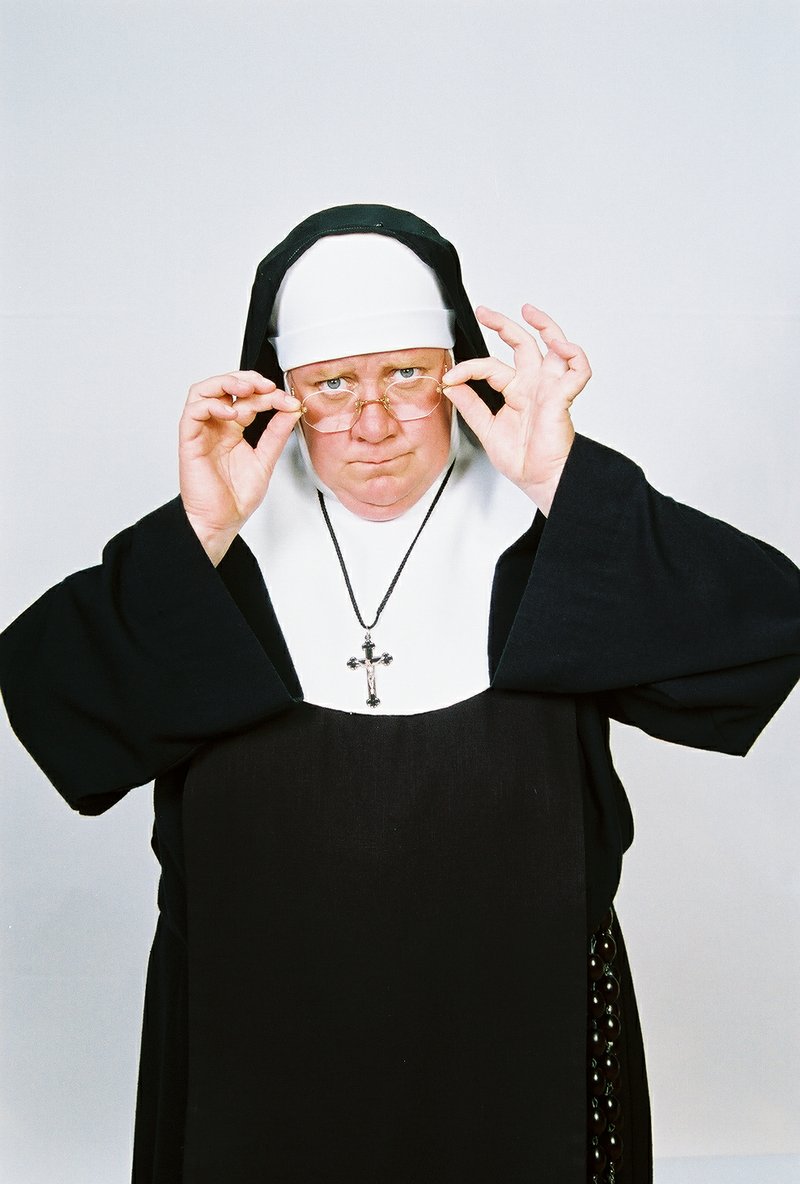 The one-woman comedy show "Late Nite Catechism" runs at the Walton Arts Center through Sunday. Sept. 16.
So, I'll be honest, I had to look up the definition of the word "catechism" (a form of teaching, for the also un-initiated) before I interviewed actress Nonie Newton-Riley ahead of her one-woman comedy show "Late Nite Catechism" at the Walton Arts Center in Fayetteville, which opened last night (9/6). I've been to a few Catholic weddings, but that's pretty much the extent of my experience with the religion. I couldn't tell you the names of more than a handful of saints, and I don't remember much of what I was taught in my own church growing up. But I can say even I -- along with the multitude of Methodists, one Jew, some converts, the nonreligious and a few "heathens" in last night's audience -- had a delightful time learning from "Sister" in the fully interactive show.
Newton-Riley is actually not the "nun" in town for this weekend's run, as she had a conflict arise, but you can read an interview where she previews the show here. Sister Aubrey is sweet as pie in the role, though, with "sweetie's" and "dear's" as she interacts with the audience through the two hours. There are eight different touring versions of the catechism -- just as there are (many) different catechisms within the faith -- and Sister's current evening adult class (We, the audience, are her students.) focuses on the saints.
FAQ
Late Nite Catechism
WHEN — 8 p.m. Sept. 7; 2 & 8 p.m. Sept. 8; 2 p.m. Sept. 9
WHERE — Walton Arts Center in Fayetteville
COST — $25-$32
INFO — 443-5600, waltonartscenter.org
FYI — Sister will be in the lobby after the show accepting donations for the Arkansas Benedictine nuns
What I expected to be a one-woman show with a bit of improv and interaction thrown in, turned out to be nearly all improv and audience participation/interaction -- more performance art than narrative-driven theater. This show is also not a take-down of the religion, as I suspect more than a couple in last night's audience thought it to be. Instead, "Late Nite Catechism" proved to be a charming exchange between Sister and audience, with a bit of poking fun here and there -- more at audience members than at the religion.
If you have the knowledge to answer Sister's questions -- which better end with a "Yes, Sister" or "No, Sister" -- she'll reward you in gushing enthusiasm for both your correctness, and the small gift she will bestow on you. But be warned: Should you make the mistake of chatting to your neighbor, pulling out your cell phone or any other reprehensible act that offends Sister, she will call you out and perhaps even put you in the "timeout chair" up on the stage. So, naturally, expect audience members to begin tattling on each other.
Sister's teasing of audience members made for a fun, funny and unique theater-going experience as the interaction was the bulk of the show. And even though I don't come from the background, I still understood nearly all the material, and of course, appreciated all the humor. The Q&A opportunity Sister presents in the second act was another entertaining moment and truly puts her improv skills and religious knowledge to the test. (Sister passed brilliantly, of course.) The two-hour show that didn't start until 8 p.m. on a "school night" did start to drag a little toward the end, but a glass of wine at intermission helped. And since it's Catholicism, Sister didn't mind.
The setting of Starr Theatre was perfect for making the performance even more intimate, so feel free to come with your questions or brush up on your saints. Sister will definitely be able to see you and might call you out of the crowd. Even if she doesn't though, watching her play with the audience, never missing a beat, is a fun little diversion from life you can catch four more times at the Walton Arts Center.
NAN What's Up on 09/07/2018
Print Headline: Review: 'Late Nite Catechism' brings the laughs to Walton Arts Center
Sponsor Content
Comments