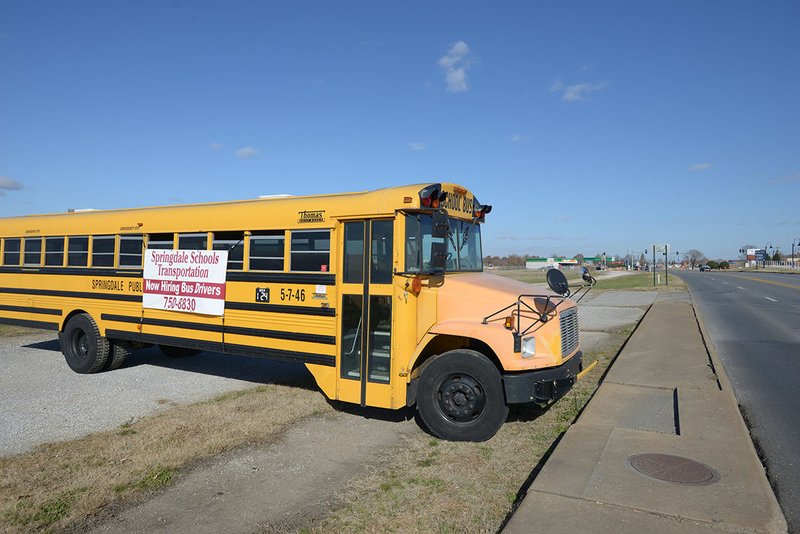 NWA Democrat-Gazette/J.T. WAMPLER A bus parked on Old Missouri Road in Springdale advertises for bus driver positions Sunday.
SPRINGDALE -- A Springdale school bus parked at the corner of North Thompson Street and West Stultz Road serves as one of the largest help-wanted ads in town.
The left side of the bus, which is visible to Thompson Street motorists, is draped with a red and white banner that states, "Now Hiring Bus Drivers" along with a phone number.
Springdale is always looking for a few good drivers, said Dana Samples, the school district's transportation supervisor. The district has about 112 full-time drivers but would like to hire six more, he said.
"We have turnover," Samples said. "It's a constant struggle to keep bus drivers."
While not all Northwest Arkansas districts have the same need as Springdale, most transportation directors acknowledge maintaining a full roster of drivers is a major challenge.
The Bentonville School District has four openings, though Transportation Director Chris DeWitt said Wednesday he had two applicants close to coming on board.
"It changes on a weekly basis," he said. "We're in OK shape. We can always use some drivers. That's never going to stop."
Mike McClure, transportation director for the Fayetteville School District, echoed DeWitt.
"In this business, you think you're in good shape, and then someone comes in and says they've decided to move on. It's a revolving door at times," McClure said.
Fayetteville was looking to fill two full-time positions as of earlier this month. McClure and his assistant director often have to drive buses to fill the employment gap.
Fayetteville began running an advertisement in August through the Motor Vehicle Network, which can be seen at Department of Motor Vehicles offices. The ad runs at least once every 15 minutes. The idea is people waiting to renew their license or registration will see the ad and be inspired to pick up information on a commercial driver's license at the same time, McClure said.
Bentonville, Fayetteville, Rogers and Springdale all have instituted bonuses for good attendance in hopes they don't have to dip into the substitute well so often.
Many drivers are retired folks looking for some extra income. McClure said he'd like to see college students show an interest.
"In my mind, if you want to be a teacher and you're going through the education program at University of Arkansas, I think bus driving experience makes you a more marketable candidate," he said. "Plus, a lot of people don't realize you can use that experience toward your teacher retirement."
The Rogers School District is doing fine, although it could use a few substitutes, said Transportation Director Ron Young.
Many of the district's drivers are older and more susceptible to health problems. Young said he has at least a couple drivers on medical leave, and on a typical day he'll need to cover eight to 10 absences.
Northwest Arkansas' unemployment rate is less than 4 percent, which doesn't help when it comes to attracting applicants, but Young said the larger issue is the split-shift morning and afternoon runs required of a full-time driver.
"It's one of these things where it either fits into a person's life or it doesn't," he said.
Rogers last year lowered its minimum driver age from 21 to the state's minimum of 19 in an effort to expand its driver applicant pool. No one under 21 has applied yet, Young said.
The district runs about 75 routes per day, plus field trips and activities. It adds up to about a million miles a year, Young said.
Rogers officials recently discussed outsourcing transportation services to a Little Rock firm. They decided it wouldn't improve efficiency, according to Charles Lee, assistant superintendent.
Pay, of course, is another factor. A driver in the Springdale district, the state's largest, can earn between $11,168 and $17,731 per year, depending on experience. Rogers is paying drivers between $14,973 and $21,837 this year.
Samples, of Springdale, said he's proud of his department's dedication to training applicants. That includes walking them through the process of obtaining a commercial driver's license and paying for a background check, physical and drug test.
"It's a little easier for us to do that in the summer," Samples said. "But we'll work with just about any time a prospective driver has available if we think we can bring these folks on to our staff."
Metro on 11/26/2018
Print Headline: NW Arkansas school districts seeking bus drivers
Sponsor Content
Comments