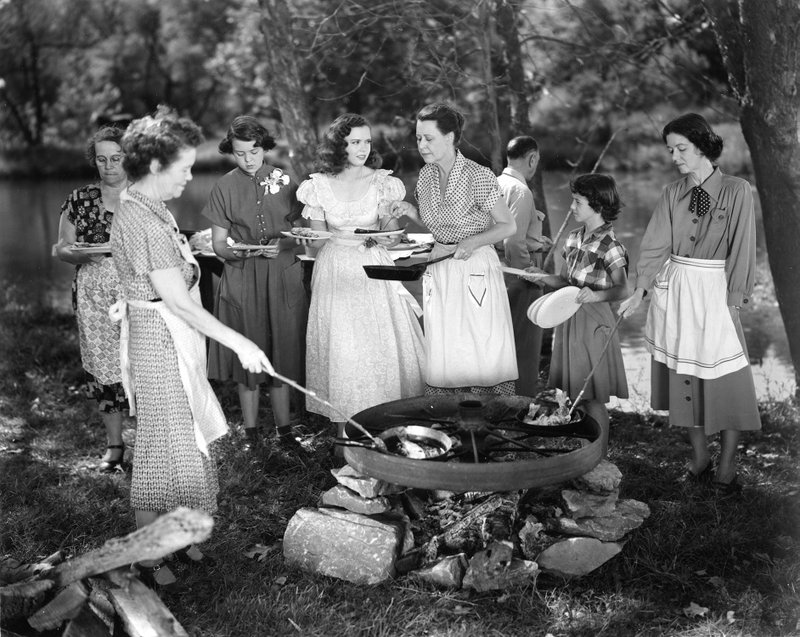 Courtesy Shiloh Museum of Ozark History Fish-fry scene from Wonder Valley, Cave Springs, September 1951. Hollywood actresses Gloria Jean and Louise Lorimer (center left & right) and local extras Howard Clark, Sue Curtis, and Caroline Clark (right of center, from left to right).
Archivists at the Shiloh Museum of Ozark History are still looking for Wonder Valley.
The first motion picture shot entirely in Arkansas has been lost to time. The color film used in 1951 faded. No viewable copies of the movie are known to exist.
But in the meantime, the museum has acquired a set of 30 still photographs from the movie, and they hope to post them on the museum's website, shilohmuseum.org, sometime next year.
The black-and-white photographs have held up well, said Marie Demeroukas, a photo archivist and research librarian with the Shiloh Museum in Springdale.
The museum is looking for people who can help identify people and places in the photographs "so we can properly document the photos before they go online," said Demeroukas.
"The generation that knows about the movie and may have been in it is starting to fade," she said. "We'd like to preserve their memories and identify the images while there is still time."
Last year, the museum learned that a set of the movie stills was for sale on eBay. But the seller wanted $2,500.
"That seems like an incredible amount of money for a small movie that nobody's ever heard about," said Demeroukas.
The seller said he bought the photographs at a "barn sale" in California. The previous owner had gotten them when he bought the contents of a storage unit.
Demeroukas offered a lower price but didn't hear back.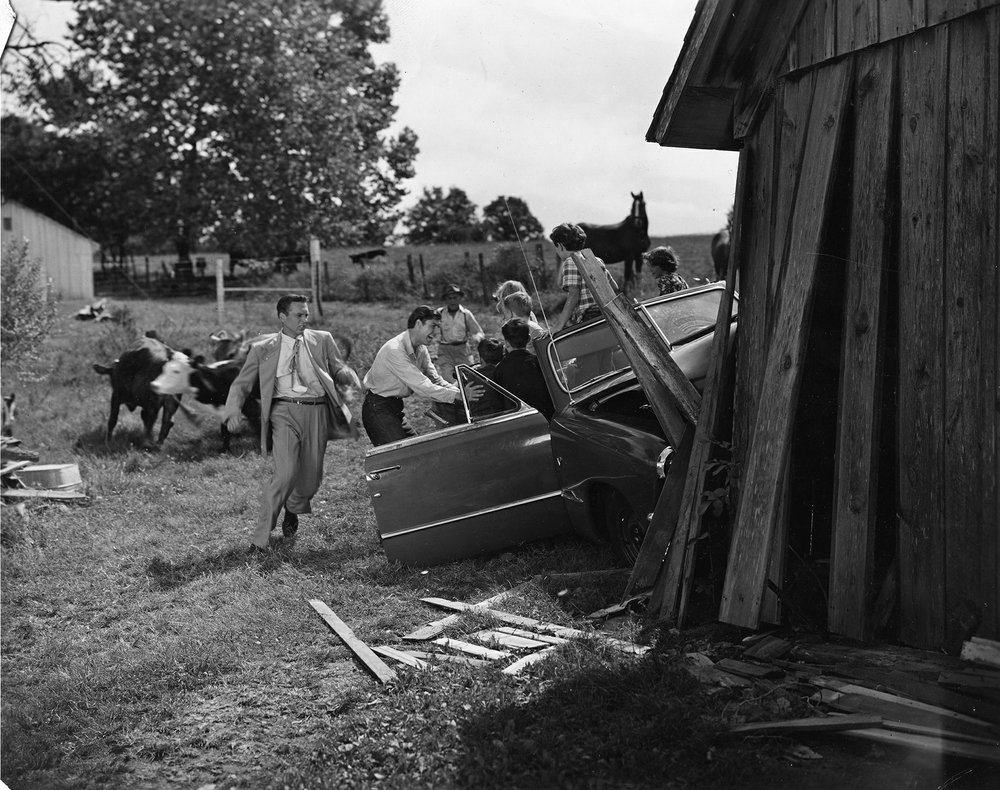 Courtesy Shiloh Museum of Ozark History Car-crash scene from Wonder Valley, Cave Springs, September 1951. Hollywood actors Dwight McLin, Lance Devro, and Walter Kingsford (center, from left to right).
As time went by, the price for the photos came down, and the museum ended up getting them for $200, said Demeroukas.
"We're so thrilled to have these because we can flesh out the movie," she said.
The museum already had a rough outline of the plot and four photographs of the movie being filmed.
"Now we have enough stills that we can match images with the plot point," said Demeroukas.
Wonder Valley was filmed over a six-week period in late 1951 in Cave Springs and Springdale. It starred Gloria Jean, Lance Devro, John Fontaine and Walter Kingsford. It also included a cameo by then-Arkansas Gov. Sid McMath, playing himself.
There are 10 photographs of McMath filming his lines for a fish-fry scene that are among his papers in the special collections department of the University of Arkansas Libraries in Fayetteville.
Gloria Jean, whose real name was Gloria Jean Schoonover, died on Aug. 31 of this year at the age of 92. She starred in several films, including W.C. Fields' 1941 classic Never Give a Sucker an Even Break.
In 2015, Jean told the Arkansas Democrat-Gazette that she loved Arkansas.
"I was impressed how very friendly and wonderful the people were that were a part of Wonder Valley," she said.
When cans of the last known reels of 35mm film from Wonder Valley were opened in 2005, it was as if the images had faded off the film.
"When we opened the cans, the film was badly decomposed," said Jan MacGillivray, a biographer of Gloria Jean. "The images on the emulsion were totally illegible. It was heartbreaking, but we never say never, because films turn up in the oddest places."
Wonder Valley was made by Viva Ruth Liles of Russellville through Liles Wonder State Motion Pictures Inc. She died in Russellville in 2003.
Originally titled Seven Wonders, the film focused on a family whose last name was Wonder.
Newspaper articles document the filming of Wonder Valley, and there's anecdotal evidence that the film played in theaters in Arkansas and California after its release in 1953. Liles' sister told a trade magazine that it had a "national distribution."
On their website, gloriajeansings.com, Jan and Scott MacGillivray, the authors of Gloria Jean: A Little Bit of Heaven, describe Wonder Valley as an "independently produced valentine to Arkansas."
Metro on 11/20/2018
Print Headline: Museum in Arkansas searches for elusive film; archivists piece together first movie filmed entirely in state
Sponsor Content
Comments