Thirty-eight young men were recognized April 29 at the 45th annual Delta Presents Scholarship Program.
Delta Presents is sponsored by the Little Rock Alumnae Chapter of Delta Sigma Theta Sorority Inc. The organization recognizes black male high school seniors for achievements in their schools, churches and communities.
The event was held at the University of Arkansas at Little Rock Performing Arts Theatre.
This year's recipients are:
• Bryant High School -- Antonio Todd.
• Little Rock Central High School -- Justin Arnold, Matthew Braggs, Charles Brooks, Elijah Coates, Treylin Cranford, Nicholas Davenport, Derrick Farris Jr., Kameron Hayes, Norel McAdoo, Peyton Perry, Donald Richardson II, Tzion Saine, Christian Walls, Tra'Leon Williams, Chauncey Willams-Wesley, Destan Wilkerson and Darryl Wilson Jr.
• eStem Public Charter High School -- Allen Hilliard.
• Hall High School -- Nicholas Smith and Sydney Williams Jr.
• Maumelle High School -- Jourdan Carroll and Neal Sharkey IV.
• John L. McClellan High School -- Rodney Cummings II and Dorian McGowan.
• North Little Rock High School -- Mason Bracely.
• Parkview Arts and Science Magnet School -- Trevon Hadley, Tyrell Hadley, Braxton Laster, Benjamin Osler, Keaton Richardson, Zachery Smith, Trent Waters, Curtis White Jr. and Camron Woods.
• Premier High School of Little Rock -- Nicholas Johnson.
• Pulaski Academy -- Rodney Anderson
• Sylvan Hills High School -- Andrew Jones.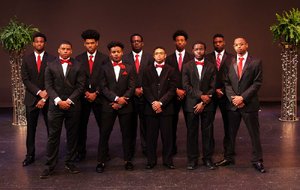 Photo by Special to the Democrat-Gazette
Front row: Tzion Saine, Charles Brooks, Benjamin Osler, Destan Wilkerson and Nicholas Johnson Back row: Tra'Leon Williams, Norel McAdoo, Dorian McGowan, Peyton Perry and Chauncey Williams-Wesley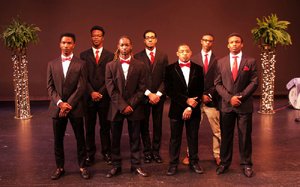 Photo by Special to the Democrat-Gazette
Front row: Keaton Richardson, Andrew Jones, Derrick Farris Jr. and Zachery Smith Back row: Elijah Coates, Jourdan Carroll and Mason Bracely
High Profile on 05/13/2018