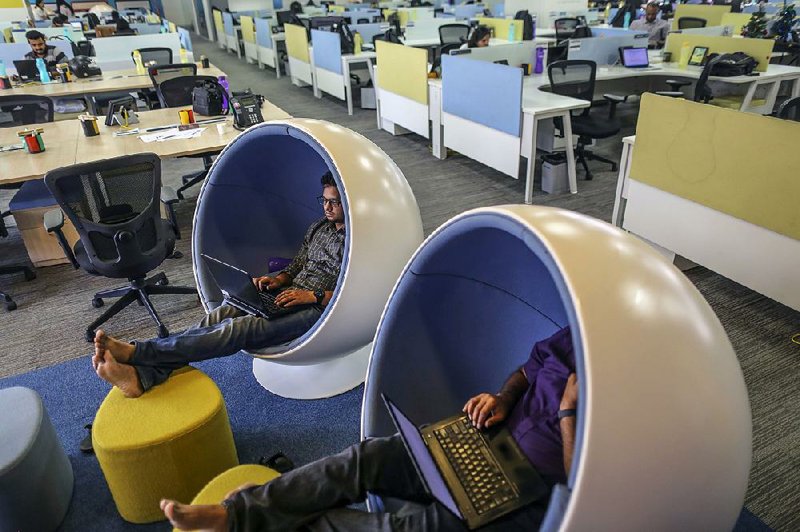 Employees work at the Flipkart Online Services headquarters in Bengaluru, India, in this file photo. Flipkart is the the No. 1 ecommerce operator in India.
Walmart Inc. has agreed to pay $16 billion to acquire a 77 percent stake in India e-commerce company Flipkart, finalizing a big investment in its battle with Amazon.com in one of the world's fastest-growing retail markets.
The acquisition of the majority stake in India's largest e-commerce company, Flipkart, represents the largest deal in the Bentonville retailer's history. Walmart acquired United Kingdom grocery chain Asda for $10.8 billion in 1999. The company more recently bought e-commerce company Jet.com for $3.3 billion in 2016.
In India, Walmart will take control of a company that has established itself as a prominent player in the retail market, pending regulatory approval. Flipkart, which was founded in 2007, reported net sales of $4.6 billion in the fiscal year ending March 31. By comparison, Walmart reported U.S. e-commerce sales of $11.5 billion in its latest fiscal year.
The move signals Walmart's latest step to strengthen its position in markets where there are growth opportunities as it competes with Amazon.com globally. Walmart believes India could become one of the world's top-five e-commerce markets within the next five years, and Chief Executive Officer Doug McMillon called the transaction a priority.
"We are actively working to shape the portfolio of geographies and businesses we're in in order to set the company up for success for another generation," McMillon said during a conference call.
Walmart's investment includes $2 billion of new equity funding, which will be used to help Flipkart accelerate growth. The companies are also in discussions with additional potential investors who may join, which could lower Walmart's investment stake. Google is reportedly one company that could invest in the venture.
Walmart would still have majority control even if others join in. Other Flipkart investors will retain their stake as well. Those investors include Flipkart co-founder Binny Bansal, Tencent Holdings Limited, Tiger Global Management LLC and Microsoft Corp.
"Walmart is gaining immediate scale in an important international market," said Carol Spieckerman, a retail consultant and president of Spieckerman Retail.
The acquisition wasn't as popular on Wall Street. Shares of Walmart stock fell about 4 percent in early trading before closing down 3 percent. The shares fell $2.68 to close Wednesday at $83.06.
Brian Yarbrough, a retail analyst with Edward Jones, said there's no question Walmart has acquired a long-term opportunity in India's rapidly growing retail market with the Flipkart acquisition. But the business is not profitable. So the price -- and the effect it will have on a company whose earnings have been under pressure because of heavy investments in e-commerce -- is a concern.
Walmart said it is financing the investment with a combination of newly issued debt and cash on hand. If the transaction were to close at the end of the second quarter of the current fiscal year it would negatively affect fiscal earnings between 25 and 30 cents per share.
The company's profits could take a bigger hit the next fiscal year with Walmart's plans to invest in efforts to increase Flipkart's sales affecting earnings by about 60 cents per share.
"The dilution to earnings is substantial," Yarbrough said. "I'm not negative on it, but I'm not as positive. I'm just not sure they can ever make money at this e-commerce game."
Other analysts said the deal will make sense if Flipkart becomes a publicly traded company. Walmart said Wednesday that its immediate focus would be on serving customers and growing the business, but supports Flipkart's ambition to become a publicly listed company in the future.
"The idea to have Flipkart be majority owned by Walmart but publicly traded is a smart move, and also helps explain the massive amount of money that Walmart paid for it," Bryan Gildenberg, chief knowledge officer at Kantar Consulting, said in a statement. "As long as e-commerce companies continue to outperform in the market, it is easy to imagine that Flipkart will eventually be valued at much more than $16 billion."
DIRECT ACCESS
Walmart executives said they weighed the short-term effect with the long-term potential when putting the Flipkart deal together.
Walmart operates about 20 wholesale stores in India, but does not sell directly to consumers because of government regulations that prevent foreign retailers who stock their shelves with multiple brands.
Acquiring a majority stake in Flipkart gives Walmart direct access to consumers for the first time in India and a key position in an e-commerce market that, though relatively small now at roughly $20 billion, is expected to grow to about $200 billion by 2027, according to Morgan Stanley. India's overall retail market is about $800 billion.
"We realize from an investor's standpoint in the short to mid-term that the dilution is not insignificant," Walmart Chief Financial Officer Brett Biggs said. "But when we balance it out with an opportunity to really be a player with an innovative company with [India's] 1.3 billion people, we felt like this was the right investment at the right time for Walmart."
Flipkart was founded by Binny Bansal and Sachin Bansal, who are not related.
The former Amazon employees started their business much like Amazon -- selling books online.
Over time, Flipkart expanded and began attracting Indian consumers by selling products like electronics, appliances, clothing, furniture and sporting goods.
Flipkart also has acquired additional companies to build out its business, including online fashion retailer Myntra and mobile payment firm PhonePe. Flipkart also has an established delivery company, eKart, which makes about 500,000 daily deliveries in more than 800 cities.
Walmart was attracted to the entire ecosystem assembled by Flipkart as it works to strengthen the global business. The move follows last week's decision to sell its Asda business in the U.K. to rival Sainsbury's in a deal valued at $10.1 billion. Walmart will retain a 42 percent stake in the joint venture.
McMillon said the Flipkart deal is setting the company up for "growth and profits in the future."
"We're learning how to build and how to partner to build retail ecosystems around the world," McMillon said. "India will now become a key center of learning for our entire company."
AMAZON BATTLE
The country also becomes the next front in Walmart's competition with Amazon.com.
Amazon -- which reportedly made a competing offer for a stake in Flipkart -- has pledged to invest more than $5 billion in its India operations and has made in-roads with consumers in the country the past few years. Flipkart controlled 35.7 percent of the online marketshare in India in 2017, but Amazon was not far behind with 27.7 percent according to data from Euromonitor Passport.
Jennifer Bartashus, a senior analyst with Bloomberg Intelligence, said Amazon has identified India as a key market and will likely intensify its focus and operations in the country. But Walmart, through the acquisition, has invested in a country with a rapidly developing middle class.
"I think that if Walmart wants to participate in international growth they really had to do this deal," Bartashus said. "India really is an important market to them."
With Walmart on board, Flipkart now has a global company that brings retail expertise and funding to the table as it fights to retain its leading online position in India as well.
Flipkart's Binny Bansal said in a statement that Walmart's investment is of "immense importance for India" and will help fuel its ambition to create the "next wave" of retail in the country.
"While e-commerce is still a relatively small part of retail in India, we see great potential to grow," Bansal said. "Walmart is the ideal partner for the next phase of our journey."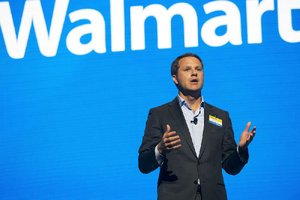 Photo by NWA Democrat-Gazette file photo
Walmart CEO Doug McMillon speaks during the Walmart shareholders meeting Friday, June 2, 2017, at Bud Walton Arena in Fayetteville, Ark.
A Section on 05/10/2018
Print Headline: Walmart buys 77% stake in Flipkart
Sponsor Content
Comments