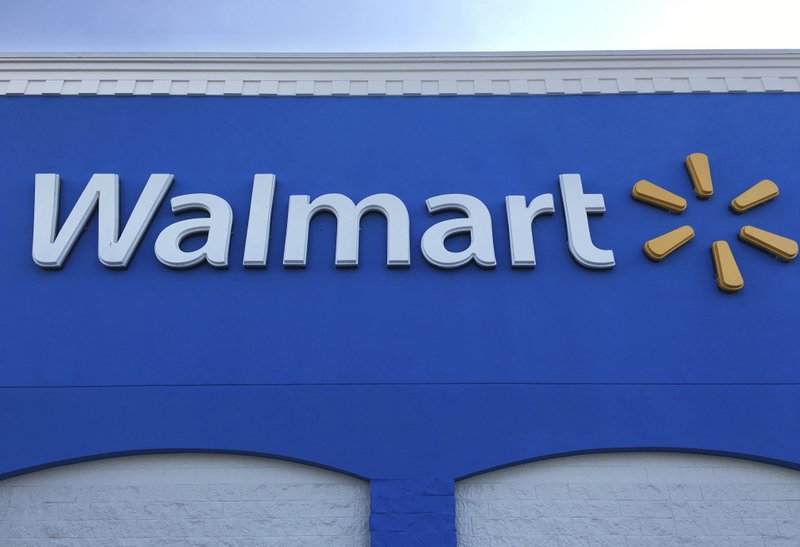 FILE — A Walmart in Kissimmee, Florida is shown in this Jan. 5, 2017 file photo. - Photo by The Associated Press
Walmart Inc. is reportedly exploring an opportunity to take a significant step into the U.S. health insurance industry by acquiring health insurance company Humana Inc.
The Bentonville retailer is in early talks with Humana regarding a partnership deal, according to The Wall Street Journal. The newspaper, citing people familiar with the matter, said Walmart and Humana are discussing several options regarding a potential tie-up, but there is no guarantee the two sides will agree on a deal or any other arrangement.
If discussions lead to an acquisition, it would become the next in a recent batch of mergers that have been forged between health insurers and retailers as they try to navigate a rapidly changing health care industry.
In December, CVS Health Corp. agreed to buy insurer Aetna Inc. for $69 billion, while Cigna Corp. agreed to buy Express Scripts Holding Co. for $54 billion earlier this month. Amazon.com revealed plans in January to partner with Berkshire Hathaway Inc. and JPMorgan Chase & Co. to explore ways to reduce health care costs.
Humana, which has a market value of $37 billion, reported about $53.8 billion in revenue last year.
An acquisition would potentially become Walmart's most expensive acquisition ever.
Walmart's largest acquisition was its $10.8 billion deal to acquire Asda, its grocery business in the United Kingdom, in 1999, according to The Wall Street Journal.
Neil Stern, a senior partner for Chicago-based retail consulting firm McMillan-Doolittle, said a Humana deal would give Walmart, which already operates pharmacies in most of its 4,700 U.S. stores and Sam's Club locations, a big role in the U.S. health insurance industry as well.
Walmart already works on prescription drug plans with Humana, a major provider of private Medicare plans for people 65 and over.
The plans offer some prescriptions for as little as $1, as long as customers pick up their drugs at a Walmart or Sam's Club. Walmart could use a closer tie-up to steer more of Humana's customers to its stores through its drug coverage arrangements.
"It makes them significantly more important as they move upstream into the market," Stern said. "It's early in terms of what it means, but as the nation's largest retailer, as the nation's largest employer, as a company that reaches more consumers per week than any other company in America, you can argue that they should have a place at the table. That's what this would give them."
It also would signal a significant shift for a company that has focused much of its acquisition attention on its e-commerce business over the past couple of years. Walmart spent $3.3 billion on Jet.com and has snapped up smaller online retailers like Bonobos, ModCloth and Moosejaw in hopes of attracting new customers and expanding its e-commerce sales and online expertise.
Walmart said Friday that it does not comment on "rumors and speculation."
Sucharita Kodali, vice president and principal analyst at Forrester Research, said acquiring Humana would be a "big deal" because it would give Walmart a chance to diversify its business. Diving into health insurance would give it an additional avenue for growth, which could be beneficial for a company whose profit margins have been heavily affected by its investments aimed at competing against retailers like Amazon.com.
"Amazon, basically, has challenged all retailers to find more profitability," Kodali said, adding that Walmart is long known for squeezing as much cost out of its retail business as possible. "So if you're Walmart, where else do you go? You've got to go outside of retail."
Walmart's pharmacy business is vast, and the company has taken steps to expand and improve its offerings for customers in recent years, including efforts to lower prices on a large number of generic drugs. It also has set up walk-in clinics in some stores and, last June, the company said it had partnered with Quest Diagnostics to offer in-store lab testing at a handful of locations as well.
Walmart senior vice president of health and wellness George Riedl said at the time of the lab announcement that the retailer wanted to provide "accessible, affordable health care" and make its stores a "one-stop shop" for customers.
John Gorman, executive chairman of health care consulting firm Gorman Health Group, said one notable difference between other recent partnerships and a potential Walmart and Humana deal is that the two sides have proven they can work together on prescription drug plans.
The companies have been partners on a co-branded prescription plan that has helped to lower the price of some drugs for Medicare customers for about 10 years. Gorman said they've annually converted between 100,000 and 175,000 beneficiaries from their prescription drug-only plans to Medicare Advantage managed-health-care plans as well.
Gorman believes a potential merger would be aimed squarely at senior citizens -- individuals 65 or older -- to "leverage Walmart's retail presence to redefine primary care in Medicare Advantage."
"Walmart has hundreds of pharmacies and Humana is investing heavily in Conviva, its clinic business," Gorman said in an email. "Imagine those two side by side in every Walmart store."
The potential to steer Humana customers into Walmart clinics -- and, as a result, into the retailer's stores -- could be a "major boon" to the overall business, according to retail consultant Carol Spieckerman. But Spieckerman, who is president of Spieckerman Retail, sees other potential advantages for Walmart and Humana with a union between the companies.
Walmart's vast quantities of shopper data could help Humana mitigate risks and lower costs, while Humana's data could bolster the relevance of the retailer's health and wellness products and services, according to Spieckerman. She also said the company could gain more leverage in negotiations with drug companies by having more pharmaceutical purchasing power as well.
"Health care spending is on the rise, and Humana could allow Walmart to take on a more powerful role in the delivery of medications to consumers," Spieckerman said. "For Walmart, it can be seen as a try-before-you-buy proposition since Walmart and Humana have partnered on multiple initiatives over the years."
Scott Pace, chief executive officer of the Arkansas Pharmacists Association, also cautions that the business is complicated.
Pace said that while Walmart has a long history of being a self-insured employer and manages health benefits for its 1.5 million U.S. workers, stepping in as an insurer for tens of millions is a different business model.
"I'm confident there are efficiencies that can be brought by the scale that Walmart brings, but I also think there are some inherent challenges in a retailer trying to become a risk-bearing entity," Pace said. "But I think it's going to be fascinating to see how the next several weeks and potential months roll out."
Information for this article was contributed by Zachary Tracer and Ed Hammond of Bloomberg News.
Business on 03/31/2018
Print Headline: Walmart giving Humana a look as health tie-in
Sponsor Content
Comments