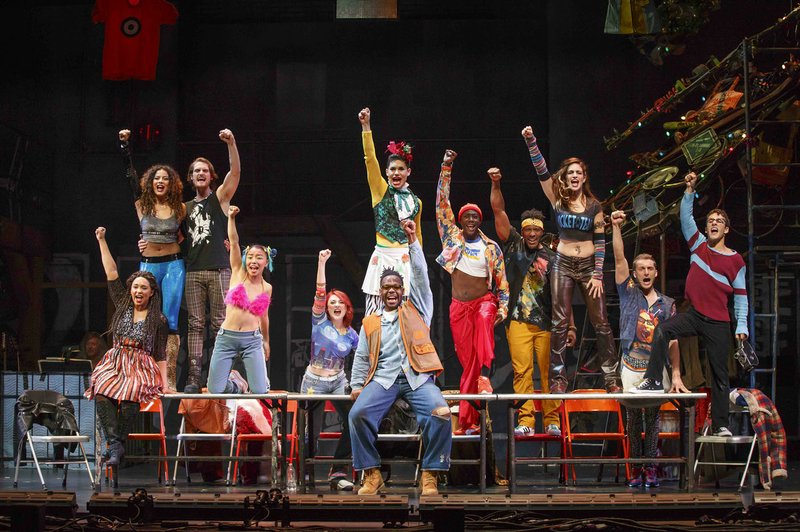 Very limited tickets remain for Jonathan Larson's rock musical "RENT," showing at the Walton Arts Center through Sunday.
Last night, with a nearly sold out house at Fayetteville's Walton Arts Center, I saw Jonathan Larson's "RENT" for the very first time. It still surprises even myself I've gone this long without ever seeing a staging, missing out on the movie, not even hearing any more of the music than "Seasons of Love" at Christmas time. So as a theater fan, I've been looking forward to this since the WAC announced their Broadway season last spring -- if for absolutely no other reason than to finally experience the significance of the art form's former "Hamilton."
If, strangely like me, you've never encountered the rock musical based on Puccini's "La Boheme," the story follows roughly 525,600 minutes (one year) in the life of a group of friends/artists/lovers as they struggle to maintain their creative and/or hedonistic lifestyles in the face of poverty, and the possibility of eviction from their rundown loft. Not to mention, many of them are HIV-positive. The entirety of Act I takes place on Christmas Eve night, and Act II chronicles the following year and the effects of the events, decisions and revelations that took place in that one night.
FAQ
'Rent'
WHEN — 8 p.m. March 3; 2 & 7:30 p.m. March 4
WHERE — Walton Arts Center in Fayetteville
COST — $64-$100
INFO — 443-5600
FYI — "Rent" includes adult language and adult situations. The movie version was rated PG-13.
FYI
Ticket Lottery
Set For 'Rent'
A lottery before each performance of "Rent" will offer a limited number of $23 tickets.
Two and a half hours before each performance, lottery entrants may visit the McBride Studio and print their name and the number of tickets (1 or 2) they are requesting on a card provided by Walton Arts Center staff.
Two hours before curtain time, names will be drawn at random for a limited number of tickets priced at $23 each. Winners must be present at the time of the drawing and show valid ID to purchase tickets. Limit one entry per person and two tickets per winner. Tickets are subject to availability.
The tradition of discounted tickets began in 1996 in New York when the show moved to Broadway. The producers of the show are committed to continuing the tradition of offering discounted orchestra seats in each city where the show will play.
I've seen a few comments expressing something to the effect of lament over the outdated, aged material in this the show's 20th anniversary tour (which actually started in 2016). But I think the generation-defining piece of theater comes across now more as a period piece -- just far enough removed that it's the themes, relationships, anxieties, fears, and lessons learned that are enduring rather than (obviously) the day-to-day of life in the late 1980's. That said, I felt all this didn't come together until the second act.
A brief glance at the program will reveal a few casting changes since the tour reunited in September, but in spite of the energy and tenacity of the cast, the show felt a bit disjointed -- like they are early in the run and still trying to find their footing as a cohesive unit. The woman next to me even asked how many cities deep in the tour they are, a reflection of her shared reaction. With live theater, that could be due to literally anything: opening night in a new city, a long travel day, an understudy filling in, etc. Whatever the cause, I couldn't shake that feeling the whole first act -- sometimes because the music (provided by a small group of uber-talented musicians on stage right) eclipsed the singers, which can happen with live instruments; sometimes because I (and many in the audience, I overheard at intermission) couldn't understand a word of the lyrics when they upped the pace or the pitch; and sometimes because a song was just out of a singer's range. (Specifically, Mimi's (Destiny Diamond) sexy "Out Tonight." To her credit though, Diamond is working with some vigorous choreography.)
That's not to say, by any means, the first act doesn't have strong, moving and beautiful moments in the acting and in the music. Understudy Jordan Long was filling the role of tortured and withdrawn musician Roger, and his performance was one of the show's best. His duets with roommate Mark (Sammy Ferber) were a delight throughout, and his tender moments with love-interest Mimi are as much a light in the darkness for the audience as they are for the two damaged characters. Diamond's vocal magnetism is in these numbers where she gets to showcase her strength and vulnerability at the same time. Plus, our introduction to Maureen (Lyndie Moe) near the end of the act is a scream.
There's so much going on in the first act, the story itself felt a bit disjointed, as well. That's not a criticism, just an observation. We're following the present of some seven or eight characters while piecing together their pasts and the context of their relationships through lines here and there, while also following the narrative -- which is building to a protest performance at the end of Act I. It all settled into place in the second act, though, as did the company's coherence.
"RENT" is a story about love -- in several of its varying forms -- and comprises characters with HIV. So, you know going in you can expect to be pretty emotionally wrecked. Particularly, Josh Walker as Tom Collins -- and his rich, elegant voice like warm honey -- is devastating and exquisite. In spite of the coming-of-age poignancy and the grief you already know is coming, I still left somehow feeling uplifted and hopeful -- likely due almost entirely to the "live life to the fullest" anthems "Seasons of Love" and "No Day But Today" and their themes serving their purpose.
NAN What's Up on 03/03/2018
Print Headline: Review: "RENT"
Sponsor Content
Comments