CONWAY -- Trey Harris' speed in the outfield and on the bases paid off for the East All-Stars on Friday afternoon.
Harris stole two bases, scored twice and made a diving catch in center field in leading the East to a 3-1 victory over the West in the first game of the Arkansas High School Coaches Association All-Star Baseball Game at Bear Stadium. In the second game, the East rallied for three runs in the seventh to earn a 4-2 victory.
Pitching and defense dominated the opener. East starting and winning pitcher Evan Hiatt struck out five of the 10 batters he faced and four East relievers each pitched one inning of hitless relief.
Harris, who was selected as the MVP, turned in the game's defensive gem to end the second inning. After Hiatt had registered back-to-back strikeouts to start the inning, Lavaca's Martin Lozano lined a ball into the left-center gap that Harris managed to chase down.
"Immediately after it was hit I just hung my head and thought, 'that's a double to the gap,' " said Hiatt, a left-hander who pitched Little Rock Catholic into the Class 7A quarterfinals. "Trey came out of nowhere and laid out to catch that ball. It was crazy."
Harris got a good jump on the line drive but still had to make a full out dive to make the catch.
"I knew it was going to be a double if it got down," said Harris of Little Rock Christian. "I sprinted and I ended up getting to it. ... At first I didn't think I had a chance but once I started running I knew it might stay up long enough for me to make a play."
Harris drew a walk in all three of his plate appearances, scoring on a two-out single by Sylvan Hills catcher Nick Fakouri in the third inning and on a bizarre stolen base/wild pitch play in the fifth. Harris was attempting to steal third when Mountain Pine pitcher Matthew Herron unleashed a wild pitch.
Springdale Har-Ber's Blake Benson collected the West team's lone hit, lining a two-out single off of Hiatt in the first inning. The West scored an unearned run in the sixth inning when Taylor's Myles Jones drew a lead-off walk, moved to third on an errant pick-off throw and came home on a sacrifice fly by Greyson Stevens of Pottsville.
The East also picked up a run in the sixth when Jonesboro's Cameron Poston doubled, moved to third on a single by Gage McClain of Mountain Home and scored on a ground out by Bennett Shoptaw of Little Rock Christian.
North Little Rock's Trent Bunting struck out three of the four batters he faced. Woodlawn's Will Richardson worked a perfect seventh for the save.
Watson Chapel's Kaleb Hill took the loss. He struck out 3 and allowed only 1 hit in 3 innings, but he walked 3.
There were only 12 hits combined in Friday's doubleheader.
"We put the bat on the ball a lot, but we had a hard time finding any gaps," Harris said. "There were a lot of good pitchers out here today."
Mayflower's Brady Wilcox singled in two runs in the seventh inning to bring the East back from a 2-1 deficit in the second game.
The game-winning rally started when Jackson Scrivner drew a walk and Ryan Lumpkin doubled to right-center field. Wilcox followed with the game-winner and Spring Hill's Kaleb Blair added a run-scoring single later in the inning.
Taylor's Myles Jones belted the day's only home run, leading off the fourth inning with fly ball that cleared the left-field wall for the West. Texarkana's Dylan Adcock gave the West a 2-1 lead later in the inning with a bases-loaded walk.
Lumpkin came through with a run-scoring single in the first inning for a 1-0 East lead.
Gosnell's Andrew Roberts retired all four batters he faced and picked up the victory. Van Buren's Evan Jones was charged with the loss.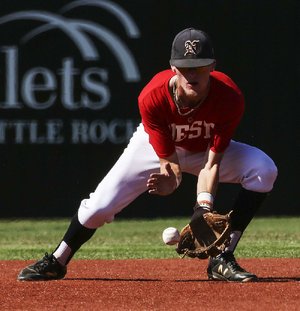 Photo by Mitchell PE Masilun
West shortstop Chris Willard of Nashville fields a grounder during Friday's state high school baseball All-Star game at Bear Field in Conway.
Sports on 06/23/2018