HUNTSVILLE -- The Arkansas landscape will be a character in the third season of the HBO television drama True Detective.
Writer/director Nic Pizzolatto said the landscape of the Ozark Mountains "embodies certain journeys" that the show's characters take.
"The mystery of the deep woods. The fog over the mountains. The rivers. The water. The sense of scale when you get out to some of this nature. Also, what the buildings say about the lives behind them," Pizzolato said. "So I feel like people will see it as an extension of character, something that embodies characters' emotional journeys while influencing those journeys."
A "media day" was held Monday afternoon for True Detective at Tugboat's Place, a restaurant 10 miles north of Huntsville. The crew was filming nearby.
"The third installment of the drama series tells the story of a macabre crime in the heart of the Ozarks, a mystery that deepens over decades and plays out in three separate time periods," according to the media day announcement from the Arkansas Economic Development Commission.
Lead actor Mahershala Ali took questions from reporters for about 14 minutes. Then Pizzolatto and executive producer Scott Stephens did the same.
Pizzolatto, who attended graduate school at the University of Arkansas, Fayetteville, said the film crew found locations in Northwest Arkansas that were hauntingly similar to what he had imagined.
"Sometimes we found things that seem to come straight out of the imagination, like this particular house that I don't want to go into it too much because of spoilers, but once we found it we couldn't believe it existed," he said. "It was almost exactly what I had written, and it needed to be very specific."
Things like that keep happening, Pizzolatto said.
"Like these providential synchronicities that sort of elevate what we're doing and give us something better than if we had to go in and build it ourselves, which we do, too," he said.
"Everywhere you point the camera here is treasure," Pizzolatto said.
Ali, who portrays an Arkansas State Police detective, said it wouldn't have been right to film it anywhere else because the story is set in the Ozarks.
"It would have been a disservice to the story not to shoot in the Ozarks, in Fayetteville, in Arkansas, because it's such a character in the story," he said.
Ali said he received a warm welcome when he arrived in Fayetteville.
"I remember getting out of my car after being dropped off from the airport, and I was walking to go get some food," he said. "This woman was walking her dog, a few houses down from mine, a good distance from me, and she yells out to me ... 'Welcome to Fayetteville. We're glad you're here.'"
Ali said he's spent some time walking around Fayetteville taking in "the vibe of the area."
"My character would not move or operate the same way if he was in New York," Ali said. "I've given myself permission to go slower even if they want me to speed up a bit. You end up essentially aligning yourself with the frequency of the pace. And that's how something will resonate as being truthful or not."
Ali said he had wanted to take on more challenging roles.
"I've had the honor and good fortune of contributing to a lot of shows in theater and in television," he said. "But I would go home at night wanting to experience more, a more fulfilling experience. I was very grateful for my opportunity, but I remember thinking, 'I really want to be exhausted. I want to be tired from a good day's work, you know. I want to get my hands dirty.'
"That has happened," he said. "I've been exhausted. I've got that. Check that box."
Brandi Hinkle, a spokesman for the Arkansas Economic Development Commission, said True Detective started filming in Arkansas in February and filming will be complete next week.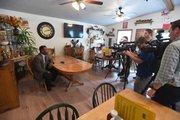 Metro on 07/31/2018