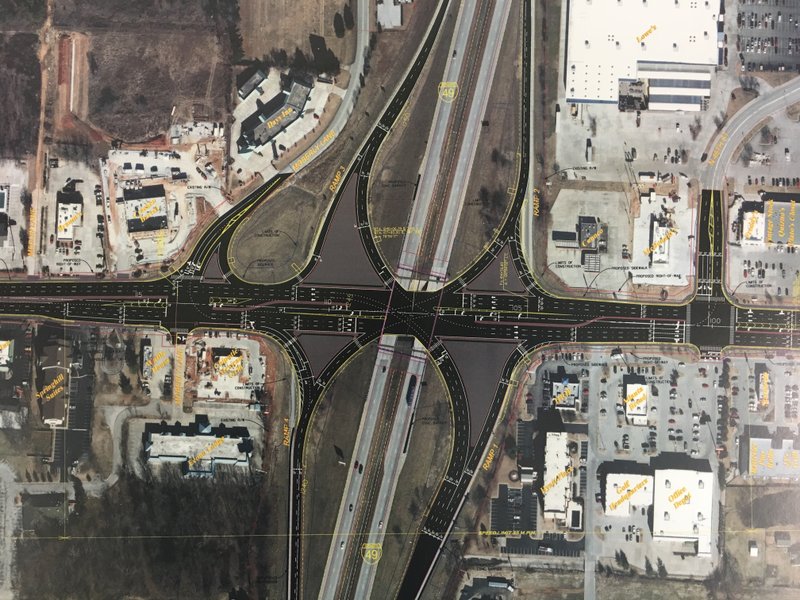 Proposed modifications for an interchange on Interstate 49.
ROGERS -- State highway officials Wednesday opened the bids for work on a new interchange at Interstate 49 and U.S. 71B between Rogers and Bentonville. The interchange's design will be the first of its kind in Arkansas.
The Exit 85 interchange provides access to Walton Boulevard in Bentonville and Walnut Street in Rogers. The apparent low bidder was APAC-Arkansas, Fayetteville at $26.89 million. It will take several days for highway officials to review the bid and give final approval. The project is expected to take about a year and a half to complete.
"An SPUI is a single-point urban interchange and basically there's one traffic light underneath the I-49 bridges in this design and it controls all of the action from U.S. 71 to I-49 and vice versa," said Danny Straessle, a spokesman for the state Department of Transportation. "Right now, you have two sets of lights, one on each side of the diamond interchange that is there controlling the access and that's not really efficient."
Mitchell Archer, District 9 construction engineer, told regional planners last week the project poses a number of challenges but highway officials want to get the widened parts of the interstate open for drivers.
"There are still some conflicts below on 71 with utilities and right of way, but the director wanted that project and the commission wanted that project done as quickly as possible to get all six lanes of I-49 open," Archer said. "The I-49 work will have to be done first and once it's open to six lanes then we can work on the [single-point interchange] part underneath."
Archer said the looming project is why already widened portions of I-49 have not been opened.
"We've been asked a lot of questions about why we're not opening up six lanes south of there, that's why, our footprint goes a long way," Archer said.
Rogers and Bentonville officials didn't really like the earlier plan, a double diamond design, highway engineers had developed so they went back to the drawing board and returned with the single-point design, Archer said.
There is a 45-foot span at each end of the two 95-foot bridges, with two sets of piers underneath, Archer said.
"You cannot put a [single-point interchange] under there with these piers. All of our other construction we have widened from the inside and now have just a narrow space between the two bridges, we can't do that here," Archer explained. "We're gonna have to take those bridges out and we're gonna have to span that all in one span. When you go to a longer span you've got to get taller, so we're gonna get a lot taller and that pushes our footprint out because we've got to raise everything up about 5 feet. What we're gonna have is one 237-foot single span bridge."
To build that big, new bridge, contractors will put up barriers, move traffic out of the way, demolish part of the bridges and build the middle portion of the new bridge, and then repeat, Archer said.
"We're gonna move northbound traffic, after we do the temporary widening, on top of that new bridge, tear out the old northbound bridge and finish its construction while leaving the south-bound traffic in its current configuration," Archer said. "Then we'll turn around and put that southbound traffic right back on top of where the northbound traffic was and we will run them in that configuration until we can get the other side built and move them over. Then we'll come in and finish the median and take out the temporary widening."
Straessle said two lanes in each direction will be maintained throughout the project.
The contractors included a timeline for the project in their bids, which was a consideration in awarding the project, Archer said.
"This is a momentous project because it is the first [single-point interchange] that we will construct in the state," Straessle said. "We've got three others planned."
The first one that was designed is for the Bella Vista bypass and eventually will replace the traffic circle, Straessle said. Martin Luther King Jr. Boulevard, Exit 62, in Fayetteville will probably get one in about four years. The fourth will be for the Arkansas 10 and North Rodney Parham Road interchange in west Little Rock.
This type of interchange has become common in other areas of the U.S.
The I-49 corridor has 17 projects, including interchange improvements and widening, either completed, in progress or planned along the 26 miles between Fayetteville and Bentonville. All the work is expected to be completed or underway in the next five years.
Straessle said highway officials understand the frustration Northwest Arkansas motorists experience with the ongoing work zones but know they also enjoy having the extra lanes. He's urging continued patience.
"I know motorists can't see that when they're having to deal with lane closures and lane shifting and barrels and things like that," Straessle said. "We've given motorists a taste of what it can be and they want what it will be and that's where we're headed."
Metro on 07/26/2018
Print Headline: Bid openings set up I-49 interchange work
Sponsor Content
Comments