FAYETTEVILLE -- The Northwest Arkansas Council unveiled more than 50 recommendations Tuesday meant to guide the region's development in the next three years in ways to improve economic activity and quality of life.
The nonprofit group, which includes executives from the region's largest companies, schools and health care systems, announced its newest plan. The recommendations touch on seemingly every aspect of daily life, including education and career training, housing, entrepreneurship, transportation and the arts.
"We want this region to be and be thought of as one of the top regions in America," said Ted Abernathy, managing partner at the North Carolina-based consulting firm Economic Leadership, which helped develop the plan. The region's doing well in many ways and is one of the fastest growing in the country, but it still has its weaknesses, he said.
The council in its 28 years has spearheaded such regional projects as the creation of the Northwest Arkansas Regional Airport and road improvements. It also works as a kind of umbrella chamber of commerce to attract people and businesses to the area.
Council CEO Nelson Peacock said the group for its latest plan considered whether to focus on incremental improvements and staying the course or going for major, transformative change. It decided on both.
Document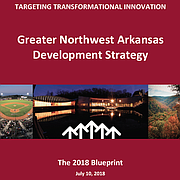 One of the plan's most prominent themes is partnership, especially partnerships between education and business. It calls on the University of Arkansas, for instance, to double research and development spending to roughly $300 million a year, Abernathy said.
"That's a big, bold, transformational goal," he told the crowd.
North Carolina's biggest universities regularly top $1 billion in such spending, which he said attracts highly educated people and unleashes innovation and new business. Boosting research spending will require chasing more grants, making it easy to commercialize ideas and building business partnerships, Abernathy said.
UA Chancellor Joe Steinmetz, co-chairman of the council, said Tuesday he thinks it can be done, thanks to the university's talented faculty and a student body he predicted will top 28,000 next school year. Steinmetz has made boosting research spending one of his priorities, and the university last fall opened the Brewer Family Entrepreneurship Hub on the Fayetteville square to help university researchers start businesses.
Grant dollars don't just disappear into university coffers, Steinmetz added.
"They're spent in the region, and they're spent in the state," he said.
In a similar vein, the plan calls for the council's support of career and technical education.
Northwest Arkansas school districts, higher education institutions and companies in construction, manufacturing and other industries in recent years have started programs training students for in-demand jobs that pay well but can be challenging for companies to fill. The area needs still more of this sort of partnership to compete with other bustling cities, Abernathy said.
That could mean some major improvement at Northwest Technical Institute in Springdale, for example, according to the plan. The state-supported school offers programs for high school students and adults in industrial maintenance, diesel technology, nursing and information technology. A few hundred people graduated from its programs last year, which the plan document says simply isn't enough for the area's needs.
"In addition to obvious capacity limitations, the look and feel at Northwest Technical Institute does not positively reflect the work and working conditions of middle income jobs," the report states. "It also does not reflect the world-class image the region wishes to project," it adds, calling for more modern facilities.
Northwest Technical Institute President Blake Robertson said he agreed the school could be bigger and better. Many of its buildings were built in 1975. Its annual budget is less than $10 million, or smaller than the UA's main library in Fayetteville.
Robertson said the state appropriation hasn't gone up in 15 years. The institute falls under the state Department of Career Education.
On the other hand, he said the institute is making notable strides with state and local help. Tyson Foods and the governor's office each kicked in $1 million for remodeling the ammonia technology and industrial maintenance center that should start within a few months. Another gift to the school will go to the $3 million construction of a welding facility, which should also start soon.
If governments and companies want more out of the institute, they need to help make it happen, Robertson said, noting the campus has 10 acres of empty land to build on.
"I think there's a new day coming to Northwest Technical Institute," he said. "We just need private industry to step up."
Other pieces of the strategic blueprint urge the council and its members to study and support improvements in public transit, recycling, early childhood education and affordable housing -- needs long raised by local advocates and experts. The Walton Family Foundation, Northwest Arkansas Regional Planning Commission and other local groups in recent months have been assessing housing needs and the potential for a more useful Ozark Regional Transit, for example.
Abernathy said housing comes up in his conversations with cities all over the country.
"You're going to chase that as you grow; you might as well get ahead of it now," he said.
NW News on 07/11/2018