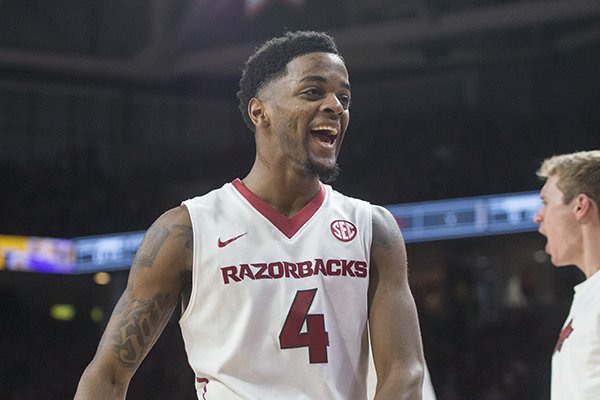 Daryl Macon of Arkansas reacts after an Arkansas teammate dunked against Texas A&M in the second half Saturday, Feb. 17, 2018, during the game at Bud Walton Arena in Fayetteville. - Photo by Ben Goff
Maybe it is meant as a compliment, or at least could be taken as one: Kentucky basketball is what Alabama football is to the SEC.
Since the University of Arkansas, Fayetteville joined the SEC for the 1991-1992 season, the Wildcats have won nine conference championships and tied for two more. The second-most outright titles go to Florida with four and Arkansas with two.
Not enough? Kentucky has won 15 SEC Tournaments, including the past three. That's why they call it the Kentucky Invitational.
So if they share an air of a blueblood and a semblance of arrogance with the Crimson Tide, it is understandable, although it isn't football so the Wildcat Nation has to be slightly more tolerable.
When the Razorbacks rolled into the SEC, Nolan Richardson immediately served notice to one and all: They could have their McDonald's All-Americans; he'd take his kids from Burger King and beat your butt.
The first time the teams met was in Lexington, and as time ran down on the Hogs' 105-88 win, Richardson took a timeout and told his team not to celebrate on the court but instead get off of it as fast as possible.
Kentucky was coached by Rick Pitino in those days. He's the guy who invented basketball, or seemed to think he did. A year after winning the national championship in 1996, the Wildcats were knocked out of two straight by Arizona, the only team to knock off three No. 1 seeds in one tournament. Pitino then left for the heralded Boston Celtics in the NBA.
It was proven he did not invent NBA basketball, and he resigned with a 12-22 record in his fourth season with the Celtics. He did not have a winning season in Boston.
Pitino landed on his feet at Louisville where he had a great run, won a national championship in 2013, and then the wheels came off. His program had call girls "dating" recruits, and then came the icing on the cake with claims of cheating.
He was fired and has since sued everyone but himself.
He was followed at Kentucky by Tubby Smith, who also had great success and won a national championship but was under immense pressure before accepting the Minnesota job in 2007. Billy Gillispie was hired for two seasons before he was fired, and John Calipari was hired in 2009.
Everyone but Pitino had great success against the Razorbacks, but Pitino had to wrestle Richardson six times in the regular season and won only twice. Pitino was 4-0 against the Hogs in the SEC Tournament.
Stan Heath replaced Richardson on the payroll at Arkansas, but not on the court, going 0-5. He got close once, losing 68-67.
Then came one of Kentucky's own, the beloved John Pelphrey, who beat his alma mater in his final season, but won only six other SEC games and was fired before Mike Anderson was hired. Anderson took over an extremely limited team that had trouble spelling discipline, let alone playing with any.
The Hogs are 3-4 against Kentucky in the regular season under Anderson, and 0-2 in the SEC Tournament.
Kentucky has six McDonald's All-Americans for tonight's game in Walton Arena, which may sound more like the old Barnhill, and Arkansas has some guys who at times would have made Richardson smile, even if it was privately.
All of which means it may finally be like the old days when the Razorbacks took the court believing they could beat the Wildcats -- not just hoping to, but believing it -- and for a change Kentucky has its back against the wall a little with an unheard of record of 7-7 in SEC play, which is tied for seventh.
Could be a classic.
Sports on 02/20/2018
Print Headline: Arkansas on equal footing with Kentucky
Sponsor Content
Comments