Enrollment in Northwest Arkansas public schools continues to increase, with the area's charter schools showing the largest growth rates so far this school year.
About 88,237 students were enrolled in the public schools of Benton and Washington counties on the first day of the 2018-19 academic year, a 1.7 percent increase from last year's first day, according to numbers provided by school officials. Nearly all of the schools began their academic year last week.
Three of the four open-enrollment charter schools in the area expanded their combined enrollments by more than 30 percent. Open-enrollment schools are public schools, meaning any child who lives in the area can attend with no tuition cost.
Haas Hall Academy, a charter school with campuses in Fayetteville, Bentonville, Springdale and Rogers, opened this month with an all-time high of 1,445 students, a 42 percent increase from the same time last year.
Haas Hall's Fayetteville campus has 478 students, by far its largest and close to its enrollment cap of 500. The campus is about to open its Ingenuity Center, located in a building just south of the school. Programs that "make a lot of noise" like music, metal working, 3D printing and robotics will be there, Superintendent Martin Schoppmeyer said.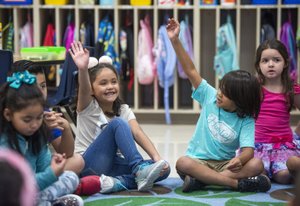 NWA Democrat-Gazette/BEN GOFF @NWABENGOFF Abigail Altorre (from left), Xavi Quiros and Isabel Copeland raise their hands to ask questions Wednesday while getting to know their first-grade teacher Kayla Wildenborg (not pictured) on the first day of school at Russell D. Jones Elementary in Rogers.
Haas Hall opened its Rogers and Springdale campuses last year in response to enrollment demand. U.S. News & World Report has ranked Haas Hall Academy the best high school in Arkansas for seven straight years.
"People see that and they want to attend," Schoppmeyer said.
Arkansas Arts Academy in Rogers opened Wednesday with 1,051 students in grades kindergarten through 12, a 28.6 percent increase over last year. The charter school added enrollment capacity by renovating and adding to its high school campus on West Poplar Street, a project that began last year and will continue for several more months.
Northwest Arkansas Classical Academy in Bentonville, a charter school that serves grades kindergarten through 12, increased enrollment by adding a third section at each kindergarten, first- and second-grade levels. Enrollment is up about 100 students, or 18 percent, since last August.
Enrollment numbers typically fluctuate significantly during the first few weeks of the school year. Students who don't show up for class may stay on a school district's books for up to 10 school days before a district must drop them.
Enrollment numbers taken Oct. 1 are considered the official enrollment for the year and a harbinger of state funding levels for the next school year. State funding for a district is based on the average kindergarten-through-12th-grade enrollment in the first three quarters of the preceding school year.
The Fayetteville School District's first-day enrollment was 10,409, up 4.2 percent from the same point a year ago. Fayetteville typically sees increases of 1 percent to 2 percent annually, according to Superintendent John L Colbert.
"We are monitoring our attendance and enrollment numbers daily, and we have plans in place to ensure that we can and will serve every student who attends Fayetteville Public Schools," Colbert wrote in an emailed statement. "Even if the enrollment growth is as high as 4 percent this year, we don't anticipate any problems serving all students with a great education."
The Bentonville School District started with 17,433 students, an increase of 1.3 percent from last year. Bentonville over the past four years has experienced an average drop of 230 students between the first day of school and Oct. 1, according to Tanya Sharp, the district's executive director of student services. Bentonville still likely will see its Oct. 1 count exceed 17,000 for the first time this year.
Springdale, the area's largest school district and state's second largest, reported a slight increase of 0.2 percent, bringing its enrollment to 22,001.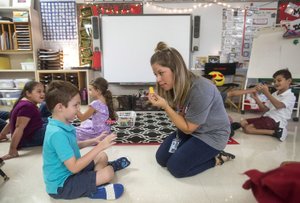 NWA Democrat-Gazette/BEN GOFF @NWABENGOFF Davey Brown plays a game with his first-grade teacher Natalie Gregory Wednesday on the first day of the school year at Russell D. Jones Elementary in Rogers.
Rogers dropped by 0.7 percent to 15,742 students.
Prairie Grove School District opened the school year Wednesday with 2,044 students, an increase of 4.9 percent from one year earlier -- the largest gain by percentage among the 15 traditional public school districts.
"With all the houses being built here in the last couple of years, we've been anticipating growth," said Reba Holmes, Prairie Grove's interim superintendent.
Prairie Grove is on the verge of having to add class sections and teachers at its elementary school. Officials will know within the next week or two, as enrollment numbers stabilize, whether they'll have to do that.
"We do have some resumes from the summer we're leaving on our desk," Holmes said.
NW News on 08/20/2018