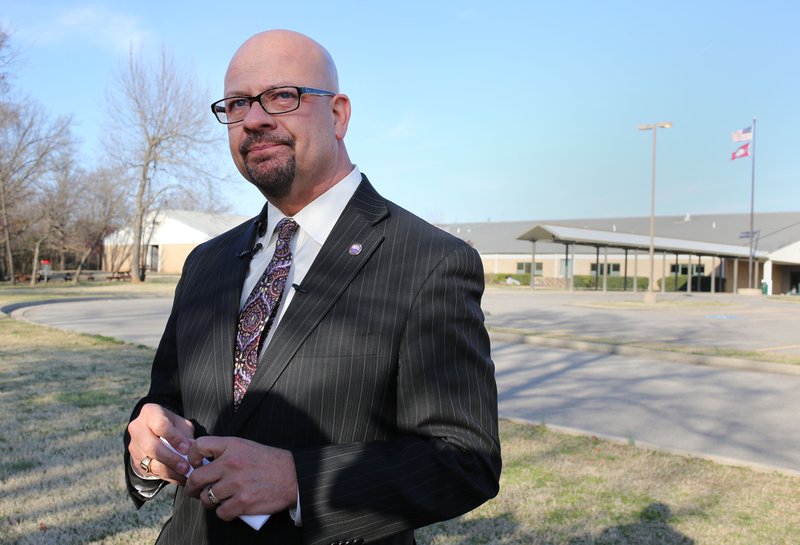 Former Superintendent of Fayetteville Public Schools Matthew Wendt is shown in this 2017 file photo.
FAYETTEVILLE -- Former superintendent Matthew Wendt has sued the woman who accused him of sexual harassment, saying she's responsible for the School Board firing him.
Wendt filed the lawsuit Tuesday against Shae Lynn Newman in Washington County Circuit Court.
Legal lingo
Recuse
To disqualify or remove oneself as a judge over a particular proceeding. Recusal is based on the idea that judges are charged with a duty of impartiality in administering justice. Generally, a judge must recuse himself if he has a personal bias or prejudice concerning a party to the lawsuit or has personal knowledge of the facts that are disputed in the proceeding.
Source: Staff reports
The lawsuit seeks not less than $850,000 in damages from Newman, claiming she intentionally and improperly interfered with the business expectancy between Wendt and his employer and her actions led to his termination.
In addition, Wendt contends he can no longer get a job as a school administrator. Wendt said he has had more than 65 employment rejections since he was fired, including one for a car salesman.
The lawsuit doesn't deny Wendt and Newman had an intimate relationship but contends Wendt never forced or coerced Newman nor did he promise her anything to have a relationship with him. Wendt contends he gave the woman cash and gifts on several occasions.
Document
Wendt Lawsuit
View
An investigation by school officials completed in March found there was no basis for a sexual harassment claim and no action should be taken against Wendt, according to the lawsuit.
Newman's lawyer went on the offensive after that finding and made confidential information available to the public and media, identifying Wendt while concealing Newman's identity, according to the lawsuit. Newman's lawyer also put pressure on the School Board to fire Wendt, according to the lawsuit.
Wendt contends material provided to the press and public were engineered to present a completely inaccurate and false picture of the relationship.
The only objective and purpose of Newman and her attorney's actions was to ruin Wendt's career and reputation, according to the lawsuit.
Newman's attorney, Suzanne Clark, filed the sexual harassment claim with the School District on March 14. She presented Chris Lawson, district general counsel, with voice recordings of Wendt and copies of text messages between Newman and Wendt supporting her client's complaint, Clark said in a news release.
Clark filed a complaint May 25 with the Equal Employment Opportunity Commission against the School District and School Board. The complaint to the commission details Wendt's abusive conduct after Newman refused to continue to have sex with him, according to a news release by Clark.
Newman complained Wendt stalked her, sent her numerous text messages while she was at home and at work and told her she could be fired for her actions, according to the news release.
The School Board unanimously voted to terminate Wendt's contract June 18.
The board cited a breach of contract by violating district policy. Wendt violated the policy through his derogatory and offensive conduct and communication with a female subordinate employee, according to Susan Kendall, a lawyer with the Kendall Law Firm in Rogers and the School Board's legal counsel.
In a related matter, a judge was assigned to handle two lawsuits related to the request for documents about Wendt's firing after Judge Doug Martin recused.
Newman had sued to stop the release of all the records because it would be an unwarranted invasion of her privacy. The lawsuit was filed on behalf of "Jane Doe" in Washington County Circuit Court.
Newman's case was originally assigned to Martin. The Arkansas Supreme Court on Wednesday reassigned the case to Circuit Judge Tom Cooper from Ashdown, who was hearing another case involving the same issues.
The Northwest Arkansas Democrat-Gazette and others have requested records related to Wendt's termination. Specifically, the newspaper asked for material that formed the basis for the School Board's decision to suspend and fire him.
Newman is opposed to intervention in the case by the newspaper and wants closed hearings and a gag order if intervention is allowed.
Cooper hasn't ruled yet in the other Freedom of Information lawsuit seeking the release of the same records.
Cooper presided at a hearing Friday about a lawsuit filed by Russell Racop, a Little Rock blogger, who's seeking immediate release of the records. Racop's lawsuit names John L Colbert, the district's new superintendent, in his official capacity as custodian of records. Racop contends the district should have already released the documents because he requested them weeks ago.
Cooper heard Racop's argument and took it under advisement.
Cooper was assigned to hear the Racop case after all the Washington County judges recused.
The School District said in a filing it believes most of the documents should be made public. The district said recent attorney general opinions back its position.
NW News on 08/09/2018
Print Headline: Former Fayetteville superintendent sues accuser
Sponsor Content
Comments