Dawn Spragg, the pastor of evangelism and connections for Central United Methodist Church in Rogers, felt the pull of altruism early in her life.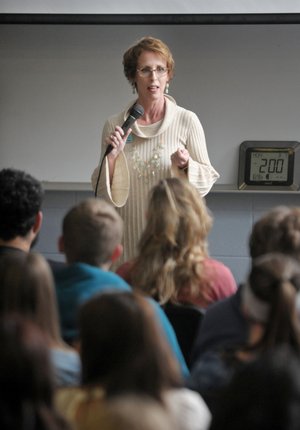 Photo by BEN GOFF • @NWABENGOFF / NWA Democrat-Gazette
"When Dawn talks to teens and their families, a light comes on in them. You can see the relief on their face that someone hears them and they just 'get it' when she talks to them. I've seen this over and over with families, in our staff trainings and meetings, and even in schools when she talks to groups." — Madi Hutson, executive director Teen Action Support Center
"The call to work in ministry was always a big part of who I was," she says. The daughter of an IBM employee, her family was transferred from upstate New York to North Carolina for her last year in high school, and the Catholic-raised senior found herself contemplating a few different post-secondary options that would have her giving back to the world in a meaningful way. Her choices included joining the Peace Corps or working overseas as a missionary. However, this was just after the 1980 murders of four Catholic missionary nuns by the El Salvador National Guard, and Spragg's father was more than a little concerned about his young daughter flying halfway across the world in such dangerous times.
Self-Portrait
Dawn Spragg
I want my children to remember that I know I'm not perfect, but I always did my best.
One concept every parent should teach their child is they are valuable. (This is taught best through actions not words.)
I'm at my best when I'm serving others.
I know I've helped someone when they understand and claim they have value and so do others.
If I've learned one thing in life, it's "I can do all things through Christ who gives me strength" — Philippians 4:13.
I wish I knew more about how to change the systems that keep people stuck.
Best advice I ever received is eat dessert first.
The turning point of my life was when Dr. Henry Woodruff ask me to consider serving as a youth minister.
Next:
JOHN TOLLESON
Fayetteville
So, after graduation, Spragg says, "I worked for a while to figure out what I wanted to do."
As luck would have it, Spragg met her future husband, Greg, who was working at the same grocery store she was. On the management track, Greg was transferred to a nearby Asheville, N.C., store for a while, so the two built a strong base of friendship before they began dating.
"I was drawn to him mostly because of his personal values, integrity and commitment to his family," Spragg says.
It was while she and Greg were considering marriage that Spragg left Catholicism behind for Greg's United Methodist denomination. The two married and embarked on an adventure together that would eventually find them moving 14 times before ultimately settling down in Northwest Arkansas.
"I married a nomad, that's what I tell people," Spragg says. "When Greg and I got married, he said, 'I kind of have a career path' -- he was in retail, you know. He said, 'I know what I want to do, but we're probably going to have to move to do it,' and I said, 'Fine.' We moved a lot while I was growing up, and so I was used to it. The only thing I was insistent about was, that once our kids went to school, we had to be done. So he had to get where he was going to get because I didn't want to move our kids while they were in school. And that's how we ended up here."
A new Mission
Along the way, Spragg raised their children, took college classes and, eventually, started working with kids within the church.
"I was asked to work with youth by a senior pastor at a Methodist church when we were in Hudson, Ohio," Spragg says. "He said, 'We need some younger people who would be willing to work with our kids,' and so I did that, kind of as a volunteer. We went through three youth ministers in a really short amount of time -- there's a lot of burnout in youth ministry. The senior pastor of that church said, 'Is this something you would consider? Do you feel like this would be a ministry you could land in?'
"I really felt drawn there."
Spragg says she kept thinking about something she heard at an event for youth workers: "Youth is the new mission field."
"I thought, 'Maybe this is my missionary work. Maybe I don't have to leave the country.' And I started thinking about it in a different way. I just started really studying about adolescence and spiritual formation and all of that, and I was hooked."
"Dawn has a special love for teens," says Madi Hutson, executive director of the Teen Action Support Center in Rogers. "She is open and humble, which makes her perfect to work with teens and their families because she truly listens to them. And she teaches families to do the same -- to listen and respond to each other's needs instead of trying to push an agenda or assume what the other is feeling."
Settling in Northwest Arkansas meant Spragg could finally focus on finishing her post-secondary work, which she did while working in youth ministry with Central United Methodist Church in Rogers.
"I met Dawn when I was appointed as the senior pastor at Central back in 2008," recalls Carness Vaughan. "I immediately saw her love for Christ, her passion for serving and her heart for ministry. It was an easy call to invite her to officially be a part of our pastoral staff, first in a part-time role and then, later, full-time."
When Spragg finished her undergraduate work in psychology at John Brown University in Siloam Springs, she decided she wanted to take the steps necessary to become an ordained youth minister within the church.
"That meant a commute to Tulsa," she says of the two years she spent driving back and forth, twice a week, between Rogers and the Phillips Theological Seminary in Oklahoma. "One of my favorite stories about my husband is that, at this time, he was an executive vice president at Sam's [Club]. He had a really high-pressure job, and at the time, I was finishing school. He never worked past 4 on Thursday afternoons, so he could go pick up [their youngest son] Davis from school and so he could support me."
The mission expands
Although the initial plan was to get ordained as the youth pastor at Central, the long drives to and from Tulsa left her with plenty of time to think -- and plan.
"I just kept feeling this call to take care of kids outside the church," recalls Spragg. "And I started realizing that all of the kids weren't necessarily going to come in here. They might not come, and their families might not come to the church.
"I went home and talked to my husband about it one night -- I would get home from seminary around 11 at night after the drive, and he was so sleepy, but I would just have all of this stuff in my brain -- and I said, 'I just feel like God is really calling us to think about kids outside the church.' He said, 'Then do it.'"
With that, the idea for the Teen Action Support Center was born: an all-encompassing center that could serve the youth of the area. Spragg set out to research where help was most needed. She was joined in her quest by several other Rogers-area citizens who shared her concerns -- Holly Sparks Hill with the United Way; Bill Hellard, a Rogers firefighter; and Jeanne Curtis, psychologist.
"We did research in the community for about six months on what services were available for teens, what gaps there were, what things we thought were really important to make sure we took care of -- that sort of thing," explains Spragg. "We had this focus group of adults who were all working together, and a couple of teenagers to help us think it through. And we decided that there was a need for teens to be able to do meaningful community service. That there was a need for kids who were parenting, teen moms and teen dads. There were not a lot of resources for teenagers, specifically those who were living below the poverty line, so just accessing clothes and cap and gown and senior photos -- those kinds of resources. And we knew we needed a mental-health care component."
"When [Spragg] recognized years ago that counseling services were not affordable for the majority of families in Northwest Arkansas, she was concerned and moved," says Hill. "She had a vision -- a place where teens felt safe, empowered and heard."
Spragg's husband helped her write a business plan, and the group set their sights on a small house conveniently located on New Hope Road in Rogers, adjacent to Central United Methodist. They wrote a letter asking if the owner would be interested in selling. Three weeks later, he contacted Spragg's realtor and said, 'Yes.'"
"I think, at that point, my husband was like, 'Oh, no, we're in deep,'" Spragg says, laughing. "'This is a runaway train.' Once we bought the house and established a 501(c)(3) [nonprofit organization] and a board of directors, we just started working."
Spragg realized the center was going to need a licensed therapist to offer mental health services, so she did what comes naturally to her: She stepped into the void and decided to get a master's degree in counseling.
"I was able to transfer nine credits from Tulsa to John Brown to finish my master's."
TASC officially opened in 2005, and Spragg quickly realized the work they were doing was desperately needed. That year, Benton County was in the middle of a population explosion. The area was struggling to offer teenagers the most basic of services, with little time or resources to offer to the supplementary supports Spragg's research showed was so lacking.
"The growth was just coming in, and we weren't keeping up with that," says Spragg. "We could barely make sure we had enough schools built for all the kids in junior and senior high school."
The Mission Succeeds
Today, TASC is an incontrovertible success: Over the past 12 years, the center has served more than 4,500 teens.
"There's nothing like TASC," says Hutson. "Teens are so special to each of us who work here. We truly love and enjoy being around teenagers every day. In founding TASC, Dawn took a stand in Northwest Arkansas and became an incredible advocate for teens and their families. Her legacy will continue as we train counselors, mentors and staff that are passionate about giving teens and their families the support they need to succeed."
In 2016, 93 percent of the seniors involved in the teen parenting program graduated from high school, a staggering improvement over the national average, which hovers somewhere in the mid 30s.
"The goal is to keep them in school and get them help in a way that will let them be good parents and adults," says Spragg. "Research shows us, that if you have someone walking with you, you can get it done. It's just investing in someone to walk with them. I feel certain that Bentonville High School has a higher graduation rate for their teen parents than Rogers does because they provide day care at the school."
The community service program at TASC remains its largest component. In 12 years, TASC has supplied the community with more than 36,000 hours of community service through its partnerships with more than 50 area nonprofits.
"For me, from a church perspective, and just knowing where teens are developmentally, serving others is a great way to learn empathy and the value that you have to contribute to society," says Spragg. "In a church context, we know that taking teenagers to mission trips helps them tremendously in their spiritual growth and their compassion."
Although the community service program -- dubbed In Service -- is open to all teenagers, a large portion of its members are teenagers from the juvenile justice system, assigned community service hours to fulfill their obligations to the court.
"We give people community service [tasks] to complete, and the reason behind that is restorative justice," says Spragg. "It's supposed to be something that helps people realize they can correct their wrong. It says, 'I still have value. I can give back because of the damage I did.' It's not meant to be a punishment, and it's not meant to be punitive. It's meant to be restorative." TASC has continued to work closely with the juvenile justice officials to make sure teenagers are offered the chance to perform restorative acts that educate as they are performed.
"I could tell you stories for hours about how kids just completely change when they're doing good for others," says Spragg. "They just do. We have one or two older ladies that we work for. We help them keep up with their lawn work. This one lady would call the kids her angels and tell them how much she loved them all and bring them cookies. These 15-year-old boys would say, 'She's like my grandma!' It was the best.
"Meaningful community service means that kids can see the impact they make in the community."
This year, TASC will expand into Washington County as it opens a new office on Emma Avenue in Springdale. Spragg says budget restraints require slow growth, even though the need for their services is definitely there.
"We want to take care of every teenager. We just don't have the funding for it," she says.
"One thing we are going to do this year, and really focus on, is doing more training and teaching," says Spragg. "We're going to work with the Center for Collaborative Care on helping to train people who work with teenagers. And we're starting parenting classes for people who have teenagers. It's hard to raise a teenager right now. We want to help parents and teachers and youth workers to get out of that mindset that it's not a time to dread these human beings -- it's a time they need us to connect with them the most and walk with them.
"We do teenagers such a disservice -- because they're amazing. They have so much energy and so many ideas. The youth used to be a foundation in our culture, you know, and used to keep the rest of us kind of energized and excited about things. It's not that way anymore. The depression rate for our teenagers is so high. We have to do something. There are a lot of things they don't have power over, so the adults have to be the ones to do it."
If that sounds pessimistic, it's certainly not how Spragg intends it. She says she doesn't know why she was given the affinity and talent for working with teenagers, but she's happy she was. She finds her work inspires hope and optimism.
"I think teenagers have the best capacity for change," she says. "I think developmentally they do, spiritually they do. That particular time in your life, from a developmental point of view -- it's the one place that, even if everything up to that point was terrible, they can turn it around. But, also, even if everything up to that point was wonderful, they can get off track. It's the most critical time. But the thing that gives me the most energy is watching the change. Hearing them tell their stories -- they can get it done if we will invest in them."
NAN Profiles on 03/19/2017