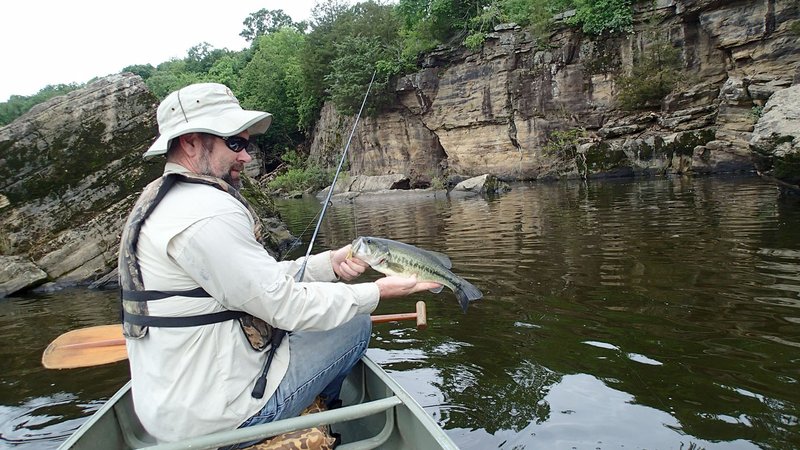 Jon Stein, fisheries biologist with the Arkansas Game and Fish Commission, shows a largemouth bass he caught May 19 at Lincoln Lake. Studies show the 90-acre lake is home to lunker largemouths. - Photo by Flip Putthoff
Nothing gets anglers packing their tackle faster than pictures of heavyweight bass caught from a little lake.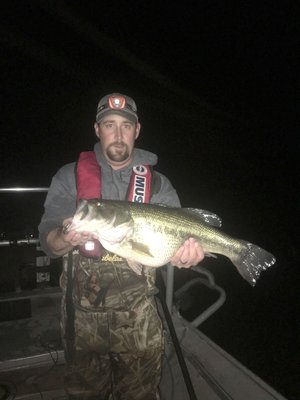 Photo by Courtesy photo
Justin Hopper with the Arkansas Game and Fish Commission shows a trophy largemouth bass caught and released at Lincoln Lake in March during an electrofishing study. The bass weighed 8.6 pounds and measured 22.8 inches long.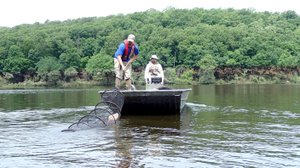 Photo by Courtesy photo
Justin Hopper (left) and Jon Stein with the Arkansas Game and Fish Commission place hoop nets in Lincoln Lake to catch catfish. The lake formerly contained mostly small bullhead catfish, but the agency has established a good population of channel catfish by stocking them.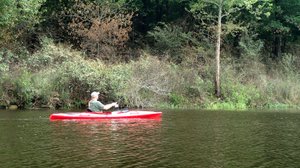 Photo by Flip Putthoff
Lincoln Lake is ideal for fishing or cruising in a kayak or canoe. Only paddlecraft or electric motors are allowed on the 100-acre Lake, seen here May 19.
Two photos Justin Hopper held in his hand proved trophy-sized largemouth bass pushing 9 pounds patrolled the depths of Lincoln Lake, a 90-acre gem of a reservoir in Washington County north of Lincoln.
Visit Lincoln Lake
From Fayetteville, drive west on U.S. 62 about 20 miles to Lincoln. Turn north on West Avenue at the sign for Lincoln Lake. Continue north four miles to the lake. The main parking area is on the right. Overflow parking is on the left.
Lincoln Lake City Park has the 90-acre lake, plus a 7-mile trail around the lake for hiking and mountain biking. Only paddlecraft or electric motors are allowed on the lake. Cliffs near the parking area are popular with rock climbers.
— Staff report
Hopper is a fisheries tech with the Arkansas Game and Fish Commission at the Rogers fisheries office. He and biologists Kevin Hopper and Jon Stein had shocked, caught and released some big bass during a nighttime electrofishing study at Lincoln Lake.
A drizzly Friday morning May 19 found Stein at the lake in the front seat of a canoe hoping to catch a lunker bass, this time with rod and reel, not electricity.
Rugged and rocky Lincoln Lake sits in the flat, pastoral west Washington County landscape. It's almost like it shouldn't be there. The lake area offers mountain biking, hiking, rock climbing, fishing, canoeing and kayaking.
The lake itself has been aptly described as a flooded Devil's Den State Park. Bluffs rise from the waterway and boulders the size of boxcars poke from the rippled surface. Lincoln Lake is shaped like a V, with the dam at the bottom of the V.
Only paddlecraft and electric motors are allowed on the water. A 7-mile trail around the lake is open for hiking and mountain biking. Rock climbers are fond of the cliffs near the parking area.
Stein and his fishing buddy were eager to get after the bass. The aluminum canoe glided across water the color of tea. Stein cast tube baits, working them deep along the bluff walls and rocks.
Stein set the hook and cranked in the day's first largemouth. Only this fish was about 8¾ pounds shy of the 9-pounder in the photograph. He caught another dink-sized bass, then finally got a respectable 2-pounder to bite. Three hours of fishing and three bass. That was it.
Through his studies of Lincoln Lake, Stein knows it holds trophy bass and those bass have plenty to eat.
"This lake is loaded with forage, particularly gizzard shad," Stein said. "I think the thing that makes them hard to catch is all the forage. It's like if you just had a steak dinner and somebody hands you a slice of pizza. You're probably not going to eat it."
At midmorning, Stein switched his attention to channel catfish, but not with hook and line. Fisheries tech Hopper arrived at the lake with a Game and Fish boat packed with hoop nets for some research.
The two set nets with bait at four spots on the lake bottom. They'd return in two days to see how many catfish were in the nets. The take was 170 catfish to 20-inches long, a big improvement over 50 catfish the nets yielded last May.
That shows the lake has a good population of channel catfish, Hopper said, and the numbers are growing.
"When we first started this all we'd get were little bullhead catfish and no channel 'cats," Stein said.
Game and Fish began stocking yearling channel catfish in 2013. Now the lake is stocked once a year with 3,000 yearling catfish that average about eight-inches long.
Fishermen and other visitors at Lincoln Lake may notice a ring of woody debris around the reservoir several feet above the surface. It's the result of a 12-foot rise on the lake during flooding in late April.
Doug Hutchens, who serves on the Lincoln City Council, said the lake is in good shape now. So is the trail around the lake. A crew was hired to clear debris off the trail and it's open for use, he said.
Sports on 06/13/2017
Print Headline: Lunkers prove elusive at Lincoln Lake
Sponsor Content
Comments