BENTONVILLE -- Northwest Arkansas Community College's culinary department wants to reduce hunger in the region by converting food that otherwise would go to waste into nutritious meals.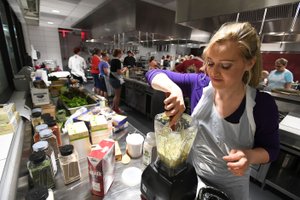 NWA Democrat-Gazette/J.T. WAMPLER Anastasia Strokova of Elm Springs makes a salad dressing Wednesday at Northwest Arkansas Community College's Brightwater.
Brightwater: A Center for the Study of Food recently joined the Campus Kitchens Project, a national organization empowering student volunteers to fight hunger and food waste in their community.
By The Numbers
The Campus Kitchens Project was in 53 schools nationwide during the 2015-16 academic year. The organization reported the following statistics from that year:
• 88,039: Volunteer hours put in by students
• 1.3 million: Pounds of food recovered
• 349,376: Meals prepared
• 19,745: Clients who received those meals
Source: Campus Kitchens Project
Brightwater will use its five kitchens to transform food recovered from the college, farmers markets, restaurants and other venues into healthy meals for the community, said Lauren Peiser, a student adviser and adjunct instructor at Brightwater.
[EMAIL UPDATES: Get free breaking news updates and daily newsletters with top headlines delivered to your inbox]
"We really could end hunger in Northwest Arkansas. I do believe it's possible," Peiser said. "It's not a scarcity problem, it's just a logistics problem in moving everything."
Peiser explained the program Wednesday to a few dozen interested community members at the announcement for the program.
Attendees helped prepare about 80 meals using recovered food. The meals were delivered to three income-based senior housing centers in Northwest Arkansas.
Anastasia Strokova, a Tyson Foods information technology architect, was one of the cooks. She also was evaluating the program as a potential volunteer activity for her Tyson co-workers.
"I'm passionate about healthy food. I'm passionate about food that gives nourishment and health to people," Strokova said. "And the fact that we're coming together making great food donated by the local community to give back to the community, I think that's a big deal."
She made a salad with lettuce, onions, radishes, pears and blueberries.
"It's something I make at home, but I had to improvise with some of the ingredients," Strokova said. "I think it turned out well."
The Campus Kitchens Project, founded in 2001, is a network of more than 60 university and high school campuses nationwide. Arkansas Tech University in Russellville is the only other Arkansas institution participating.
One in six people nationally, and one in five in Northwest Arkansas, are food insecure, meaning they don't know where they'll be getting their next meal. Forty percent of food in the United States is wasted, said Kim Arnao, who teaches a food systems class at Brightwater.
Nine of Arnao's students got involved in the Campus Kitchens Project this past semester. Their immediate task was to control food waste coming out of Brightwater's classrooms.
"Students are making some pretty cool stuff. But we're not eating all of it, and it's horrible for that food to just get wasted," Arnao said. "We kind of mastered how do we wrap everything up, how do we ship it out."
Brightwater will use technology developed by Copia, a San Francisco-based company specializing in food recovery, to match surplus food in real time with the most appropriate nonprofit organization.
Students are volunteering their time to transport the food, "But as this (program) expands it would be great to be able to incorporate paid drivers and provide jobs as well," Peiser said.
Seeds That Feed, Tri Cycle Farms and the Downtown Rogers Farmers Market are three Northwest Arkansas organizations partnering with Brightwater on the initiative.
Brightwater opened as the first tenant and anchor of the new 8th Street Market in January, where a Tyson chicken processing plant once stood.
Evelyn Jorgenson, NWACC's president, credited Brightwater director Glenn Mack for pursuing the Campus Kitchens idea.
"He's heard me say many times, 'community' is our middle name," Jorgenson said. "We need to live up to that. We need to contribute to the community and support the community."
Besides the obvious impact of addressing hunger in the area, the program also will affect the students, she said.
"They may leave here and get a career as a chef in a completely different city or town, but they'll know they have some responsibility in their role to give back to the community. So I think it's really going to have a ripple effect in a lot of ways," Jorgenson said.
NW News on 06/01/2017