ROME -- The Italian firm restoring one of Christianity's holiest sites -- the Church of the Nativity in Bethlehem -- says it's more than halfway finished with the $14.9 million project, which has already uncovered a Crusades-era mosaic angel hidden under plaster.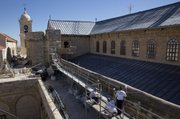 Piacenti SpA, a family-run conservation firm from the Tuscan town of Prato, won the contract to restore the biblical place of Jesus' birth and began work in 2013 alongside Palestinian workers.
The overhaul became necessary after UNESCO listed the site as endangered, with its leaky roof, rotting wood beams and centuries of built-up candle wax that blackened the brilliant mosaics ringing the interior.
Chief Executive Officer Giammarco Piacenti said the work is among the most satisfying of the restorers' careers because they are "touching heaven with their fingers."
The high point so far has been the discovery between two windows of a mosaic angel that had been covered over with plaster following an earthquake in the 1830s. The angel -- the seventh in a sequence of angels walking toward the site of the Nativity -- emerged after restorers using thermographic cameras noticed a change in the plaster color.
"We started to search and then the first tiles of the mosaic appeared, soon a wave of euphoria raced through all the restorers," Piacenti said. "This was a beautiful discovery."
The Church of the Nativity was first built by St. Helena in the fourth century over the grotto where the Virgin Mary is said to have given birth to Jesus. Rebuilt in the sixth century, it is a major pilgrimage site bringing sorely needed tourism money to the West Bank town.
The Roman Catholic, Greek Orthodox and Armenian churches share ownership of the church, and run it according to a 19th-century agreement that assigns responsibilities for upkeep that are jealously guarded by each denomination.
The churches have traditionally viewed each other with suspicion and have had fraught relations that prevented previous restoration efforts. But the Palestinian Authority eventually persuaded them to agree to the works after it became clear the church was falling into potentially disastrous ruin.
The restoration, which Piacenti estimated would cost about $15 million, has progressed in phases as funding has come through from countries and individual donors, particularly from the Palestinian diaspora. He estimated more than $5 million was still needed.
The first phase involved replacing the roof and windows. Now workers are redoing the electricity. With about 60 percent of the work finished, the final phases include restoring columns and pavement. Works are expected to be finished by 2020, when Bethlehem is expected to be named the Arab world's capital of culture, he said.
Religion on 01/21/2017