NO. 5 KENTUCKY 88, MISSISSIPPI STATE 81
STARKVILLE, Miss. -- De'Aaron Fox scored 21 points, Malik Monk added 14 and No. 5 Kentucky beat Mississippi State 88-81 on Tuesday night.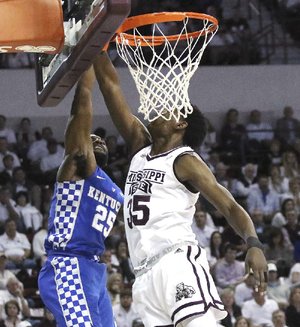 Photo by JIM LYTLE / AP
Kentucky guard Dominique Hawkins (left) has his shot blocked at the rim by Mississippi State forward Aric Holman Tuesday in Starksville, Miss. The Bulldogs made things tough on the Wildcats, but Kentucky managed to pull away in the second half for an 88-81 victory behind De'Aaron Fox's 21 points.
Kentucky (16-2, 6-0 SEC) looked like it would cruise to the victory after building a 66-49 lead midway through the second half, but Mississippi State responded with 13 consecutive points to make things interesting down the stretch.
In the end, the Wildcats were too potent offensively. Fox, a 6-foot-3 freshman, had two impressive drives for baskets in the final minutes to thwart a final Mississippi State rally.
Mississippi State (12-5, 3-2) was led by freshman Lamar Peters, who scored a career-high 25 points.
It was an emotional game that featured four technical fouls -- two on each team.
Kentucky's Derek Willis scored all 13 of his points in the first half, stepping out to make three three-pointers. Fox added 10 points as Kentucky pushed out to a 46-34 halftime lead.
The Bulldogs were able to hang with one of the nation's best teams for most of the game, but an inability to stop Kentucky on the defensive end proved costly.
The Wildcats continue to put up big numbers on offense, scoring at least 87 points for the sixth consecutive game. Monk, who leads the team with nearly 22 points per game, wasn't at his best on Tuesday, but his teammates were more than capable of picking up the slack.
In other games involving Top 25 teams Tuesday, Johnathan Motley set career highs with 32 points and 20 rebounds for No. 6 Baylor and the Bears went ahead to stay with a big run before halftime on the way to a 74-64 victory over Texas. Nuni Omot, the junior college transfer playing in only his eighth game, had a season-high 14 points. He scored seven in the half-ending 16-4 run that put the Bears (17-1, 5-1 Big 12) up for the first time. Jarrett Allen had 17 points for the Longhorns (7-11, 1-5), while Andrew Jones had 15. … Bronson Koenig scored 16 points, 10 in a key run that turned the game around, and No. 17 Wisconsin survived a scare from Michigan 68-64. Michigan (12-7, 2-4 Big Ten) seemed to have Wisconsin (15-3, 4-1) on the ropes at one point in the second half. Wisconsin's Ethan Happ went to the bench with his third foul early and could largely only watch as the Wolverines went on a 17-2 run that put them up 38-30. Zak Irvin scored 20 points to lead Michigan. … Center Isaac Haas had 24 points and six rebounds, and power forward Caleb Swanigan added 22 points and 10 rebounds in No. 21 Purdue's dominating 91-68 victory over Illinois. Haas scored 13 points in the second half when the Boilermakers (15-4, 4-2 Big Ten) led by as many as 27. Illinois (12-7, 2-4) got 15 points from Maverick Morgan and 12 from Malcolm Hill but had no answer for the Boilermakers' two post players, each of whom had his way around the basket.
SEC MEN
Georgia prevails
ATHENS, Ga. — Yante Maten scored 21 points, Juwan Parker added 17 points and Georgia beat struggling Vanderbilt 76-68.
J.J. Frazier finished with 15 points, 5 assists and 6 rebounds for the Bulldogs (12-6, 4-2 SEC), who have won three of their past four games.
Vanderbilt, which trailed nearly the entire game, has lost four consecutive — its longest skid since January 2015 when it dropped seven in a row.
Matthew Fisher-Davis, Vanderbilt's leading scorer this season, did not start for the first time this season and finished with nine points on 4-for-13 shooting. First-year Coach Bryce Drew held him out until the 13:38 mark of the first half and until the 14:06 mark of the second half.
Luke Kornet scored 19 points and Riley LaChance had 13 for the Commodores (8-10, 2-4).
In another game involving SEC men Tuesday, Terence Davis scored 20 points and had 11 rebounds and Mississippi closed with a 12-2 run in the final three minutes to defeat Tennessee 80-69. Sebastian Saiz added 17 points and 10 boards for Ole Miss (11-7, 2-4 SEC) while Breein Tyree and Justas Furmanavicius scored 15 apiece. Robert Hubbs III and Lamonte Turner had 15 points apiece for Tennessee (9-9, 2-4). Ole Miss was 26 of 54 (48 percent) from the field, despite shooting 1 of 14 from three-point range. The Rebels out rebounded Tennessee 50-42.
TOP 25 WOMEN
UConn wins again
TULSA, Okla. -- Katie Lou Samuelson scored a career-high 34 points to help No. 1 UConn beat Tulsa 98-58 for the Huskies' 92nd consecutive victory.
Napheesa Collier had 21 points and 13 rebounds and Gabby Williams added 13 points, nine rebounds and eight assists for the Huskies (17-0, 5-0 American Athletic Conference), who also won their 33rd consecutive road game.
Shug Dickson scored 21 points for Tulsa (5-13, 1-4).
The Huskies scored the game's first 14 points and held Tulsa scoreless for more than five minutes to start the game. Connecticut led 30-16 at the end of the first quarter.
Samuelson scored 23 points in the first half to help Connecticut take a 55-33 lead. Dickson scored 15 points in the first half, but the Golden Hurricane shot just 38.7 percent.
Tulsa made 8 of 17 three-pointers in the first half, but just 3 of 14 inside the arc.
Samuelson scored 11 more points in the third quarter to help the Huskies pull further away. She set her career high before the end of the period, and the Huskies took an 84-46 lead into the fourth. Her previous best was 29 against Dayton earlier this season.
Sports on 01/18/2017