The reinvention of Sam's Club's private label business was evident on the shelves as Chandra Holt, vice president of private brands, led a tour through the Bentonville club earlier this week.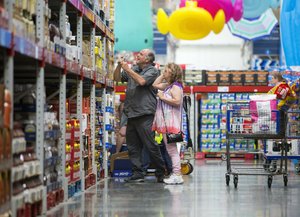 Photo by Jason Ivester
Stuart and Barbara Drizner of Holiday Island shop Tuesday at Sam's Club in Bentonville. Sam's Club has reduced its privatelabel brands from 21 to one — Member's Mark — and plans to introduce 300 new private-label items this year.
She pointed to olive oil sourced from Italy, honey secured from a U.S bee cooperative and pre-smoked barbecue with just three ingredients -- pork, water and seasoning -- created with the help of Kansas City pitmasters.
"Our members pay a fee to shop here so they expect to find unique things when they enter the club," Holt said. "We want to make sure we have really great items that keep them coming back."
The three items were a quick glimpse of a larger private label strategy that has consumed Holt and her team, who have worked to keep members coming back by improving the offerings available at Sam's Clubs.
The company has whittled its private label brands from 21 to one -- Member's Mark -- over the past few years to generate loyalty and eliminate confusion, announced plans to introduce 300 new private label items in its clubs this year, and is in the process of renovating about twice that many.
To do so, Sam's Club has invested in its local and global sourcing capabilities and also re-imagined packaging and branding for its Member's Mark items. The company formulated a private label team that includes product developers, culinary experts and food scientists to emphasize quality and value.
"In the past, we'd always kind of benchmarked ourselves against the national brands," Holt said. "As consumer tastes are changing, sometimes they want better than that. They want cleaner ingredient labels, they want more sustainable packaging, they want less ingredients in food."
The effort is important for Sam's Club, which is competing for members with other retailers such as Costco Wholesale Corp. and is undergoing a leadership change after CEO Roz Brewer stepped down earlier this year.
Sam's Club, which reported net sales of $57.4 billion for fiscal 2017 -- a 1 percent increase from 2016, is now being led by former chief merchandising officer John Furner.
Brian Yarbrough, a retail analyst at Edward Jones, said private label brands can be critical to a retailer's success as it competes with others in stores and online.
"The difference on a private label brand is if you get someone hooked on your Great Value brand, or you get someone hooked on Member's Mark, they can't go to Amazon or Target to get that," Yarbrough said. "I do think there's a big opportunity there and a way to keep the customer sticking with them instead of jumping to a competitor. But you have to be careful. You don't want to over-index there because a lot of people still go to Wal-Mart for brands. There's a fine line."
Sam's Club made some decisions regarding private label products based on customer feedback through focus groups. The message, according to Holt, was that the members wanted new items and some of the existing ones to be updated.
There are about 2,000 private label items in the Sam's Club catalog, although Holt said a store will typically hold between 800 and 900 on the shelves. The new items being introduced this year span multiple categories, including food, apparel and health and wellness. Holt said Sam's Club plans to add about 300 more next year as well.
In some cases, Member's Mark items will replace brands. In other cases, they'll sit on the shelves alongside those brands. Holt said Sam's Club listens to customers as it makes those decisions.
"We don't want to take away brands that our members love," Holt said. "But where there's opportunity where the brands don't really matter to the members, we'll attempt to replace those with private brands and some of our items are in addition to."
Most of the private label items in the store are now under the Member's Mark name, which has been synonymous with Sam's Club for more than 20 years. There are some Daily Chef items remaining, but Holt said those are in the process of transitioning to Member's Mark as well.
Sam's Club also worked with design and branding experts throughout the private label overhaul, creating a Member's Mark logo to unify the items. But Holt said Sam's Club has "put the item first," designing packages that fit the products in place of a standard template typical of most private brands.
Overall, the private-label efforts taking place at Sam's Club is evident across the rest of Wal-Mart's businesses. CEO Doug McMillon told analysts last month the company has "some pretty big opportunities" to create product-driven loyalty through private brands both in stores and online.
It doesn't mean the retailer is pushing brands out of its stores, but Wal-Mart is putting more resources into its private label offerings and is starting to see momentum. McMillon said some of those investments were on display during the company's year-beginning meetings in Orlando, Fla.
"The first time I can remember there were lab coats, some scientists and suppliers and some of our own merchants that were showing how we have built some of these private brand products," McMillon said. "We wanted our store managers to see quality -- we had examples from food, examples from footwear and apparel -- so that our own team would know we're really investing and ensuring that our specifications here are strong. So that opportunity is still in front of us."
Business on 04/19/2017