Martin Schoppmeyer, founder and superintendent of Haas Hall Academy and Fayetteville Ward 3 City Council member, discovered he was an advocate for school choice early in his life. At the end of ninth grade, he considered his imminent entry into his local public high school -- and decided it wasn't for him.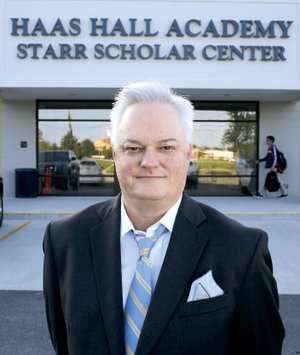 Photo by David Gottschalk
"I think Dr. Schoppmeyer does his job for the right reasons. I feel like he does it for the kids, and he does it because he's seen a need in the community for preparing our kids for college." — Jodi Northcutt, Haas Hall Academy faculty member about Martin Schoppmeyer
"I wasn't getting out of it what I wanted to get out of it," he says simply. "It just wasn't a fit for me."
SELF-PORTRAIT
Martin William Schoppmeyer Jr.
Date and place of birth: November 1, 1966, Fort Lauderdale, Florida.
Family: Wife, Carin, a Features writer for the Northwest Arkansas Democrat-Gazette.
A word or two to sum me up: Strategic, tenacious.
My most humbling experience was: Starting Haas Hall Academy.
A really good piece of advice I received was: Never quit.
I want to be known for: Being a positive agent of reform in public education.
The best decision I ever made: Asking my best friend Carin to marry me.
Few people know I: Am an accomplished drummer.
My favorite place to travel is: Vienna.
Schoppmeyer set about researching his options and found Subiaco Academy, the Catholic Benedictine college prep boarding school for boys in Subiaco, nearly a two-hour drive from his home and family in Fayetteville.
He told his parents he thought it would be a good environment for him. His boarding school-educated father studied his son carefully.
"He said, 'Are you sure?'" Schoppmeyer remembers. "I said, "Yes, sir, I am.' We went to look at it, and I took an entrance test, and they accepted me.
"They were very supportive," he says of his parents. "That's a blessing, that I had great parents. For me, there was never a question that I wanted to go. I told them, they said, 'OK, great, let's go.'"
Understandably, his enthusiasm waned the tiniest bit in his first month there.
"I think everybody has this moment of, 'What did I just do?' when you get there ... The first couple of days were a little iffy.
"But my father -- he is the kind of guy that taught me you never give up on something. The easy thing would have been to call him up and say, 'I want to go home,' but that wasn't going to work."
So Schoppmeyer resolved to last until Christmas, only to find that Subiaco felt like home much sooner than that.
"It was the best decision I made in my life, besides marrying Carin," he says. "At that age, taking control -- it made me very successful academically, if that makes sense. It really fueled my love of learning."
During the first school assembly at Subiaco, Schoppmeyer witnessed something that would forever impact his view on what a school should look like.
"It was the first day of school, and the auditorium is filled up, and they start calling people's names, and I thought, 'Oh, this might be the football team,' but, no, it was the students with the highest GPAs in the school," he remembers. "There were a different set of rules for them. They didn't have to go to study hall; they didn't have to do anything mandatory. Their time was their own."
Academic challenges
Pierce Osborne, Haas Hall Board president and father to two Haas Hall students, confirms that that lesson fueled Schoppmeyer's motivations when conceptualizing the charter school that now has campuses in Fayetteville, Bentonville and, soon, Springdale.
"Marty told me that he wanted the coolest kid in school to be the valedictorian and not the quarterback," says Osborne. "And I think he's done that."
The idea for Haas Hall was conceived in 2003. At the time, Schoppmeyer -- who earned his Doctorate in Educational Technology and Educational Administration -- was teaching at the University of Arkansas. Schoppmeyer's father was a university professor for more than 30 years, and his mother was a Fayetteville Public School teacher; education was a frequent subject of dinner conversation. One night, Schoppmeyer's father brought up the subject of charter schools, which were gaining more attention in the media. The two men investigated, and, inspired by what he learned, Schoppmeyer sat down and wrote a charter.
"It was the first charter unanimously approved by the State Board of Education," he notes, and the first charter high school approved in the state.
The approval came on a Monday, but the celebration was short-lived: Schoppmeyer was dealt a terrible blow when his wife, Carin, suffered a stroke caused by a brain stem hemorrhage. Schoppmeyer was devastated.
"So my wife had to learn to walk, talk again," he says. "This is an emotional thing for me to talk about because she was so young. Less than 1 percent of people survive this, and she did.
"I said to Carin, 'There are lots of things more important than my job. I need to worry about you,' and she said, 'No, you need to do this. You've made a commitment, and you need to go do it.'"
Adding to the family worry was Schoppmeyer's beloved father, who was also in ill health. Yet class was in session at Haas Hall Academy in the fall of 2004.
"We opened our doors. It was a struggle, it was hard -- it's not easy. It may look that way now, but it wasn't."
Indeed, Schoppmeyer and Haas Hall Academy faced an uphill climb from the very beginning. Unable to find an appropriate space in Fayetteville, Schoppmeyer settled on an unused dairy barn in Farmington for the first site of the school.
Today, he looks at an aerial photo of the original Haas Hall location with fondness.
"That was the milking shed, where we ate, and our classes were here," he says, pointing. "It wouldn't be an anomaly to see cattle walking around the dairy barn because the gentleman [who owned the property] had a ton of cattle, and we were surrounded by them.
"There are some [parents] who would drive up, see the building, and drive away," Schoppmeyer laughs. "I could see it from my video camera in my office. 'Didn't I have a 10 o'clock appointment?' 'They drove off!'
"I wanted to say, 'I cried the first time I saw it, too! But it works! It's a great little building!'"
Kathy Smith, senior program officer with the Walton Family Foundation, says that the Foundation was an early supporter of Haas Hall Academy. "I was a little nervous about whether they would attract students because of their remote location and because it was in a barn," she admits. "But, obviously, students and families are attracted to high quality schools that have strong leaders and strong teachers, and I think that has been the hallmark of Haas Hall all along."
Osborne remembers hearing Schoppmeyer pitch his new charter school at a Leadership Fayetteville meeting.
"I remember thinking, 'You know, that's a good idea,'" Osborne recalls. "He was starting his place out in a dairy barn, and I just remember thinking, 'That's gutsy, that's brave, and I applaud his intention,' but I didn't think it would ever work."
Earning the numbers
Indeed, it was a rocky start.
When the doors opened in August, Schoppmeyer and his small staff were expecting 40 students. However, only 17 showed up for the first day of school.
"They found out they couldn't play sports and attend Haas Hall," Schoppmeyer explains. "The district was OK with it, but [the] Arkansas Athletic Association wasn't -- it was an AAA regulation. Those kids ended up going back to their district of origin.
"These were the lean years. For me, it was always about working hard and making sure that we're doing the best we can do every day. But it was quite humbling, I'll put it that way."
Despite it all, the little charter school in the dairy barn slowly gained students, and by 2009, Haas Hall was stretching the limits of capacity at that location. Finally, Schoppmeyer found an appropriate site in Fayetteville.
But, just like the last time he was poised for a successful move, tragedy struck.
"We finally got the opportunity to move in 2009," he says. "That happened to be the time when we had that severe ice storm, and my father passed away that evening. He'd been in the rehab center, and they said, 'We're going to release him tomorrow, he looks great,' and then we got a phone call at about 2:30 in the morning that he had passed on.
"This is something that always bothers me, and I'm very open about it, I talk about it at graduation because my mother and I give away a scholarship in my father's name. My daddy never got to see Haas Hall be successful. That was important to me as a son, that he could see that. I know he was very proud of what we were doing, I just think he wanted to see it where it was successful. [At the time he died,] it was a struggle. But those, again, are the things that keep you in perspective, you know, that we've worked really hard as a group. Blood, sweat and tears is an honest-to-goodness statement."
The current Haas Hall Academy is a far cry from the days when cattle grazed outside its windows. Today, it stands in a busy hub on the north side of Fayetteville in a 20,000-square-foot building. It has been recognized as the No. 1 high school in the state of Arkansas by U.S. News and World Report and routinely shows up on the lists of the best high schools in the nation in the same publication, as well as others such as Newsweek, the Daily Beast and the Washington Post.
And with their own sports teams -- a Mastiff is their mascot -- students don't have to sacrifice athletics to attend.
In the commons, an airy room used for large gatherings, words fill the entire span of one wall: "Every Scholar, Every Day, College Bound."
"I like to remind them every day of why we're here," Schoppmeyer, nodding towards the words. "You come to Haas Hall to go to college, so when you walk in here as a seventh grader, all the way until you graduate as a senior, we're reminding you of why you're here."
Indeed, Haas Hall currently has a 100 percent graduation rate and college attendance rate, which is part of the reason it's on many "Best Schools" lists.
Another statistic that lands the school there is its percentage of high test scores, which, as Schoppmeyer explains, the staff takes very seriously.
"Our scholars take the [preliminary SAT] multiple years," Schoppmeyer says. "Here, I make you take it in the seventh, eighth, ninth, 10th and 11th grade. We stop school two weeks before the national testing day and, under normal testing conditions, we administer the practice test that comes along with it, and [during] the next few days, we grade it in class. We're going over every math problem, every paragraph, finding out how to get the correct answer and teaching test-taking techniques that my faculty and I have mastered.
"Taking a test is a skill. The more you do it, the better you're going to be at it."
Another secret to the school's success, according to Schoppmeyer, is that it more resembles a university than a high school.
"One of the fundamental differences between Haas Hall and traditional schools is that we do everything here by the semester, not by the calendar year," Schoppmeyer explains. "We replicate college schedules, so our scholars take three or four classes a day and switch after Christmas, and then carry four different classes. The only thing that doesn't switch is English and their language class. They do an entire calendar year of [both].
"When you look at our test scores and say, 'Why are these so high?' well, it's basically because we're doing twice as much work, and there's no wasted time here."
'Haas Hall is free'
Schoppmeyer also credits the faculty for a large portion of his school's success.
"One of the things that I pride myself on is, I hire faculty with advanced degrees in their respective fields," he says, stopping outside of a science classroom. "This guy is an electrical engineer and worked in his field for nine years.
"We've got people who have done something at the college level -- they've either taught or [were a] graduate assistant or hold an advanced degree in their field."
Director of College Advising Jodi Northcutt says that there's a real "family vibe" to the school. "Kids who were in my class kind of became 'my kids', and I think every teacher here feels that same sentiment. The kids are kids to us and not numbers -- you don't have them for one class and then never see them again."
"Throughout high school, I have witnessed multiple teachers that have sacrificed their weekends toward helping students," says Bryson Horn, a senior at Haas Hall. "There have been study groups that have met with teachers on Saturdays to help with AP testing preparation. Likewise, my athletic director has also taken her Saturdays to oversee my physical testing for my military academy applications."
Students like Bryson will be participating in Haas Hall's "Are You Smarter than a Haas Hallian" fundraiser from 6 to 8 p.m. Thursday at the Fayetteville Town Center.
"It's kind of a mix between 'Are You Smarter than a Third Grader' and quiz bowl," says Schoppmeyer. "We pair six community leaders against six scholars, and they have a quiz bowl game."
Fundraisers like this one help to make up for any funding gaps not met by state dollars, grants and private donors. Schoppmeyer thinks it may come as a surprise to some people that Haas Hall is a public school.
"Haas Hall is free," he says. "That's the first thing I start out with: We're free. We're not a private school. I think the uniforms throw some people, but, for us, that's the great equalizer -- it's not about what mom or dad have."
Evidence of Schoppmeyer's success in this venture is plentiful: Haas Hall Academy in Fayetteville is filled to capacity with an extensive waiting list (the school is only able to accept 12 percent of its applicants through a lottery system). It is about to expand to the building next door, making room for 100 more students. Haas Hall Academy in Bentonville is thriving in its second year of business. The new Haas Hall Academy in Springdale is slated to open in the Jones Center for Families in the next year.
But does Schoppmeyer feel successful?
"We could always do better," he says firmly. "We're No. 19 in the nation. There are 18 schools that are better than [we are]. I want to be better than them. I want to be the Phillips Andover, Phillips Exeter of public schools, where you don't have to have money to get this education. I want it to be free."
NAN Profiles on 09/04/2016