When Park Plaza opened the doors at 6 a.m. Friday, shoppers sprinted through the mall. Some ran up escalators, others ran down them.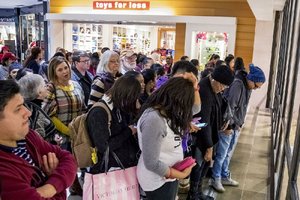 Photo by John Sykes Jr.
Shoppers at Park Plaza wait Friday morning for the doors at Dillard's to open.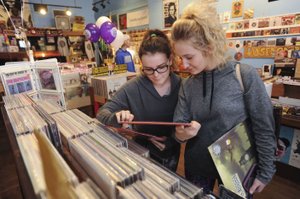 Photo by Andy Shupe
Chelsea Taylor (right) and friend Mia Still, 16, both of Gentry, shop for records Friday at Block Street Records on Block Avenue in downtown Fayetteville. The pair came down to Fayetteville to shop at the longtime local business which held its own Black Friday promotion.
All were in search of Black Friday bargains, and the mall's "door-buster" -- a red envelope that contained prizes ranging from gift cards to certificates for a giveaway, and available only to the first 300 shoppers.
The Little Rock mall's early birds were among the 137.4 million people who will be shopping online or in stores during the four-day Thanksgiving weekend, according to estimates by the National Retail Federation.
The federation expects Americans to spend $655.8 billion this year, a 3.6 percent increase from 2015.
Shopper Jennifer Brown paused early Friday at Park Plaza to explain the house slippers she was wearing.
Brown said she slipped them on because they made the trek from store to store more comfortable, and the hours she had spent shopping had reached into the double digits.
"We bought clothes at Wal-Mart because we were dressed cute and cute doesn't work when you're shopping 12 hours," said the 32-year-old from Fordyce.
Like millions of Americans, Brown kicked off the Christmas-shopping season this week by hitting the stores Thanksgiving Day.
Brown started her shopping expedition at 4 p.m. Thursday -- making her way to Old Navy, Kohl's and the Outlets of Little Rock.
Just after 5:30 a.m. on Friday, Brown and her friend were standing at the front of the line forming outside Park Plaza.
"The early bird gets the worm," Brown said.
Thanksgiving weekend has become immensely competitive for retailers in recent years as they try to entice consumers to spend money, and big stores compete with online retailers.
Wal-Mart Stores Inc., Target Corp. and other big retail chains are counting on heavier discounts and a bigger online selection this year to help keep up with Amazon.com.
As Black Friday ushered in the year-end shopping rush, chains are touting larger price cuts than in 2015 -- a gamble that maintaining market share is worth squeezing margins. Based on a Market Track study of Christmas sales circulars, Wal-Mart is offering an average discount of 39 percent, compared with 35 percent last year. At Target, the price cuts grew to 38 percent from 36 percent.
"With the lines between traditional brick and mortar and e-commerce continuing to blur, the need to make a big splash during large retail events like Black Friday is significant," Traci Gregorski, senior vice president of marketing at Market Track, said in an emailed statement.
Black Friday traditionally marks the period when retailers start to turn profits, but in recent years has decreased in significance as more retailers open on Thanksgiving Day. Many companies have started to offer door-buster deals, normally reserved for the Friday after Thanksgiving, earlier and earlier.
Unlike many shopping centers and stores, Park Plaza was closed Thursday. The mall's operator, CBL & Associates Properties, said it would not open its properties until 6 a.m. on the Friday after Thanksgiving so workers could have the holiday off with family members.
"We want to bring back the excitement of Black Friday shopping as the true start of the holiday shopping season and allow our employees, retailers, and shoppers to spend the Thanksgiving holiday with their families," CBL Chief Executive Officer Stephen Lebovitz said in a statement in October.
Brown, who said she ate Thanksgiving dinner before going to stores that evening, said she agreed with Park Plaza's decision to stay closed even though she started shopping Thanksgiving Day.
"I think [stores] should open Friday so people can get a good night of sleep," she said.
That was seconded by Melissa Ward, of Springdale, who was farther back in the line at Park Plaza before the mall opened. Ward, who was shopping with family members, said she waited until Friday to start shopping.
"I'm really pleased with that -- so we could spend the day [Thursday] with family," Ward said of the decision.
Information for this article was contributed by Lindsey Rupp and Sarah Very of Bloomberg News.
A Section on 11/26/2016