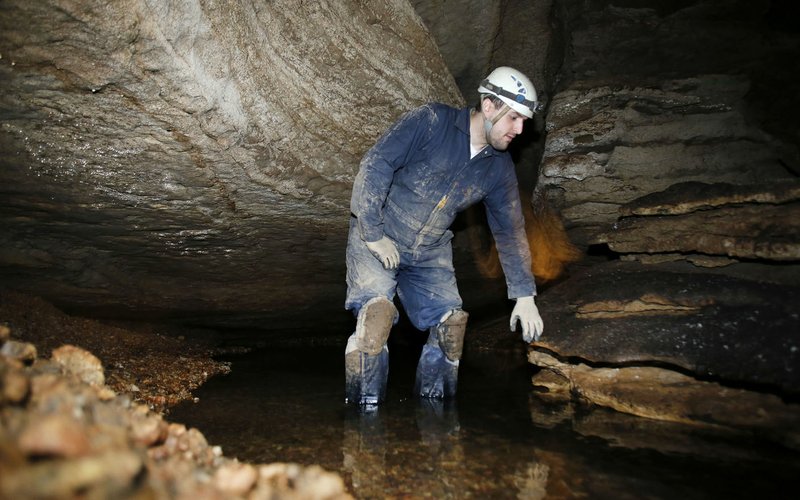 Guy Schiavone, general manager and guide, is illuminated by a headlamp and flashlight before reentering the Mirror Lake room after leading a tour on the Wild Tour of War Eagle Cavern on Beaver Lake. The Wild Cave Tour gives visitors a guided realistic experience of spelunking that requires helmets, lights, gloves, knee pads and the willingness to get muddy and possibly wet. - Photo by David Gottschalk
The wonders of the underground world unfold on tours deep inside commercial caves in the region. More discoveries await in the dark passages beyond the beaten path on wild cave tours, including the one at War Eagle Cavern.
The entrance to War Eagle Cavern is a brief downhill walk from the gift shop and office on an asphalt trail. Visitors see a variety of plant life, the occasional squirrel and part of Beaver Lake in the Devil's Gap area along the way.
Tours mild to wild
War Eagle Cavern wild cave tour information: www.wareaglecavern.com, 479-789-2909.
The wide cavern entrance comes into view under a bluff topped with bushes and trees. The path winds along historic and entertaining displays of mining and bootlegging inside the cool, moist interior. Those taking this traditional walking tour occasionally duck as they walk along, avoiding head bumps.
This underground world is referred to as a cavern because its creation was caused by an internal force such as a river or stream and is connected to a cave or series of caves.
The traditional tour reaches far into the cavern. It's well lit and ends at Mirror Lake, a stream-fed, clear reflecting pool.
The lake is the start of the wild cave adventure where four miles of cave passages twist their way through rock and along water. Much of it is seen on the wild tour with help from an expert War Eagle Cavern guide.
It's a true caving experience. Explorers crawl, walk on raised edges and maneuver in tight canyons where no permanent lighting exists. The wild cave tour lasts about three hours.
Helmets, knee pads, gloves and head lamps are provided. Guides recommend wearing a long-sleeved shirt, long pants or coveralls. Good footwear is an old pair of hiking boots or rubber boots. Be ready to get muddy.
Guy Schiavone, guide and general manager at War Eagle Cavern, went over safety procedures and stressed the importance of following his direction inside the cave. Safety, adventure and fun are the priorities.
After a quick review of headlamps and extra light sources, Schiavone scrambled up and over four feet of mud- covered rocks, ducked under a low ceiling and went over a crevice with a narrow, eight-foot drop.
The guide scooted along in knee-high boots and blue coveralls. Schiavone's headlamp was secured to his helmet and he carried two additional flashlights, plus a two-way radio.
The only light on the wild cave tour is the beam from headlamps or flashlights. A pitch black experience is easily provided by a synchronized switching off of all the lights.
It's common to share the tight quarters with an eastern pipistrelle, one of the 19 varieties of bats found in Arkansas. War Eagle Cavern is home to thousands of bats. Guides on the traditional and wild tours take precautions to protect the small mammals and teach customers the benefits of a healthy bat population.
A few bats flew on this tour, but most slept. On the wild tour, sleeping bats can be mere inches from a caver shuffling along the side of a crevice or under a low ceiling.
Wild cave tours aren't given during spring and winter months to protect hibernating bats. The traditional walking tour is open from March through Thanksgiving weekend. Wild cave tours start the first week of July and end the last week of October. The bat population can be up to 100,000 in the cavern, Schiavone said.
There's some graffiti on the cavern walls. Words, names, dates and other markings have been either scraped or painted on the rock.
After an hour underground, cavers arrive at a four-foot-wide circular entrance on a small incline leading to another area of the cave. Three or more points of contact are used as explorers negotiate their way to solid footing on the gravel floor of an underground canyon with walls reaching an estimated 100 feet, four to 12 feet apart.
This canyon is only one of the natural features on the tour. Cavers view large vaulted rooms, crawl on ledges above collapsed plates of rock, crouch through tight slots with protruding rock and see formations formed by water on rock.
The sound of the underwater stream is always audible. The route follows the stream through most of the passageway. Cavers can stay dry for the most part.
After hours of exploring, dependent on narrow beams of light from headlamps and flashlights, a yellow glow from Mirror Lake appears on the walls and stream at the end of a passage, signaling the end of the tour.
Schiavone said the natural reaction of guests on the tour is one of disbelief "that something like this has existed for this long right under our feet." Cavers leave with a sense of amazement and accomplishment and an appreciation of the world underground.
Sports on 11/01/2016
Print Headline: Seldom seen passages reveal wonders at War Eagle Cavern
Sponsor Content
Comments