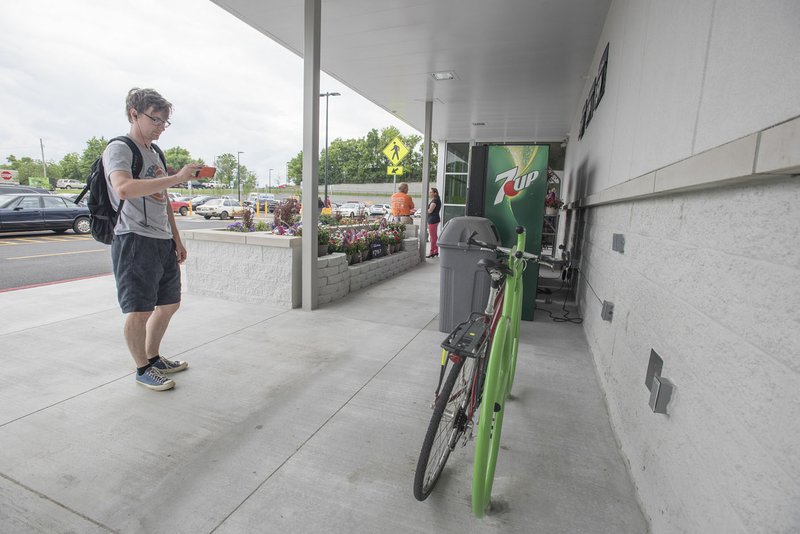 Dimitry Kislitsyn photographs his bicycle chained to a rack shaped like a bicycle Thursday before shopping at the Wal-Mart Neighborhood Market on Martin Luther King Boulevard in Fayetteville. Kislitsyn, a University of Arkansas student, lives in the neighborhood close by. - Photo by J.T. Wampler
FAYETTEVILLE -- Wal-Mart sent busloads of visitors in town for events surrounding its annual shareholders meeting to visit the newly opened Neighborhood Market on Martin Luther King Boulevard. Fayetteville resident Bob Besom, 73, used a different mode of transportation when he visited the store Thursday. He quietly coasted up to the entrance on his bicycle.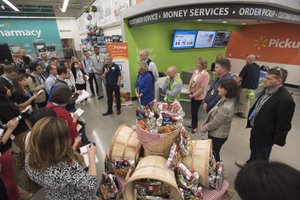 Photo by J.T. Wampler
Greg Foran, president and CEO of Wal-Mart U.S., leads the media on a tour Thursday at the Wal-Mart Neighborhood Market on Martin Luther King Boulevard in Fayetteville.
Fayetteville's Frisco Trail, a segment of the larger Razorback Greenway, runs both next to Besom's home and less than a block from the 24-hour grocery store, and while health issues make walking difficult for Besom, he said he makes a point of riding a few miles every day.
Fayetteville Wal-Mart Neighborhood Market
• Location: off Martin Luther King Jr. Boulevard between Government and Hill avenues
• Hours: 24 hours
• Services: Groceries, including produce and bakery, pharmacy and household items; online pickup
Source: Staff report
"I don't like to shop, so I like going to Wal-Mart so I can get everything at once," Besom said. "I can get around so easily on the bicycle."
Fayetteville's market, which opened last week, is one of at least two recently opened in Northwest Arkansas at least partly geared toward the walking and biking crowd. The other opened in November in the heart of downtown Bentonville, which has seen a flurry of residential and commercial developments and proposals in recent years.
Cities throughout Northwest Arkansas are trying to steer development toward walkable, connected layouts people don't need cars to navigate, and the Wal-Mart markets are moving in that direction, said city development officials.
"It's definitely something that we've been intentionally trying to create," said Troy Galloway, Bentonville's director of community and economic development, adding grocery stores can be essential for anyone living in the area. The Neighborhood Market partly took the place of a Harps Food Store that moved, he said.
"Without that, it's harder to gain access to some of the basic services like getting groceries or getting prescriptions, those kinds of things," Galloway said.
The Fayetteville store's location and layout came out of a partnership with the city, Julie Murphy, Wal-Mart's executive vice president for the neighborhood markets, said during a shareholder and media tour of the store Thursday. The markets are deliberately placed where the sprawling supercenters, such as the one 2 miles west on Martin Luther King, won't go, she told the group.
While the smaller markets have been around for years, their emphasis on convenience and local and fresh food has taken on a larger role in the company's business. Fayetteville's market is the city's third and Northwest Arkansas' 20th.
"We want to be a part of the community," Murphy said. "We are a quick and easy shopping experience for our customers."
Fayetteville's market "could have been better" from the city's perspective, said Jeremy Pate, the city's development services director. Planning staff pushed for a more urban layout, with parking behind the store instead of in front, and several neighbors turned out to oppose the property's rezoning for the project in 2014.
Fayetteville's 2030 plan discourages sprawl and encourages both a mixture of business and residences and the urban format for more pedestrian-friendly and visually appealing buildings. That means buildings closer to the streets they face, such as on Dickson Street.
Despite the market's drawbacks, the trail will bring more people there, Pate added, and the store shows the company's trying a different approach. The Marvin's IGA store near downtown Fayetteville and its historic district also sees a lot of of foot traffic, he said.
"I think it's going to work fine," Pate said. "A grocery store obviously is an important component of any neighborhood."
NW News on 06/04/2016
Print Headline: Wal-Mart markets fit in cities' goals
Sponsor Content
Comments