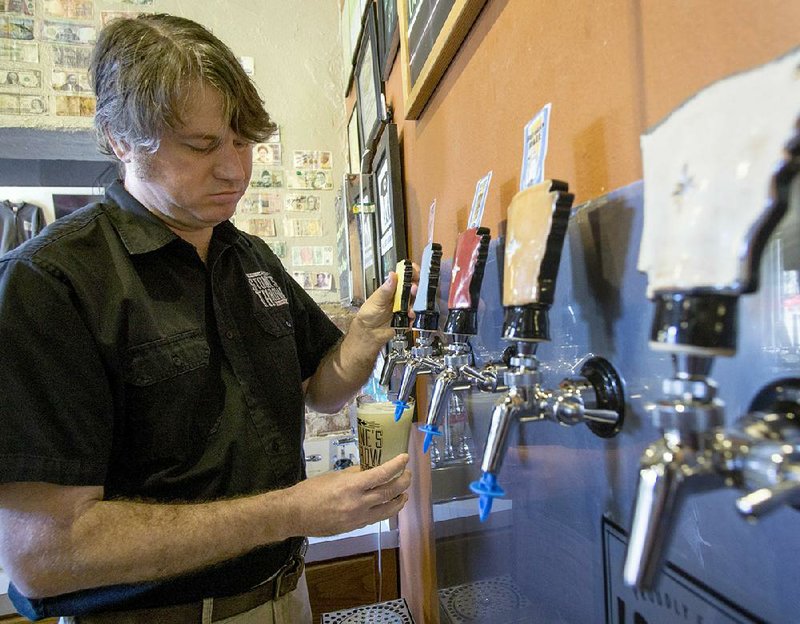 Ian Beard fills a glass in Stone's Throw Brewing's Rock Street tap room. - Photo by Mitchell PE Masilun
The Historic Arkansas Museum is getting ready to celebrate three-quarters of a century later this month with birthday cake, crafts, games, tours of the grounds and a special brew of, well, historic proportions.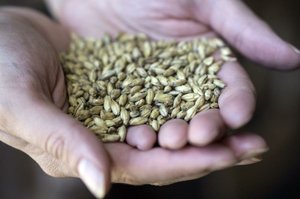 Photo by Mitchell PE Masilun
Barley, one of the grains Ian Beard and colleagues used to make the tribute beer for the Historic Arkansas Museum's 75th anniversary, is also one of the principal ingredients that beer makers use today.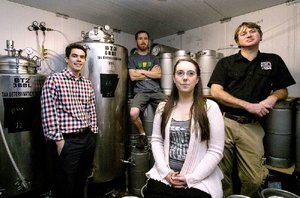 Photo by Mitchell PE Masilun
Chris Hancock (from left), communications manager for the Historic Arkansas Museum; Theron Cash, brewmaster at Stone's Throw Brewing; Leah Lambert, adult education and living history coordinator at the Old State House Museum; and Ian Beard, Stone's Throw Brewing co-owner and "beer pusher"; spearheaded the research and brewing of the special "George Bros. Historic Arkansas Ale" for the Historic Arkansas Museum's 75th anniversary.
Photo by Mitchell PE Masilun
Brewmaster Theron Cash mixes in some grains during the brewing process at Stone's Throw Brewing.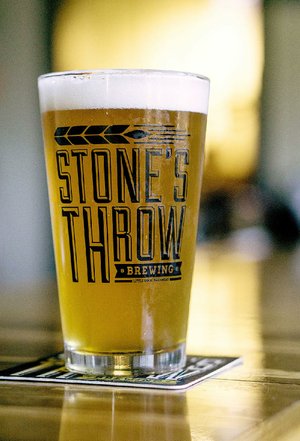 Photo by Mitchell PE Masilun
You can't judge a beer by its cover: The "George Bros. Historic Arkansas Ale" — a tribute to the first commercial beer in Arkansas— is served in a Stone's Throw Brewing glass.
Stone's Throw Brewing has created "George Bros. Historic Arkansas Ale," the museum's signature 75th anniversary beer. It makes its debut Friday during a Second Friday Art Night reception, 5-8 at the museum in downtown Little Rock. (The Pickoids will be providing music.)
"George Bros. Historic Arkansas Ale"
5-8 p.m. Friday, Second Friday Art Night, Historic Arkansas Museum, 200 E. Third St., Little Rock. Music by The Pickoids
Free. Beer consumption, 21 and older only
Sponsors: Historic Arkansas Museum Foundation, Arkansas Brewers Guild
(501) 324-9351
HistoricArkansas.org
Friday's event and the July 19 anniversary celebration will focus on the museum, formerly known as the Arkansas Territorial Restoration, and its grounds on Third Street between Scott and Cumberland. It preserves a remnant of Little Rock's oldest neighborhood, including three historic buildings: the Woodruff Print Shop, a historically accurate replica of the shop operated by Arkansas Gazette founder William Woodruff; the Brownlee House; and what museum Director Bill Worthen says is Little Rock's oldest surviving structure, the circa 1827 Hinderliter Grog Shop.
Museum founder Louise Loughborough almost
single-handedly campaigned to save the structures from demolition, with help from the state Legislature and the federal Depression-era Works Progress Administration. Her "handiwork" opened to the public July 19, 1941.
If you're attending the reception Friday or the July 19 anniversary festivities, and you're 21 and older, you can sample that George Bros. Historic Arkansas Ale, which harks back to Little Rock's first brewers, German-born Alexander and Henry George, who operated a biergarten in the mid-1800s.
Stone's Throw Brewing's Ian Beard, Theron Cash and Leah Lambert and the museum staff, including Communications Manager Chris Hancock, worked to come up with a tribute beer as similar as possible to the 19th-century George Brothers brew.
Historic discovery
Beard, a Stone's Throw co-owner, is also a Historic Arkansas Museum volunteer, and before he went into the brewing business full time, he worked in the living history department of sister museum the Old State House.
"A couple of Christmases ago, they had me play one of the George Brothers for their holiday open house," he says, re-creating the brothers' door-to-door Christmas Day beer sales. In researching his role, he found that the Georges, emigres from Frankfurt, Germany, had also operated a downtown Little Rock biergarten.
"These were the first brewers in the community," he says.
That prompted deeper delving and more research, through which museum staff turned up an 1841 Arkansas Gazette editorial that mentioned that "not only that they had a biergarten but that they were brewing their own beer for it."
That, he says, "was the first documented example of a commercial beer being brewed in Arkansas."
"The biergarten, best we can tell, is [now] part of the Acxiom property downtown, the private fenced-in park area, bounded by Third and Fourth streets and Sherman and Ferry [streets]," he says. That's a mere few blocks away Stone's Throw, at East Ninth and Rock streets.
"What a champ he is," Worthen says of Beard, his work and his creation. "It's wonderful to have a brewmeister in town who is so interested in and committed to history."
There's no telling, however, at this point exactly what might have actually gone into making that beer.
"We know they brewed a beer, but aside from that one sentence in the 1841 editorial, we don't know anything about [it]," Beard explains. "There's no recipe. There's not anything to go on.
"The museum has done exhaustive research on what was commercially available during that period, mainly through newspaper listings. We were [thus] able to figure out what ingredients were available locally that would have been good for brewing. That was step 1." Beard credits Lambert, who works at the Old State House as well as the brewery, and the museum staff, for the research on period beer brewing and Arkansas taverns.
Step 2, he says, was figuring out what kind of beers the George Brothers would make. To begin with, the brewing tradition in Frankfurt at the time, for example, would have been different from modern German beers.
"At the Craft Brewers Conference this year, I talked to a researcher who specializes in extinct beer styles," Beard says. "He was able to give us some insight into what style of beer we needed to brew."
Historic flavor
So what would that 1841 beer have tasted like?
Well, "I can tell you what this brew tastes like," Beard says. "The brew in 1841 would have been very different from what the modern beer drinker expects. First of all, it was unfiltered -- they didn't have a good filtration process. It would have used different grains than we're used to.
"We actually used wheat, buckwheat, oats and barley, grains we know were available in Little Rock at the time. It wouldn't have been as hoppy. And it was a little funkier, because of that wild yeast. It would have come close to a Belgian or French saison, a farmhouse ale, than a modern German lager."
And the final piece of the puzzle adds a little touch of local flavor, Beard says.
"In 1841, yeast was not understood in the same way it is today, so we used a locally isolated brewing yeast that Grant Chandler got off the Dunbar Community Garden. This is a uniquely Little Rock strain of yeast; it might not be exactly the same [as per 1841], but they would have had a wild yeast from the local environment." Chandler, now with east Little Rock brewery Lost Forty, isolated the yeast off plums while he was a home brewer.
"It's in the air, so typically, they would store or cool the beer in open containers, and the yeast would just float on in. In today's sanitized production, that would be called 'contamination.' But back in 1841, that's just how the job got done.
"It's a full-flavored beer with a decent alcohol content, but it definitely has some unique flavors from that local yeast and those nontraditional brewing grains. It also has a little bit of Arkansas honey in it, to add a little sweetness."
Beard says the research process took a lot longer than it has taken him and his colleagues to actually brew the actual beer.
"The beer only takes about three weeks from when we make it, until it's done fermenting and packaged, but the process leading up to how to make it was a good six months," he says.
They've put the current batch, 100 gallons, into kegs; the brewery is providing the draft equipment and will be setting up and doing the serving at the museum Friday and July 19. Beard and Lambert will be on hand "so we can talk about the research process and little bit of beer history of Arkansas."
The brew will also be available on draft at the brewery and there may even be some left over for local bars and restaurants to serve.
Beard says now that they have a recipe in place, they can make more, but as it would have been in the mid-19th century, "quality control between one batch and the next would have been very difficult."
"We could try it again; one of the question marks about using a wild yeast is that it doesn't always turn out the same. That would have been historically true as well."
Style on 07/05/2016
Print Headline: Brewing up some history
Sponsor Content
Comments