Steve Yates is the author of "The Teeth of the Souls: A Novel" and the Juniper Prize-winning "Some Kinds of Love: Stories." An alumnus of the University of Arkansas, he is now assistant director of the University Press of Mississippi and has just completed a novella, "Sandy and Wayne," which he'll discuss Thursday evening at Nightbird Books in Fayetteville.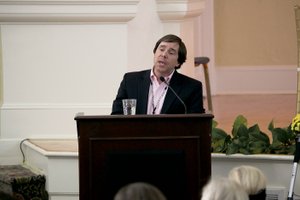 Photo by Courtesy Photo
Steve Yates has been granted three Literary Arts fellowships from the Mississippi Arts Commission — two for his fiction and one for creative nonfiction. An MFA graduate of the University of Arkansas, he'll be in Fayetteville next week to talk about his new book, a novella.
Q. Describe the process for you of choosing short story, novella or novel.
FAQ
Poetry Book Club
With Steve Yates
WHEN — 6-8 p.m. Thursday
WHERE — Nightbird Books in Fayetteville
COST — Free
INFO — dockstreetpress.com/project/sandy-and-wayne/
A. I badly wanted to write a novella, which is a short novel, really. There are so many wonderful novellas -- "Bartleby The Scrivener," "Stationmaster Fallmerayer," "Ward 6," "Old Mortality," "Boule de Suif" -- reading those makes you want to try to give one back, a short, "after-dinner novel," as Andre Dubus called them. At the same time I wanted to write more using my experience as a surveyor and construction inspector for the Arkansas Highway and Transportation Department. And I wanted to write something like a good country music song, a longish love song. Having those goals was the catalyst for "Sandy and Wayne: A Novella."
Q. Which comes first -- the story or the characters?
A. When I thought of the character Sandy, the instant she came to mind, those generators of story came with her: What does she want? What is she willing to do to get what she wants? She has just lost her father, she is 37 years old, she's alone, and she works a really demanding job as a lead inspector in a workplace where there are hardly any women in leadership roles back in the early 1990s. The worst thing that could happen to her might be for her to fall for one of the contractors she has to monitor, especially if she is really great at her job. And she is.
Q. You worked on the interstate between Fayetteville and Fort Smith, right? And why did you choose it as a setting for this love story?
A. I worked summers from what was then the Springdale office of the highway department. The job sites, especially the stretch from Fayetteville to just beyond West Fork on what is now Interstate 49, were spectacularly beautiful, dusty, dangerous and scorchingly sunny. The few women who had earned leadership roles out there in a grueling workplace, they were extraordinary people, dedicated, smart as whips but also keen to learn by watching both the good and the bad among the contractors. What if such a woman in such a place, a really superb inspector, a genuinely good person, wanted love despite all her better judgment and couldn't have it? That's a country song just waiting to happen.
Q. How does growing up in the Ozarks continue to inform your writing?
A. Where I grew up in Springfield, Mo., we lived next door to two wonderful country music performers, Vivilly and Jim Garner. He played bass and sang low; she played acoustic guitar and sang a pretty alto and an alluring contralto. Their singing and playing together, it was true love expressed in music, two meant-to-be-together people making country music. After Jim died, Vivilly grieved and grieved. But then she resumed playing. And she stayed socially active and went, in the company of some pretty fine looking older men, to see country bands across the Ozarks. Back from graduate school at the writing program at the University of Arkansas, I was at our kitchen table visiting with her about what bands were playing and who was any good. When I asked her what kind of country band she liked the best, she said she liked a band that could really play a slow song. "Why, Mrs. Garner?" I asked. She answered, "When I dance, I want to be held." When you are blessed to have known the Vivilly Garners and the Sandys of the Ozarks, there's no difficulty returning home.
Q. What do you hope readers get from your work?
A. That sense of a good country music love song, the wit, the playfulness, the heartache and emotion, even that hint of self-awareness that this is a song we're listening to, but it's so compelling, let's just dance to it and make it a part of our lives. The late Miller Williams, who gave me my first job in publishing at University of Arkansas Press, once said to me, "There may be no higher calling than writing a good country music song." I wasn't old enough to understand what he meant then. I'm hoping "Sandy and Wayne: A Novella," is a start at showing him that I was listening, and maybe I'm finally learning.
-- Becca Martin-Brown
NAN What's Up on 01/29/2016