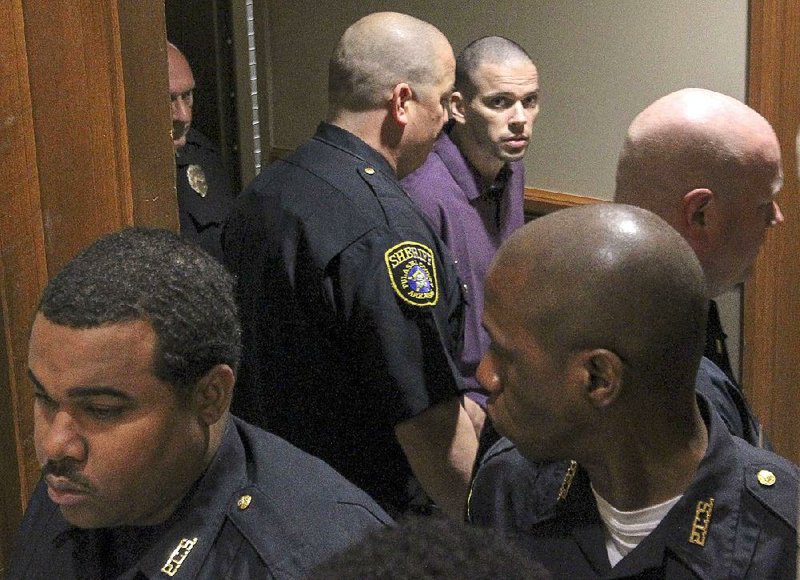 Arron Lewis (in purple shirt) is led into court Wednesday at the Pulaski County Courthouse for opening statements in his capital-murder and kidnapping trial in the 2014 slaying of real estate agent Beverly Carter. - Photo by Benjamin Krain
Beverly Carter died writhing in suffocating agony behind a concrete plant, her face covered in a "green mask of death," killed because authorities were closing in on the Jacksonville husband and wife who had abducted her for ransom, prosecutors said Wednesday.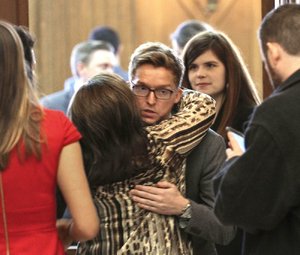 Photo by Benjamin Krain
Son of slain realtor Beverly Carter, Carl Carter Jr. and Beverly Carter's former boss Brenda Rhodes embrace Wednesday during a recess in the trial of Arron Lewis in Beverly Carter's slaying.
Photo by Benjamin Krain
Carl Carter Jr., Brenda Rhodes and Carter's father, Carl Carter Sr. (shown right) were called to the witness stand Wednesday.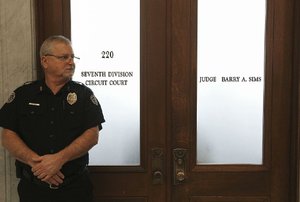 Photo by Benjamin Krain
A Pulaski County sheriff's deputy blocks anyone from entering court Wednesday after the start of opening arguments in the trial of Arron Lewis.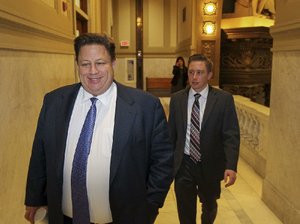 Photo by Benjamin Krain
Defense attorney Bill James, left, was warned by Judge Sims to stop badgering witnesses while questioning them during the Lewis capital murder and kidnapping trial.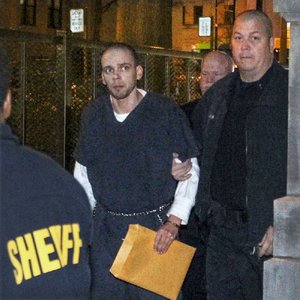 Photo by Benjamin Krain
Arron Lewis is led out of the Pulaski County Courthouse in shackles Wednesday after opening statements in his capital-murder and kidnapping trial in the 2014 slaying of real estate agent Beverly Carter.
REALTOR-SLAYING TRIAL
Beverly Carter
Realtor who was reported missing after showing a house in Scott. Her body was found days later buried behind a Cabot concrete plant.
Arron Lewis
The man charged with capital murder and kidnapping in Carter's killing. Prosecutors are seeking a life sentence.
John Johnson
Chief deputy prosecuting attorney for the Sixth Judicial District. Johnson will present the state's case.
Bill James
Lead defense attorney for Lewis.
Crystal Lowery
Lewis' wife who earlier pleaded guilty to first-degree murder and kidnapping charges. She is expected to testify.
Herbert Wright
Pulaski County circuit judge, who will preside over the proceeding.
"Unspeakable, terrifying, suffering" is how deputy prosecutor Barbara Mariani described the 50-year-old Scott woman's last minutes of life in the prosecution's opening statements at the capital-murder and kidnapping trial of Arron Lewis.
"She died a horrible, terrifying death that no one deserves," the prosecutor told the nine women and three men hearing evidence before Pulaski County Circuit Judge Herb Wright. "Beverly loved her life. The last thing Beverly experienced was unspeakable terror at that man's hands."
Carter, a real estate agent, disappeared in September 2014 while going to show a home to a new client who had promised her a cash sale, prosecutors said.
Her husband reported her missing, and Lewis was arrested four days later after sheriff's deputies linked calls and texts between Carter's phone and a phone Lewis had in his possession. Lewis' wife was arrested the next month.
Prosecutors are seeking a life sentence for the 35-year-old Lewis.
On Wednesday, they played for jurors a 12-second recording of Carter begging her husband to do what he was told, without involving police, or "it could be bad."
That recording came from Lewis' cellphone, Mariani said. Lewis had played it for sheriff's deputies the day he was arrested, but Carter's husband didn't hear it until after learning that his wife was dead, the prosecutor said.
Mariani told jurors that Lewis has made a series of incriminating statements to investigators and the media. He has alternately admitted to either kidnapping Carter, binding her, burying her and killing her, the prosecutor said.
Lewis' latest claim, presented in an 18-page handwritten statement that he arranged to have circulated on the Internet through Facebook in October, is that his wife accidentally suffocated Carter during a consensual sexual encounter between the women, Mariani said.
But none of the evidence supports that version of events, she told jurors. Mariani said Lewis' explanations for what happened to Carter have continuously evolved over the past year as he's seen more of the proof that sheriff's deputies have collected to help convict him.
Defense attorney Bill James said in his opening remarks that the only reason Lewis is on trial is because he loved his wife too much.
Carter was not abducted, but was with Lewis and his wife willingly, the attorney said.
"She was not kidnapped, and there's basically no evidence of that," James said. "The only honest and true verdict will be not guilty."
Lewis' wife, Crystal Lowery, 42, has pleaded guilty to first-degree murder and kidnapping for her role in Carter's killing. She's accepted a 30-year prison sentence in exchange for cooperating with prosecutors and testifying against her husband.
A "fly-by-the-seat kind of guy," Lewis took the blame for Carter's death because he knew things looked bad for him when he was arrested, James said. Lewis wasn't even at home when Carter died in the couple's Jacksonville home, the lawyer said.
"He knows he's done, so he's just going to take it," James said, telling jurors that what prosecutors have portrayed as confessions are really Lewis' "garbled up BS."
"But he never says he killed her. He's always said it was an accident."
Lewis wanted to keep Lowery out of trouble, James told jurors.
"A lot of what Arron did was all in an attempt to protect Crystal," James said. "If nothing else, he's dedicated to Crystal."
But his client also loved the notoriety and media spotlight that the murder accusation brought him, so he played up to the news cameras, James said, telling jurors that Lowery pleaded guilty only because she didn't think she could get a fair trial.
Text messages that investigators have linked to Lowery and Lewis are not about selling real estate, James said.
"It wasn't about buying a house. It's about a [sexual] hook-up," he said.
James warned the nine women and three men of the jury that prosecutors aren't being truthful with them, saying the case they've made against his client is like a TV movie, "based on actual events ... but made for a conviction."
He called on jurors to remember how prosecutors portrayed Carter, saying authorities have presented a misleading picture of the married mother of three.
"The prosecution cannot be honest with you in the first moments of this trial," James said.
For jurors, prosecutors have painted her as "perfect" and living in a "wonderland" as a successful real estate agent happily married to her childhood sweetheart, James said.
But this case is about "secret lives," he said.
He told jurors that Carter was suffering from anxiety and depression when she died in September 2014.
"Let's tell the truth about what's going on here," he said, saying that friends suggested she was having a midlife crisis after turning 50."
We've got to look at this truthfully, not from a fantasy. Beverly was making bad decisions at this point in her life."
There were problems in her marriage and her career, and she was estranged from her mother and sister, James said.
Her real estate sales, at $2 million when she died, were "in the toilet" at a fraction of the $12 million in properties she'd sold the year before, he told jurors.
The main support of her family, Carter had $124 in her checking account and was three months behind on her mortgage payments, but had recently bought a new Cadillac, James said.
She'd chosen to have a "tummy tuck" and breast-enhancement surgery just a few of months earlier.
News of Carter's disappearance on Sept. 25, 2014, drew more than 100 volunteer searchers to the neighborhood where she disappeared.
But prosecutors said she was killed the day after she vanished, after spending the night bound in duct tape. At times she was in the trunk of her captors' car; other times she was in the bathroom of their Jacksonville home.
Her body was left on the ground behind the Argos concrete manufacturing plant, the prosecutor said, until Lewis and his wife returned to bury her in some nearby woods.
Lowery helped plot Carter's abduction and went with Lewis to buy a shovel and top soil to cover Carter's body, then held a flashlight while he dug Carter's grave behind the plant on Arkansas 5 near Cabot, the prosecutor said. Her remains were found four days after she was killed, Mariani said.
Mariani said Lewis wrapped the real estate agent's nose and mouth in six layers of green duct tape.
It was a "death mask of green tape" that inflicted "unspeakable, terrible suffering" on Carter as she suffocated, her hands bound behind her back, the prosecutor said.
It took less than five minutes for Carter to die, Mariani told jurors. She was rendered unconscious after a 90-second painful struggle to draw breath, but her body convulsed on the ground for another three minutes, the prosecutor told the jury.
"She's finally released from that emotional and physical terror by death," Mariani said.
Prosecutors could call as many as 22 witnesses in the trial. They will have their 12th witness on the stand when proceedings resume at 10 a.m. today.
A Section on 01/14/2016
Print Headline: Prosecutor: Realtor's death grisly
Sponsor Content
Comments