A tractor-trailer carrying a pallet of handgun ammunition and other items overturned on Interstate 30 southwest of Benton early Tuesday, partially shutting down the interstate and snarling traffic for more than 12 hours.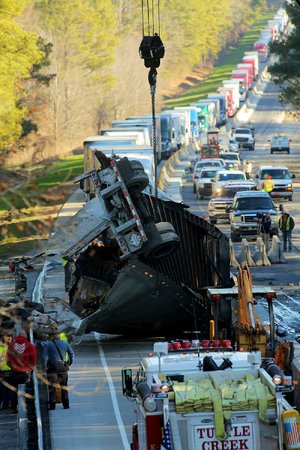 Photo by Stephen B. Thornton
Emergency crews use a crane to lift one of two trailers from the westbound lane of Interstate 30 southwest of Benton on Tuesday morning after a tractor-trailer carrying handgun ammunition and other items overturned.
The wreck occurred about 1:20 a.m. Tuesday near mile marker 109 in the westbound lane of the interstate, authorities said.
The crash occurred in a work zone in which traffic is limited to one lane in each direction.
[GALLERY: Photos from the wreck scene]
Westbound traffic behind the wreck site was detoured along U.S. 67 at exit 114 until the wreckage was cleared and the roadway repaired about 1:55 p.m.
Traffic traveling west that was confined between the wreck and detour exit was allowed through the wreck site starting about 10:30 a.m.
"They were able to create a space for that traffic to crawl through and empty that queue out," said Danny Straessle, spokesman for the Arkansas Highway and Transportation Department.
At least eight agencies responded to the crash because of an initial concern that hazardous materials might have spilled from the truck's tandem set of trailers, Straessle said.
"While the hazardous materials itself turned out to be quite minimal, of bigger concern was a pallet full of ammunition for handguns," he said. "They had to secure that, obviously. Once they secured that, they were able to get working on taking care of the mess that was out there."
Arkansas State Police spokesman Bill Sadler said the wreck, which involved only the tractor-trailer, was under investigation. He said the unidentified driver was taken to an area hospital.
The driver's condition wasn't available, but the driver wasn't believed to be seriously injured, Sadler added.
Besides removing the wreckage in the construction zone, crews had to clear guardrails and reset portable barrier walls before the interstate could be reopened, Straessle said.
"The truck knocked several of those [barriers] around," he said. "This was quite an impact for those to be tossed around the way that they were. Basically, the contractor [had] to get in there and rebuild the work zone at that location, and it takes some time."
About 2.9 miles of I-30 westbound from U.S. 70 west is being reconstructed under an $11.8 million contract the Highway Department awarded last year. The section had been part of a long-term pavement research program overseen by the Federal Highway Administration.
The work was started in April and is expected to be completed in March.
On Dec. 22, a chain-reaction crash involving five vehicles, including three tractor-trailers, happened in the same stretch of I-30 westbound, left four people hurt and obstructed traffic for hours.
That wreck occurred shortly after noon about 2 miles west of the U.S. 70 exit. Traffic was halted in the westbound lane while eastbound traffic also was stopped temporarily to allow a medical helicopter to land.
Lanes were open in both directions later that afternoon.
The four people suffered injuries that weren't life-threatening.
State Desk on 01/13/2016