Snow and ice were reported on some roads in Arkansas as a band of wet weather moved across the state, but residents were spared from the strong storms that battered the Gulf Coast overnight.
A cold rain that fell across central and southern Arkansas on Tuesday evening turned into snow overnight in higher elevations of the Ozark and Ouachita mountains. According to the National Weather Service, between 2.5 and 3 inches of snow fell in parts of Boone and Searcy counties. The weather service said there were also reports that up to 5 inches of snow fell near Mount Sherman.
The highest snow totals were reported in Queen Wilhelmina State Park, where park Superintendent Paula Magers said between 6 and 9 inches fell.
"This mountain tends to create its own weather pattern," Magers said of the park's 2,681-foot Rich Mountain, atop of which sits a historic lodge that was open today despite the weather.
"We've had a few people come up to see the snow, but mostly this is a normal February for us," she said.
An online map of road conditions from the Arkansas Highway and Transportation Department showed that highways in Van Buren and northern Pope counties were partially covered by snow or ice about 7 a.m. Wednesday.
A hazardous weather outlook remained in effect for much of central and northern Arkansas on Wednesday morning, and a wintry mix is expected to fall into the afternoon with some accumulations of snow or ice in northern counties, the weather service said.
The system was forecast to move out of the state to the northeast later Wednesday.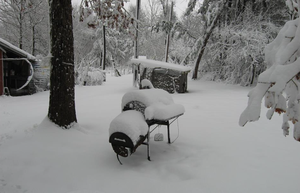 Photo by Courtesy Michael Cline
Several inches of snow were reported in areas of northwest Arkansas, such as this photo from Kingston.