The number of children in foster care has reached an all-time high in Arkansas, straining state officials who have long referred to the growth as a crisis.
But the state has reversed a trend of losing foster families every quarter, according to reports prepared by the Division of Children and Family Services.
"We're all feeling a little bit of the strain of the number of people in foster care, and we're glad that we're making progress, but as much progress as we've made, we have more children in care now," said Lauri Currier, executive director of The Call, a nonprofit organization that mobilizes Christian families to foster or adopt children who are in the care of the division.
From March 2015 to March 2016, the total number of available and in-use beds in foster homes increased from 2,801 to 3,306, but the number of foster children also increased, from 4,178 to 4,791, according to the latest quarterly report. In addition to moving in with foster families, children may be placed in group homes or with relatives on a provisional basis, and some receive acute placements, which can involve clinical care.
Since March, according to Mischa Martin, director of the Division of Children and Family Services, the number of foster children has continued to climb. There were about 5,030 children in foster care last week. The all-time high, reached earlier this month, was about 5,050.
When Martin became director on July 8, there were 4,983 children in foster care. She said at the time that the state had never had more than 5,000 children in the system.
Substance abuse by heads of households outpaces neglect as reasons for why children enter foster care, according to the division's latest report. About 56 percent of children enter foster care because of substance abuse by their caregivers, though the report notes that many children enter the system for more than one reason.
Martin said partnering with outside groups such as The Call is key in her strategy for managing the treatment of children in the state's care.
"We've really collaborated with our partners to help them increase the number of foster homes we have," Martin said. "We're trying to streamline the [foster bed] opening process, increase communication with our partners, and work through some technical issues that we've had in the past to make sure we've got the most homes open."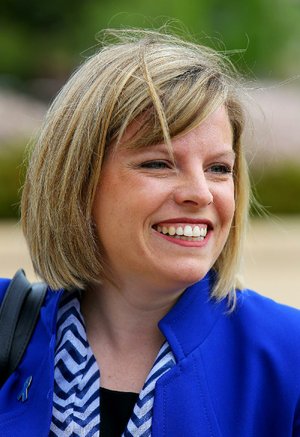 Photo by Stephen B. Thornton
Mischa Martin, director of the Division of Children and Family Services
Finding foster families
Of the about 1,500 foster families in Arkansas, Currier said, her organization is responsible for about 600 of those families and is training another 250 families.
She watches the division's reports carefully.
"There was a net gain of 44 foster families over the quarter, and I can remember a day -- in the not-so-distant past -- that there were negative five. It was that way for several years in a row," Currier said. "As dire as it seems that we have all these kids in care and only 1,500 homes to care for them, I can remember a day when we had 1,000 homes, and so we are making progress."
From December 2013 through March 2015, the number of foster families dropped every quarter -- from 1,248 families to 1,168.
But the number rebounded over the past year. At the end of March this year, there were 1,478 foster families, according to the most recent report.
A child welfare case begins when a report of possible child abuse or neglect is made to the Child Abuse Hotline. Cases are investigated by the Division of Children and Family Services or, in more serious cases, the Crimes Against Children Division of the Arkansas State Police.
If the division feels that a child is not safe at any time, the child can be removed for up to 72 hours without court approval. If the report is found to be true, a child can be removed and placed in foster care, left in the home with an open protective services case or voluntary services put in place, or left with no case open or services put in place.
If a child is removed from the home, a judge must decide whether the state can continue to have custody and where the child should live.
From there, an adjudication hearing is held to decide whether the child was abused or neglected.
If found to be so, a disposition hearing is held to allow a judge to decide whether it is better for the child to be in the custody of the division or someone else.
A review hearing must be held at least every six months to ensure that everyone is following court orders.
Finally, a permanency planning hearing is held to decide the permanent placement of the child. Children can be returned to their parents, their guardianship can be given to another adult or parental rights can be terminated, allowing a child to be adopted.
The typical child stays in Arkansas' foster care system between six months and 12 months.
A changing process
Currier said Martin has made her job of finding foster families easier by streamlining the process.
Amy Webb, a spokesman for the Department of Human Services, said potential foster families are now referred to a home study after their first training sessions, not at the end of the process. The home study explores applicants' social and family histories, current family makeup and support systems to see whether they are able to serve children.
She said the division is tracking families better, so it knows where they are in the process of becoming foster families. Potential foster parents will soon be able to receive paperwork electronically, if they wish. The state's www.fosterarkansas.org is getting a revamp.
The division is also now meeting monthly with organizations such as The Call, Christians for Kids and Arkansas Baptists that recruit families for the division, Webb said.
Currier said her organization aims to be a bridge between the church and the state. The Call doesn't take custody of children, but provides training to would-be foster parents -- which can take the place of state-run instruction. It also helps with paperwork; organizes donations of clothing, food and gift cards; and provides a network of support.
"A lot of times, we mean the same thing, but we don't speak the same language. So The Call speaks church -- whatever that is -- and we develop relationships. We talk about it from a Christian perspective, what it means to be a foster parent, what it means to be an adoptive parent," Currier said. "Then, we take that and we help those families by speaking the government language."
Increasing the number of foster homes is key to solving ongoing issues in the division, officials have testified during legislative meetings. The division's staff members juggle twice the casework load as their out-of-state peers and transport children across the state when foster homes aren't locally available.
Children have slept in division offices at times when no foster homes were available.
State Rep. David Meeks, R-Conway, serves on the Governor's Child Welfare Oversight Panel, adopted three boys, has an open foster home and went through The Call's training program.
He said the oversight panel is looking into the Safe Families program, used by other states, which allows parents to voluntarily surrender their children while they receive treatment for substance abuse, anger management, effective parenting or other issues.
"The children are not actually brought into the foster care system, and the parents do get the help they need," he said.
Meeks said he expected the panel to issue its full set of recommendations in the coming weeks -- well in advance of the regular legislative session that begins in January.
Martin said her division is continuing to hold "war room" meetings with other parts of the Department of Human Services to see how they can assist her division.
"That's focused on bringing our other sister divisions in to figure out how they can help with the foster care crisis, looking at substance abuse treatment, looking at preventative services," she said. "We're just really looking how we can support our caseworkers and families better by making this a DHS problem, not a DCFS problem."
Metro on 08/22/2016