The number of students enrolled in Arkansas' public schools is growing. The number of people preparing to teach them is not.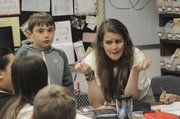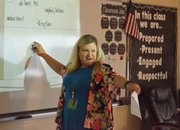 A report by the state's Bureau of Legislative Research, released in April, showed a precipitous decline in the number of people enrolled in teacher preparation programs, from 8,255 in 2010 to 5,258 in 2015 or a 36 percent drop.
Average teacher salaries
The following is a list of average teacher salaries and starting salaries for each of the 15 school districts in Northwest Arkansas from the 2014-15 school year. Their statewide ranking is indicated in parentheses for both categories. There are 235 traditional school districts in Arkansas.
School districtAverage teacher salaryStarting salary
Bentonville$57,921 (3)$44,147 (3)
Decatur$43,697 (102)$31,600 (143)
Elkins$44,025 (98)$33,301 (85)
Farmington$48,301 (45)$38,500 (20)
Fayetteville$57,665 (5)$41,310 (5)
Gentry$47,789 (50)$34,300 (68)
Gravette$51,947 (15)$40,800 (6)
Greenland$44,451 (89)$33,008 (97)
Lincoln$45,202 (80)$36,000 (50)
Pea Ridge$49,653 (30)$40,000 (12)
Prairie Grove$48,473 (40)$37,188 (34)
Rogers$59,732 (1)$44,250 (2)
Siloam Springs$46,708 (62)$39,500 (13)
Springdale$57,993 (2)$46,500 (1)
West Fork$46,593 (63)$35,007 (63)
Source: Arkansas Bureau of Legislative Research
Teacher supply
Here's how the totals of students and certified teachers employed in Arkansas' schools changed over a decade:
Group2004-052014-15*Percent change
Teachers32,00633,104*3.4 percent
Students455,515476,083*4.5 percent
Source: Bureau of Legislative Research
The first day
Monday is the first day of school for all school districts in Benton and Washington counties, except for two. Fayetteville and Lincoln schools open Wednesday.
Source: Staff report
National data are equally alarming. Only 4 percent of the more than 1.9 million 2015 U.S. high school graduates who took the ACT college entrance exam said they intended to pursue a career as an educator, down from 7 percent in 2010, according to an ACT report.
Retaining teachers once they enter the profession is another issue. The Bureau of Legislative Research reported over the past 10 years, nearly one-third of all new teachers in Arkansas didn't last more than three years in the profession.
"This is something that, as a state, all stakeholders, we're trying to build a consensus around the solutions," said Michele Linch, executive director of the Arkansas State Teachers Association.
"The Legislature is very concerned. They're asking questions. They're looking to see what we can change in policy and legislation."
Northwest Arkansas' quality of life and the relatively high salaries offered in relation to other parts of the state make it easier for school districts to attract high-quality job candidates, officials from those districts said.
"The problem really isn't here in Northwest Arkansas," said Jared Cleveland, deputy superintendent for personnel in the Springdale School District. "The problem is in the Delta and small schools that are isolated where they can't retain quality staff."
Still, certain positions -- particularly those in special education, science and math -- can be a challenge for any district to fill.
Teachers, school administrators and others offer a variety of ways to address the shortage from developing stronger teacher-to-teacher mentorship programs to promoting education as a prestigious profession.
Recruiting
Crason Cleveland, Jared Cleveland's oldest son, started college with thoughts of becoming a nurse, then had a change of heart. He switched his major to education.
"I come from a family of educators, so all my life I've seen how crucial they are to society. I enjoyed nursing, but I could see myself serving the community better as an educator," said Cleveland, 21, who is about to start his senior year at the University of Arkansas.
Cleveland started an internship this year at Springdale's Central Junior High School. The lack of interest in the education field among those in his generation may stem from a number of factors, including school safety and salaries, he said.
"They want to go do something that makes more money," Cleveland said. "I just wanted to be a person who made a difference, whether I made a lot of money or not."
The importance of pay was highlighted by a report released last week by the Economic Policy Institute, a nonprofit, nonpartisan think tank based in Washington. Public school teachers' weekly wages in 2015 were 17 percent lower than those of comparable workers, compared with just 1.8 percent lower in 1994, according to the report.
But higher pay isn't necessarily a panacea to the teacher shortage problem, said Gary Ritter, an official at the University of Arkansas' Office for Education Policy.
"You'd still have more teachers than you need in the Bentonvilles of the world and fewer teachers than you need in the Helena-West Helenas of the world," Ritter said.
That is, teacher shortages aren't randomly spread across the state. They are most severe in rural areas and areas of poverty, he said.
Results of a survey of Arkansas teachers by the Legislative Research Bureau support Ritter's belief. The survey asked teachers for the primary reasons they chose to teach at their current school. Location was the No. 1 choice, picked by 72 percent of the 1,071 respondents. Proximity to family, which ranked second, was chosen by 43 percent.
Ritter in 2012 founded the Arkansas Teacher Corps, which recruits the highest achievers from all majors and fields to teach in districts that struggle to hire and retain quality teachers. Corps teachers receive a $15,000 stipend, paid over three years, in addition to their regular teaching salary for working in such a district.
The program has placed about 60 teachers in Arkansas schools. It's open to all school districts across the state with placements based on need. All teachers have been placed in either east, central or south Arkansas; none have been placed anywhere near Northwest Arkansas, according to a placement map on the program's website.
Roger Hill, assistant superintendent for human resources for the Rogers School District, said Northwest Arkansas school districts are insulated somewhat from any teacher shortage because of salaries. Ten of the state's top 50 districts in terms of teacher starting salaries were in Benton or Washington counties during the 2014-15 school year. The state has 235 school districts.
There is a discrepancy in pay that hurts smaller districts even within Northwest Arkansas.
In the Lincoln School District, which enrolled 1,200 students last year, a new teacher with a bachelor's degree starts at $36,000. In the nearby Springdale School District, home to more than 21,000 students, the same person could start at $47,000.
But in Lincoln, attracting teachers isn't nearly as hard as retaining them, said Superintendent Mary Ann Spears.
"Once we get them, all these other big school districts that want them steal them from us," Spears said.
What besides improving the pay scale could attract more people to teaching? Some say the public's perception of the profession has to be improved.
"There's this old saying, 'Those who can, do; those who can't, teach.' It's certainly not true," said Jayna Moffit, a math teacher at Bentonville's Lincoln Junior High School. "We need people to see the profession is very honorable, and it's a very high position, as if you are a doctor or lawyer."
The Condition of Future Educators 2015, a report released by the ACT last month, revealed not only are fewer students interested in teaching, but those who are interested have lower-than-average achievement levels, particularly in fields related to science, technology, engineering and math.
The profession must be touted to the smartest students at the state's colleges and universities, which will start a cycle leading to a deeper talent pool in education, Moffit said.
Meghan Ables, the 2016 state teacher of the year from Stuttgart High School, is urging fellow educators to assume a greater level of professionalism to begin changing the conversation about public education.
Ables, in a blog post this month, suggested teachers dress better and list their qualifications on their classroom door. She also would like to see teachers use social media to share great things happening in their schools, using the hashtags #ARedProud and #cheerloud.
"Let's fill these news feeds with positive education overload," Ables wrote.
Retention
Though the Arkansas Department of Education's statistics show 36 percent of the state's teachers leave the profession after only five years, that's actually better than the often-reported national average of 50 percent attrition after five years, according to the department.
Teaching is much more complex than most people realize, Hill said.
"The demands have increased on teachers. The expectations are higher. Outside looking in, people think teaching is an easy job. No, it's not," he said.
The Bureau of Legislative Research's recent survey of teachers asked if they were considering quitting their profession. Of 1,071 teachers who answered, 25.6 percent said yes; of those who said yes, 58.7 percent cited "stress/workload" as the top reason. Salary was second at 22.8 percent.
Appropriate support for young teachers is vital to retaining them, said Deb Walter, a physical education teacher in the Rogers School District and a National Board certified teacher.
The state requires new teachers go through a mentorship program -- one year for traditionally trained teachers and two years for those who enter the job through the nontraditional licensure program. But the way the mentorship program is administered varies greatly from district to district, Walter said.
She thinks new teachers should have a mentor teacher assigned to them for the first three years, where they meet daily to reflect and bounce ideas off each other.
Linch, the director of the Arkansas State Teachers Association, said there's a push to find ways to keep good teachers in the classroom.
"We lose a lot of good teachers to administration, and they really miss the classroom, but they're doing it to boost their income," Linch said. "So how do we create pathways within teaching to allow them more income and stay in teaching?"
That extra financial incentive would go beyond the traditional salary schedule, she said.
Linch also points to school leadership as an important factor in teacher satisfaction.
"We need better leaders in our schools. When leadership is good, teachers are happier," she said.
Justin Minkel, a second-grade teacher at Springdale's Jones Elementary School and former state teacher of the year, agreed with Linch. Turnover is very low at his school despite its students' high poverty level in part because of Principal Melissa Fink's leadership style, he said.
"The critical thing is respect," Minkel said. "Teachers work really hard and there are high expectations, but she also gives us a lot of professional autonomy. There's not a lot of micromanagement. That's a huge factor."
Sarah McKenzie, executive director of the Office for Education Policy at the University of Arkansas, recalled while she was an elementary teacher in California, her district offered her job sharing when she became a mother, where she could split a position with another teacher.
It kept veteran teachers who, for whatever reason, didn't want a full-time work load.
"One of the things we can do is think a little bit more innovatively about what a teaching job can look like," McKenzie said.
Minkel has had a partner teacher, Stephanie Harter, the past two years at Jones. He teaches in the morning, then leaves in the afternoon to pursue other projects.
"It's been great for both of us," Minkel said. "We both wanted more time for other things professionally, but it's also nice because I think the students are getting a better deal. It's nice to have a partner to talk about individual kids with."
Special education
The Springdale School District received more than 1,800 applications for a few dozen elementary teacher positions available this year, said Jared Cleveland, the deputy superintendent.
Far less popular are the special education positions, for which fewer than 20 will apply in a given year, according to Cleveland's estimate.
"Special ed has a lot of paperwork and special requirements," Cleveland said. "That's a high pressure place to be. A lot of staff members don't want to do that."
The Arkansas Department of Education has listed special education as a critical licensure and endorsement shortage area, along with other specialty areas such as art, computer science, physical science and math.
One method by which schools may fill such positions is acquiring a waiver from the state for those who will be teaching outside the grade level or subject area in which they're certified to teach. Superintendents may apply for a waiver if finding a teacher certified for a specific area imposes an undue hardship on the district.
Districts filed more than 440 requests for waivers for special education teachers who didn't meet state requirements during the 2014-15 school year -- by far the most of any subject area or concentration.
That kind of information should be shared with high school and college students who show an interest in a teaching career, Ritter said.
"Imagine a student trying to decide whether to major in physical education or physics," Ritter said. "He or she might benefit from knowing the state graduates fewer than a handful of physics teachers each year. Just by providing that information, students might think twice about their major."
A legislative task force led by state Sen. Uvalde Lindsey, D-Fayetteville, has met more than a dozen times over the past year to discuss potential changes to improve special education in Arkansas. The task force is expected to submit its recommendations by Sept. 1.
The task force has discussed the amount of paperwork special education teachers handle. New computer software should reduce the time teachers must spend completing reports, Lindsey said.
The task force also will recommend school districts grow their own teachers by encouraging students to pursue a career in special education.
"When we spot a student who we think has the capacity to be a good teacher, we should recruit them," Lindsey said.
Lindsey also suggested providing incentives for students to return to their districts to work once they are qualified, particularly in rural districts where teachers in general -- and special education teachers in particular -- are hard to attract and retain.
"We're going to have to pay better," he said.
Lindsey also mentioned efforts by the higher education institutions to make it easier for students to obtain the credentials they need to teach special education.
"I think we're making progress," he said.
NW News on 08/14/2016