A runner and avid reader, Jessica McClard of Fayetteville was delighted by the Little Free Library boxes that began popping up in her neighborhood a couple of years ago.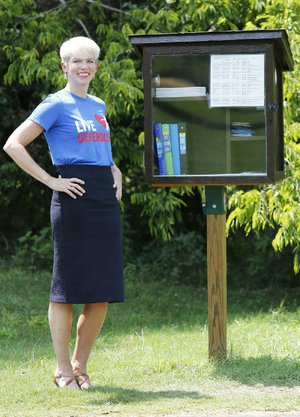 Photo by David Gottschalk
Jessica McClard stands next to the Little Free Pantry outside of Good Shepherd Lutheran Church in Fayetteville. She modeled the idea after the popular Little Free Library boxes.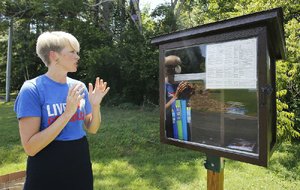 Photo by David Gottschalk
Jessica McClard explains the Little Free Pantry, which is located outside of the Good Shepherd Lutheran Church in Fayetteville. McClard got the idea for the little pantries from the Little Free Libraries and hopes that the pantries can help those in need when other outreach services are closed.
The free libraries are just that -- tiny libraries set up in small display boxes outside of houses, businesses and along walking paths, at bus stops and many other locations. Anyone is welcome to take a book for free to read or to add a book to the shelves.
"I'm really drawn to them like moths to a flame," McClard said. "I would stop and browse the shelves."
The concept also piqued her interest. Could the same idea be used in another way, perhaps to address a need in the community such as hunger?
"I do feel like some of the libraries suggest a kitchen cupboard, so it really felt like the answer was there immediately," McClard said.
As a member of Thrivent Financial, a financial services organization for Christians, McClard has twice yearly access to a $250 mini-grant to be used for a community service project, educational event or fundraiser to support an organization. The grants are a way to promote generosity, she said.
McClard decided to use her mini-grants for a Little Free Pantry, which she modeled after the Little Free Library boxes she had seen. The idea was to stock the tiny pantry with food and other essentials that anyone in need could take for free.
She said she talked with property managers at apartment complexes and multi-family housing units as possible locations for pantries, but that idea didn't work out. She found a site for a pantry after talking with the Rev. Clint Schnekloth at Good Shepherd Lutheran Church in Fayetteville.
"It seems obvious, looking back," said McClard, who has been a member of the congregation for about 15 years.
The pantry box was installed and stocked in May, and McClard posted a photo to the Little Free Pantry Facebook page and encouraged all of her Facebook friends to "like" the page.
Items in the pantry vary. Sometimes it's food, other times the pantry is filled with diapers, wipes and food for infants. One of McClard's friends stocked it with art supplies right after school ended for the summer.
McClard said the options are endless and could include toothbrushes and toothpaste, toilet paper, paper towels, school supplies or sunscreen.
She said the response has been overwhelming, but she isn't really surprised. By taking a familiar concept and adapting it she knew there would be interest, but perhaps not quite as much as she has received. She has been contacted by individuals and churches interested in starting a Little Free Pantry, and has been busy answering questions and advising those getting started.
"I feel like at this point it's way bigger than me," she said. "That's the beauty of a grass-roots type of movement. It takes on a life of its own. It's really cool. It's been an amazing thing to be a part of."
What she wasn't prepared for was how much the pantry is used.
"Turnover is about 30 minutes," McClard said.
McClard posts tips for those interested in starting a Little Free Pantry on the website -- littlefreepantry.org. She said finding a location is key, as is abiding by local ordinances. She said churches are often a good fit, with the approval of the congregation or its governing body.
"The pantry has the potential to become a nuisance in a neighborhood," she said. "If I put it in my front yard the neighbors would be dealing with increased traffic."
Churches also make sense because the pantry can become a ministry for the congregation, McClard said.
Members of Christ's Church in Fayetteville saw the Little Free Pantry at Good Shepherd Lutheran Church and thought the idea would be a great fit for their congregation.
Church member Gail Eads said that for the past seven or eight years the congregation has tried to help those in need by hosting a large giveaway each June.
"It's like a huge yard sale with no cost for anything," she said. "We had great response to that, but many in the congregation are getting older and that was becoming extremely taxing."
A Little Free Pantry seemed like a way to continue to help those in need, and do so on a consistent basis.
"It will be a work in progress," Eads said. "Our area of town is an area with a lot of walking homeless traffic so we've focused on peanut butter, crackers, nuts, cans with zip top openings ... ready-to-eat items and personal items in smaller sizes."
"It's been a lot of fun," Eads said.
It seems the neighbors are joining in too, stocking the pantry with fresh produce such as tomatoes and squash.
Eads said they've also stocked the pantry with rolled up T-shirts and socks and feminine hygiene products. They've also put in New Testaments and booklets and plan to add some back-to-school items.
"We are very excited about it," Eads said. "We're just trying to learn as we go along."
McClard said she sees the Little Free Pantry as a way to address the needs of the community, especially at times when other resources aren't available such as in the evening after food pantries have closed, or on weekends.
"I see the pantry as standing in that gap ... and serving an important role in providing services during food desert hours," she said. "I definitely feel that this has been a tremendous gift for me and extremely hope-giving. I feel like my world has really been expanded through this tiny little box and I'm just really grateful."
She says the pantry has been a way to live out her faith.
"Reciprocity and social justice are central to my Christian faith and its practice," she said, adding that she sees the equitable distribution of community resources as "central to both Jesus' ministry and the work of the church."
McClard said some have objected to the concept on the grounds that it will be abused.
"I see where they are coming from, but for me this is about doing what we should be doing as Christians for our neighbors," she said. "God will sort out the rest."
Religion on 08/06/2016