With so many fun events surrounding the Bentonville Film Festival -- concerts, a baseball game, exhibits and the sponsors village -- it might be easy to overlook the most central part of all: the competitive films.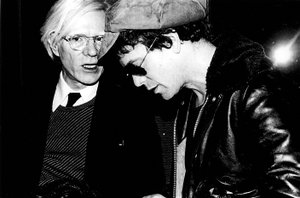 Photo by Courtesy photo ROSE HARTMAN/THE ARTISTS COMPANY
Rose Hartman's photography of Studio 54 artists, such as this one of Andy Warhol and Lou Reed, gave "the illusion of intimacy in the most public circumstances." The talent of gaining access to celebrities and capturing personal moments contributed to her own rise to fame.
Approximately 34 films face off in the 2016 Bentonville Film Festival competition and still more grace the showcase film selection. Each one epitomizes some aspect of the festival's mission to champion women and diversity in media.
Web Watch
Find a full list of the competitive films, along with trailers and more information, visit bentonvillefilmfestival.com, and view "Our 2016 Competition Films."
Screening Wednesday is "Te Ata," a Chickasaw Nation production based on the true story of Te Ata, also known as Mary Thompson Fisher, one of the pioneering Native American performers of the 20th century.
Directed by Nathan Frankowski, the feature film stars Q'orianka Kilche, known for her role as Pocahontas in "The New World," Graham Greene, whom you may remember as co-star of "Dances With Wolves" and Gil Birmingham, who rose to fame through his portrayal of Billy Black in the "Twilight" series.
Jeannie Barbour, who researched and developed the story, says it's a tale that anyone can enjoy.
"It's a story of a young [Chickasaw] woman who came from a really small town. She had hopes and dreams and really wanted to pursue those, so she made a plan, set forth and reached for the stars," Barbour says of its universal values. "It's a great story not just for Chickasaw people and children, but anyone who had a dream or wanted to accomplish something big in life."
As a creative director for Chickasaw Nation, Barbour researches Native American history and culture with the goal of telling stories in books and periodicals from the tribe's unique perspective -- an entry point that is more rare than you'd think.
"We want to make sure most of our projects are told from our point of view," Barbour says. "So many times, they're not told from our point of view, and it gives a skewed idea of who [Chickasaw Nation] is and what we're about."
Te Ata herself was a girl dreaming of the big stage.
The first Native American to graduate from Oklahoma Women's College, now known as the University of Science and Art of Oklahoma, she went on to study at Carnegie Institute, one of the most prestigious theater schools at the time, and was aspiring to Broadway when she realized her true calling was preserving Native American culture by collecting and performing various tribes' songs and dances.
In New York, Te Ata performed for former first lady Eleanor Roosevelt, which put her in a variety of social circles to perform for wealthy art patrons at teas and other events. Her most notable performances were the first state dinner at the White House during president Franklin Delano Roosevelt's time in office and one in Hyde Park, where she was the first Native American to perform storytelling for King George VI and Queen Mary.
In the time before TV and radio, Te Ata traveled the country with a troupe of actors, poets and singers who were, for some towns, the only way to soak in a bit of culture.
"The more she performed and gave lectures, the more she realized how important it was to preserve Native American culture and history and revitalize it," Barbour says. "As she traveled, native people would share with her their stories, songs and dances ... Many tribes don't always share that with outsiders ... but they gave her permission, so she began collecting those."
Bill Anoatubby, governor of the Chickasaw Nation, felt "Te Ata" was the perfect way for non-native people to learn about Chickasaw culture.
"She was a great ambassador for Chickasaw people and for all Native Americans," Anoatubby said in a press release. "Her life's work helped bridge the divide between diverse cultures."
Te Ata is just one of the many films doing that.
Documentary "Raising Bertie" portrays a coming-of-age story of African American men in the rural South. It's made by Kartemquin Films, which produced 1994 documentary "Hoop Dreams" and 2011 film "The Interrupters." As Junior, Bud and Dada grow up, they learn to "navigate school, unemployment, violence, first love, fatherhood and estrangement" while forming their identities.
From Michael Fiore Films is documentary "Floyd Norman: An Animated Life," about the life and career of Disney's first African American animator, known for "The Jungle Book," "Mulan" and later, Pixar's "Toy Story 2" and "Monsters, Inc." Through interviews, some with actor Whoopi Goldberg, "Maleficent" producer Don Hahn and animator Leo Sullivan, viewers learn why racism wasn't Norman's greatest obstacle.
Featured too are a number of films that emphasize women's roles in the media, such as "The Incomparable Rose Hartman," a documentary about the pre-paparazzi female photographer whose iconic images were celebrities of the Studio 54 era. It's screening May 6 in Bentonville.
"I have to say it's an honest portrayal of a woman with tons of grit," says Sally Antonacchio, executive producer of the film and owner of The Artist Company. "She had to fight the boys ... back when nobody else was doing [this type of photography]. She was in the trenches with men."
Hartman is an over-the-top personality who found ways to spend time with celebrities behind the scenes and get photos of their everyday existence, long before anyone else did.
"She'd show up to these parties, bring her camera, be dancing and having fun, then she would go scope out an important person, wait for the right moment and take [just] one photo ... and she took no posed pictures," Antonacchio says. "She just did it, put the camera back down and went back to dancing."
Most iconic of Hartman's photos are one of Bianca Jagger on a white horse and others of Carolina Herrera, Andy Warhol, Donna Karan and more recently Jennifer Lopez, Kate Moss and Johnny Depp. The images are in collections with Saks Fifth Avenue, the Patterson Museum and the personal collections of many celebrities.
More than 100 hours of filming interviews with Hartman's friends, enemies and competitors went into "The Incomparable Rose Hartman," which was condensed to 70 minutes.
For more female-written, -directed and -focused films, see "Good Enough," which was produced by an all-female team; "Big Sonia," whose protagonist is a Holocaust survivor; "Citizen Soldier," whose executive producer, Wendy Anderson, formerly with the Obama administration, is an alumna of Hendrix College in Conway; and "The Founders," a documentary about the 13 women who began the LPGA.
NAN What's Up on 04/29/2016