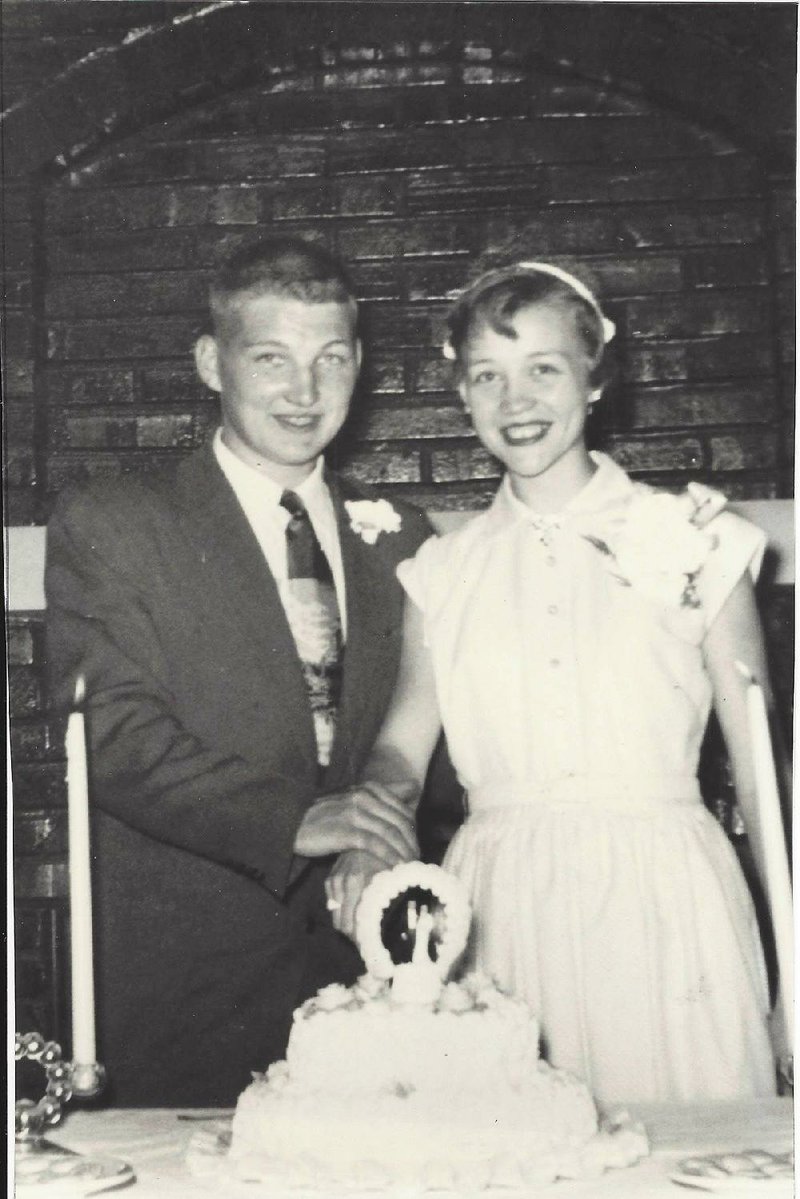 Fred and Carolyn McCarty on their wedding day, June 4, 1955
It was Fred McCarty's birthday and his friend got him ... a date.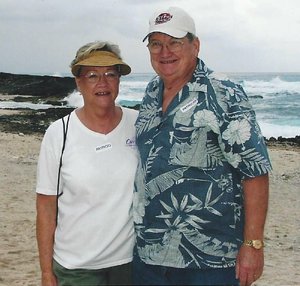 Carolyn Miller dropped out of high school before her senior year, after she and Fred McCarty married. She got her GED in the early 1970s, then got her nursing license in 1976, during the time Fred was studying to become a minister.
He was to turn 17 on June 4, 1954, and his friend was dating a carhop at a drive-in not far from where the boys had a car garage in Danville, Ill.
The first time I saw my spouse:
She says: "He had greasy coveralls on and I thought, 'Yuck.'"
He says: "I knew she was a beautiful young girl."
On our wedding day:
She says: "I was nervous."
He says: "I had to get up and go to work the next morning."
My advice for a long, happy marriage:
She says: "Make a commitment and honor that commitment. Marriage is a lifelong job, so to speak, and you have to work hard to fulfill that commitment and get the rewards from that job. The rewards are happiness and peace."
He says: "It took me a long time to learn it, but God has given us two ears and one mouth and that means we're supposed to listen twice as much as we speak."
One day before his birthday, the boys went to the drive-in to grab lunch. Fred didn't meet Carolyn Miller, but she saw him that day. She noticed him -- covered as he was in "grease monkey" grime.
She had no idea at that time that their friends were planning to arrange a blind date for them a few days later.
"I was a little scared about going out," she says. "I didn't know who or how he was going to be or what he really looked like or anything like that."
Fred was cleaned up, and dressed in jeans and a short-sleeve shirt as he waited in the car with his friend while the girlfriend went to the door to get Carolyn.
"It was a pleasant evening," she says.
Naturally, Fred and his friend became lunch regulars at the drive-in.
"We would let her carhop our car," he says of Carolyn. "They would both be out there before it was all done with," he says of the girls.
Fred and Carolyn soon discovered they liked roller skating.
"We roller-skated together probably five nights a week, and the only reason we didn't do six is because they weren't open," he says.
The pair spent a good deal of time at Fred's house, too, watching I Love Lucy on television.
"My family didn't have a TV," she says, but his parents "were very, very sweet. I learned a lot from his mother -- some cooking tips and all that. They were very welcoming."
Before the start of school in the fall, Fred told his mother that he and Carolyn wanted to get married. His mother told him their nuptials would have to wait.
"I don't remember the engagement part of it. We just decided we wanted to get married. We were just youngsters then but we wanted to be grown-ups and do what grown-ups do. When I told my mama that we wanted to get married, my mama told me we couldn't get married until after my graduation. I was just starting my senior year that fall," Fred said.
Somewhere around the beginning of 1955, Fred's friend, the one who had introduced him to Carolyn, began chastising him for their serious relationship. Fred succumbed to peer pressure and told Carolyn they shouldn't see each other as often.
"After about a week of that I'd had all I wanted" of being apart, "so we just picked back up where we left off."
Fred graduated from high school on June 3, 1955. The next day he picked up Carolyn and took her to his parents' house.
"We walked down the street, down to the next block, and the man down there was a preacher at a Church of Christ and he married us right there in his living room," Fred says. "I wore the same suit I graduated in. It was the only one I had."
He had to be at work the next morning. It was two years later that they found time to go on a honeymoon. They went for a long weekend in Kentucky, exploring caverns and sightseeing, but were homesick within two days. And their money was running low.
On their way home, they got a speeding ticket. Fred pulled together all the money he had to pay the ticket but was still a little short. Carolyn dashed out to their car to get a jar full of change they had collected. In her hurry, she fell and scraped her knee.
"I think that's why they felt sorry for us and gave us a dollar back, so we could get a cup of coffee on our way home," Carolyn says.
Carolyn dropped out of high school before her senior year. She got her GED in the early 1970s, while living in Barstow, Calif. In 1976, they moved to Texas so Fred could go to college and then to seminary. She got her nursing license there in 1977. He pastored Baptist churches in Texas before they moved to Cabot in 1994. She retired from the state of Arkansas as a home health nurse. Fred was pastor of Harris Chapel Baptist Church in Pangburn until last year, and is looking for a new church.
The McCartys have three children: Connie Silva of Barstow; Sherry Wooley of Little Rock; and Vet McCarty of Jacksonville, Texas. They also have 10 grandchildren and 21 great-grandchildren, with another one due in December.
They will celebrate their 60th anniversary with a 1950s-theme party, including a performance by the Sweet Adelines International group, Top of the Rock Chorus.
"Some years were better than others," says Fred of their time together, "but we just never parted with one another and haven't had the desire to."
If you have an interesting how-we-met story or if you know someone who does, please call (501) 378-3496 or email:
High Profile on 05/31/2015
Print Headline: To her joy, 'grease monkey' cleaned up nicely
Sponsor Content
Comments