VILONIA -- A small, white quilt with about 100 tiny squares, each bearing a reminder of the Holocaust, hangs on a wall in the Kiva room at Vilonia Middle School.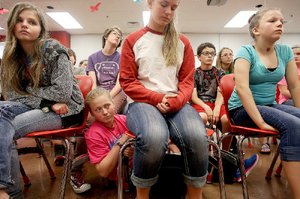 Photo by Melissa Gerrits
Students in Linda Knapp's seventh-grade classes listen to a discussion after Skyping with a Holocaust survivor Wednesday at Vilonia Middle School. The class did extensive research on the Holocaust.
Pink, blue, red and yellow paper butterflies dangle from the ceiling.
And not far from them was a screen where students watched Holocaust survivor Magda Brown of Skokie, Ill., while they chatted with her by phone as part of a literacy project.
"It was a lot more heartfelt than any of the research we had done," Colin Ratliff said of his and the other students' conversation with Brown.
The video conversation, conducted through Skype, culminated two months of research conducted by more than 80 students in Linda Knapp's literacy and pre-Advanced Placement literacy classes for seventh-graders.
Knapp had taught the project before, but this year was the first time her students got to talk with a Holocaust survivor -- specifically Brown, who lives in Skokie, Ill., and belongs to the Speaker's Bureau of the Illinois Holocaust Museum & Education Center.
Brown, who grew up in Hungary, turned 17 on June 11, 1944 -- the day she, her family and 80 other people were forced onto a railroad box car and taken to the Auschwitz-Birkenau concentration camp in Poland, according to her website.
"They [the Nazis] treated people like animals ... gave them numbers," student Chance Gilchrist said.
Before Knapp's students even knew about Brown, they began researching the Holocaust with the help of books, the Internet, film documentaries and more. Knapp required them to investigate five concentration camps and find out such details as how many people went to each and how many people died there.
The students also examined the types of torture used, and they studied Holocaust-related transportation methods. For example, Kindertransport, German for "children transport," was the name given to Great Britain's pre-World War II rescue mission to help Jewish children flee to the United Kingdom by boat or train.
Knapp's students learned about key figures, good and bad, who lived during the Holocaust, from Adolf Hitler and Josef Mengele, a Nazi physician who experimented on prisoners at Auschwitz, to German Oskar Schindler who saved more than 1,200 Jews, and a young Jewish girl close to their own age -- Anne Frank.
Most of Knapp's seventh-graders are 12 and 13. Anne was 15 when she died at a concentration camp in 1945.
The students also studied about Holocaust survivors. During her research, Kaylee O'Lone discovered Brown's website -- www.magdabrown.com -- and later emailed Brown several questions on behalf of the literacy students before they did the video interview.
"Did you have any family members that made it out of the Holocaust?" the children asked.
"Only my brother and 5 cousins," Brown replied.
"What did they do to you and your family?"
"Upon arrival [at] Auschwitz they put them in the crematoriums and burned them alive."
Answers like those helped the students better grasp the horrors of the Holocaust.
"I never really knew how cruel people could be," student Wesley Flowers said.
"You could research all you wanted to, but she [Brown] gave us things that wouldn't have been on the Internet," Abbi Bushong said.
One thing that struck Abbi, for instance, was Brown's story about the day in 1945 when she and several other prisoners escaped during what Brown has described as "a death march." After fleeing, they hid in piles of straw in a nearby barn. A day and a half later, two American soldiers rescued them.
Other children kept remembering Brown's account of working with other Jewish Hungarian women at a German munitions factory, where they filled bombs and rockets with liquid chemicals, causing their skin to turn yellow, their hair orange and their lips purple, according to Brown's website.
"Hitler said he was doing all this torture and killing for God," student Leah Mikeal said.
"It kind of makes me think of ISIS -- what they're doing to Christians," D.J. Farrior said.
Audrey Loyd said she had thought Jews were the only victims of the Holocaust but has since learned that homosexuals, undesirables and gypsies were also targeted.
Lydia Grace Outlaw thought it was interesting that Hitler "wanted to make a perfect race with blue eyes and blonde hair." But she noted, "He wasn't anything like that."
"I learned to never judge people [based] on what they believe in and always treat people the way you want to be treated. Jews are people, too," Benjamin Land said.
Josh Huskey said he now understands "that the world is always going to be cruel" but that when something bad happens, people should not "just go with it but try to stop it."
Knapp said the children plan to send Brown the quilt they made with the help of a student teacher as a gift for Brown's 88th birthday next month.
They also will send her group "book" projects they made, each consisting of several poster boards on which the students wrote and illustrated parts of the Holocaust. One, for example, is titled "Die Ermordung der Juden The Killing of the Jews" and spells the Holocaust in Hebrew.
Brown then plans to display the books at the museum where she works, Knapp said.
Brown said it's important that she talk with young people about the Holocaust.
"The main purpose is to teach the children ... it should never happen again," she said. "When I tell my story step by step, it makes them realize how rapidly one can lose her freedom and country and valuables in addition to the emotional aspect of losing your family. It is done for actually no reason, just hatred."
Brown said she is honored that the students plan to send her the quilt and the book projects.
"The responses from these children are worth a billion dollars," she said.
Knapp hopes to do the project again with her students next term. But this time she wants to add another element -- the internment camps where Japanese-Americans were held in this country during World War II.
State Desk on 05/18/2015