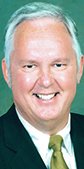 Ray Gosack
FORT SMITH -- Ray Gosack announced Friday that he was retiring from his position as city administrator, ending nearly 17 years of service to Fort Smith.
"After more than 31 years in city management, the time has come for me to begin the next season of my life," he said in an email Friday to department heads and associates.
In a retirement letter to Mayor Sandy Sanders and the Fort Smith Board of Directors, he said his effective retirement date is Aug. 10, but his last day of work was Friday, so he could use up his accumulated vacation time.
"This is a great loss to the city and the people of Fort Smith," Sanders said of Gosack on Friday morning. "He is a man of integrity and the highest ethical standards."
Sanders said Gosack always worked with the best interest of Fort Smith residents in mind. He said he will miss Gosack's expertise and wished him well.
Gosack asked for an executive session with the directors at the end of Tuesday's regular meeting. Sanders said Friday that Gosack informed the directors then of his intention to retire.
The directors met in a special meeting Friday afternoon. After a two-hour executive session, they voted to name deputy administrator Jeff Dingman as acting administrator.
The directors also told city human resources director Richard Jones to identify professional firms they could consider hiring to begin the search for a new city administrator.
In his retirement letter to directors, Gosack listed 13 accomplishments of which he had a part during his 16 1/2 years as deputy administrator and city administrator.
Among them were the adoption of the city's first comprehensive plan, development of long-term water supply and landfill capacities, economic development and job creation in the region, downtown revitalization, keeping the city government financially solvent during a recession and nine successful tax referendums that demonstrated confidence in the city government.
He also complimented the city staff as being one of the most professional and progressive in Arkansas.
"From top to bottom, the city's work force is committed to providing exceptional citizen service," he wrote. "They will continue to serve residents, businesses and visitors well."
Gosack, 57, a native of Greenwood, served as administrative assistant in the Fort Smith Utilities Department from March 1985 to November 1988.
From 1988 to 1999, he was assistant village manager and director of management services in Homewood, Ill. He returned to Fort Smith in January 1999 to serve as deputy administrator until he was named city administrator Jan. 4, 2011.
Gosack's retirement is one of three recent changes in top administration positions for the city. The retirement of finance director Kara Bushkuhl, who has held the position for 35 years, was announced last month. Her retirement will be effective Oct. 6.
Doug Reinert took over as director of parks earlier this year, replacing Mike Alsup, who resigned last year to take a job in a different state.
NW News on 07/11/2015
Print Headline: Administrator in Fort Smith retires after 17 years with city
Sponsor Content
Comments