It was a great year for hostile butterflies, 20th-century American modernists and Little Rock multimedia artist Delita Martin.
But 2014 may well be remembered as the year of Arkansas-born artist Carroll Cloar.
The impact of three Cloar shows plus two new books about him gave the Arkansas native a high profile in his home state and elsewhere.
The best part of the Cloar-nado? Seeing his masterpiece Children Pursued by Hostile Butterflies in two versions at three shows -- the painting was at the Arkansas Arts Center's "The Crossroads of Memory: Carroll Cloar and the American South" (also in the excellent catalog the Arts Center organized and published) and the South Arkansas Arts Center's "Carroll Cloar's Arkansas," and the drawing was hanging at Greg Thompson Fine Art's "Carroll Cloar: A Road Less Traveled."
"Carroll Cloar's Arkansas" presented a number of pieces that haven't been on view publicly, including the magical Spring in Mabelvale, which could be considered a Cloar masterwork.
Cloar was not the only high point of an epic year.
Crystal Bridges Museum of American Art in Bentonville and the Arkansas Arts Center in Little Rock made the case that Arkansas is becoming a major player in American modern art.
"It seems inevitable that people will increasingly come to Arkansas to see and study American art," said Ruth Fine, former curator of Modern Prints and Drawings and Special Projects in Modern Art for the National Gallery of Art in Washington.
Crystal Bridges showcased its co-ownership (with Fisk University) of the Alfred Stieglitz Collection, named after the champion of early 20th-century modern art and one of the world's most influential photographers. The collection is loaded with American modernist masterpieces such as Georgia O'Keeffe's Radiator Building -- Night, New York, plus works by John Marin, Arthur Dove, Marsden Hartley, Stieglitz and others.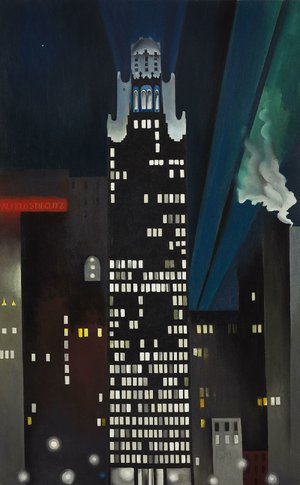 Georgia O'Keeffe Radiator Building-Night, New York Oil on Canvas, 1927 Alfred Stieglitz Collection, Co-owned by Fisk University, Nashville, Tennessee, and Crystal Bridges - Museum of American Art, Inc., Bentonville, Arkansas.
O'Keeffe, who was married to Stieglitz, donated the works to Fisk and Crystal Bridges became a co-owner in 2012.
After "The Artists' Eye: Georgia O'Keeffe and the Alfred Stieglitz Collection" closed Feb. 3, the museum continued to exhibit pieces from the collection.
The Arkansas Arts Center finalized with the Marin estate a stellar donation of 290 watercolors and drawings by the artist, who died in 1953. He is one of the most prominent of American modern artists.
"While the Marin collection at the National Gallery may be larger, it will be difficult to do serious work on this major American artist without a visit to Little Rock," Fine said.
Crystal Bridges also set its sights on emerging American contemporary artists in 2014. After scouring the country for the next wave of important talent, the museum opened "State of the Art: Discovering American Art Now" on Sept. 13. The sprawling show, which ranged from sublime to head-scratching, had work by artists from each state. Four Arkansans -- Little Rock's Delita Martin and Guy W. Bell, Fayetteville's Linda Lopez and Jonesboro's John Salvest -- were included. It closed Jan. 19.
The museum also opened "The William S. Paley Collection: A Taste for Modernism" on March 15. It featured the leading lights of European modernism such as Henri Matisse, Pablo Picasso, Edgar Degas and Paul Cezanne, all of whom exerted a profound influence on American artists.
Crystal Bridges organized a companion exhibit of American modernists from its permanent collection, "The European Connection," which included three works by Alfred Henry Maurer that had not been exhibited at the museum.
...
It was a breakthrough, high-flying year for Delita Martin, a multimedia artist represented by Boswell Mourot Fine Art in Little Rock.
Along with a fine show at the Heights neighborhood gallery, she expanded her family inspired vision with a stunning exhibit of larger-than-life-size works at the Arts and Science Center for Southeast Arkansas in Pine Bluff. "I Come From Women Who Could Fly," inspired by the stories her family told, included three pieces that were also shown in Crystal Bridges' "State of the Art" exhibition.
Martin's first show of 2015, "Beyond Layers," explores identity and the role of black women in their family and community. It hangs at the Argenta branch of Laman Library in North Little Rock through Feb. 13.
El Dorado's South Arkansas Arts Center hosted a fabulous exhibit of works by self-taught artist Clementine Hunter, hailed as a black Grandma Moses. The late Theodosia Murphy Nolan collected Hunter's work and "Clementine Hunter: The Nolan Collections" presented 74 of those pieces at the SAAC.
Hunter, who never traveled far from her northern Louisiana home, painted her life's experiences of living and working on plantations. She had a vivid sense of color and a bold, exuberant style. Her work is in the Smithsonian American Art Museum and other major museums.
Most artists are thrilled to have one or two shows in a year. Arkansas' first artist laureate, engraver and printmaker Evan Lindquist of Jonesboro had five that ran concurrently last year, including "Evan Lindquist: Laureate" at M2 Gallery in Little Rock. As gallery co-owner Mac Murphy said of Lindquist: "His intricate line work is unmatched." Verily.
...
There were many good and some great museum and gallery shows in Arkansas last year. From masterpieces to works fresh out of the studio, a number of images continue to haunt and move me. Among them:
• The powerful drawings of William Beckman, especially those of the artist and his ex-wife, which looked and felt like a documentary of a marriage unraveling. "William Beckman: Drawings, 1967-2013" hangs through Feb. 1 at the Arkansas Arts Center.
• David Bailin's unsettling Slippage won the top prize at this year's Arkansas Arts Center Delta Awards exhibition. The Little Rock artist's 78-by-83 inch, mixed-media work depicts an agitated suburban neighborhood where trees tilt, the sky is charged and furious vortexes surround a man's upper body. It brilliantly captures a disconnected reality, a suburban dream turned nightmare.
• Jawshing Arthur Liou's otherworldly and brilliant Kora at "State of the Art" at Crystal Bridges. This ultra high-definition video is an inspiring, emotional and unsettling look at the artist's pilgrimage to Mount Kailash in western Tibet, a mountain sacred to four faiths. It gets my vote for best of show.
Also impressive: Vanessa L. German's mixed-media sculptural assemblages, particularly White Naptha Soap, and Dan Witz's Vision of Disorder, an oil and digital media triptych on canvas depicting a mosh pit.
• Delita Martin's folkloric and autobiographical The Dream Keeper, in her show "I Come From Women Who Could Fly" at the Arts and Science Center at Pine Bluff, was one of three pieces by the artist in Crystal Bridges' "State of the Art" show.
• From the Steiglitz Collection at Crystal Bridges: Georgia O'Keeffe's Radiator Building -- Night, New York, one of American modernism's best; Stieglitz's groundbreaking "The Equivalents" series of cloud photographs; and Arthur Garfield Dove's luminous 1928 oil Moon.
• At Crystal Bridges' Paley exhibition: Henri de Tolouse-Lautrec's portrait M. de Lauradour, showing the influence of American James McNeil Whistler; the unspeakably lovely charcoal drawing Two Dancers by Edgar Degas; and Paul Gauguin's mythic Tahiti canvas The Seed of the Areoi.
• Louisiana folk artist Clementine Hunter's vivid Wedding and self-portrait Clementine Hunter Holding a Chicken.
• Cloar's masterpieces Children Pursued by Hostile Butterflies, Faculty and Honor Students, Lewis School House and Where the Southern Cross the Yellow Dog.
• The spiritually imbued impressionistic paintings of Little Rock's Elizabeth Weber, which can draw one deeper into the canvas, the spiritual journey and into one's self. A late summer show at Boswell Mourot Fine Art by Weber and Virmarie DePoyster was a striking step forward for both artists.
• Several images from "Face to Face: Selections From the Jackye and Curtis Finch Jr. Collection," a rich show of artists' self-portraits at the Arkansas Arts Center: Little Rock artist Aj Smith's silverpoint (he also had a wonderful retrospective at Hearne Fine Art); Alex Queral's unforgettable work made from a carved telephone book, black paint and polymer; and a magnetic sculpture by Michael Ferris Jr. from recycled wood and acrylic pigmented grout.
"Face to Face," curated by Brad Cushman, gallery director at the University of Arkansas at Little Rock, hangs at The Baker Museum in Naples, Fla., through April 12.
• New work by John Deering, the Democrat-Gazette's editorial cartoonist, showed significant artistic growth. Works in his Cantrell Gallery show "The Arkansas Traveler" conveyed a personal, romantic realism, imbued with warmth and a new depth of feeling.
• At the "Best of the South" exhibit at Greg Thompson Fine Art, Edward Rice's 64-by-58 inch Icon II was a show-stopper. The Georgia painter's bright canvas depicts a yellow piggy bank in a yellow dress sporting huge red lips. Funny, but it also was a wry commentary on greed. Also inspiring was magical realist painter Sheila Cotton's gorgeous oil Ghost, a striking landscape charged with premonition.
• The folksy, undeniable charm of Emily Wood's warm and increasingly sophisticated paintings on wood at Gallery 26 in Little Rock.
• The Butler Center at Central Arkansas Library presented a number of thoughtful shows, none more moving than "Drawn In: New Art from WWII Camps at Rohwer and Jerome," an exhibit of artworks by Japanese-American internees who were held there.
• Democrat-Gazette photographer Benjamin Krain's eye-popping, color-saturated photographs at Gallery 26 were printed on metallic paper.
Style on 01/25/2015