Susan Hutchinson watched her husband lose his first four races for political office without ever wondering if he might be wasting his time. Actually, she did a lot more than watch, throwing herself into each campaign and wiping the slate clean afterward.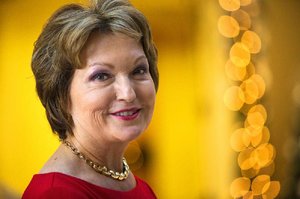 Photo by Melissa Gerrits
Susan Hutchinson December 22, 2014 at the Governor's Mansion in Little Rock, AR.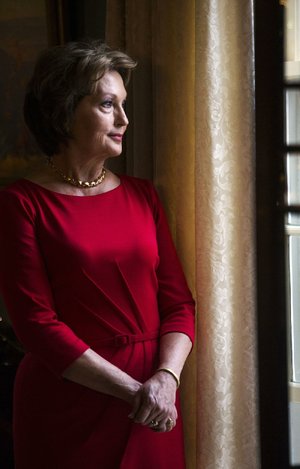 Photo by Melissa Gerrits
Susan Hutchinson December 22, 2014 at the Governor's Mansion in Little Rock, AR.
"We don't count 'em," she says today of those losses. "It's like his Mamaw said, 'The shame is not in losing, the shame is in not trying.'"
Like Lincoln, who famously lost some big political bids before finally winning it all, Asa Hutchinson's persistence has paid off. On Tuesday he'll be inaugurated as Arkansas' 46th governor.
Susan proved she was made of similar stuff some 40 years ago. As she tells it, Asa had written her a goodbye letter after college, telling her he'd be attending law school in Fayetteville rather than near her Georgia home. Nimbler and more determined than he took her for, Susan gave up her own plans for graduate school and took a job teaching in Memphis -- close enough to continue the courtship.
"I only went halfway," she said, her eyes lighting at the memory. "He was pretty impressed. He liked that."
"That's right," he says. "I had determined I was going to get out of school scot-free and unattached. Life had a different path, and when she got to Memphis, everything changed."
For the better, he's quick to add.
"She's played an essential role every step of the way, both in terms of being on the campaign trail as needed, but also working on keeping a strong family throughout all those challenges. There are not many wives, if any, that would go through the political campaigns and challenges that we have faced and still be excited about the future opportunities."
Arkansas' next first lady is a 64-year-old grandmother of five who enjoys challenging her husband in Scrabble and pairing with him in doubles on the tennis court. Friends describe her as devoted to her family and faith, intensely interested in current events and an advocate for children.
She plays the piano in church, calls herself more conservative than her husband, and was once targeted by white supremacists.
Stephanie Blevins, who met Susan while working on one of Asa's campaigns, said it isn't easy being a political spouse, especially when that's just one aspect of her life.
"You get really tired. You get really beat. She just plows on through, she keeps going. She's babysitting, she's cooking, she's bringing food for Bible study. I don't know how she does it."
"I notice that whenever we receive a report about somebody who's been hurt or harmed, she responds with a nurturing spirit," says Barbara Phillips, whom Susan recruited to the board of the Children's Advocacy Center of Benton County, "always feeling for the person."
She knows how to get things done, too, whether it's throwing a charity tennis tournament or playing doubles with Asa, Phillips said.
"She always puts him at the net. Him being tall, she doesn't have to do as much in back."
The Hutchinsons moved several years ago to Pinnacle Hills, a gated community in Rogers known for welcoming transplanted Wal-Mart executives (its golf course hosts the Ladies Professional Golf Association's Wal-Mart NWA Championship).
In December, Susan took a break from decorating for Christmas to talk about herself. She wore a red sweater and pointed to numerous representations of cardinals -- her favorite bird -- that adorned the house.
"I've never lived in a neighborhood like this before," she said, looking out the window.
She grew up "as blue collar as you can get" in Atlanta. Her father's family was all but wiped out by tuberculosis, his own education severely limited by the time he spent in a sanatorium. Her mother's background was hardly better. She started work in a dress factory at 14, a few years after her father was killed by a drunken driver. She married when she was 16.
Susan's father tried a succession of jobs, finally finding traction in the tire business. Susan was the second of seven children.
"They had good aspirations for us," Susan said. "They knew how handicapped they were by education. We were expected to make straight A's and not get in trouble in school."
Valedictorian of her high school class, Susan started college at Georgia State University in Atlanta, a move she still regrets. She was serious about her education and uninterested in the social upheaval then roiling many college campuses. She found a better fit the next year at Bob Jones University, the conservative Christian university in Greenville, S.C. She studied biology and chemistry, intending to become a doctor. However, she was also open to marriage if she met the right man.
That happened during her senior year in college, when a tall, lanky student from Arkansas sat down across the lunch table from her. He was dating someone else at the time, but she quickly decided that she was the right one for Asa. He finally asked her out after she showed up at several of his debate team performances.
Susan says they were both interested in politics and shared many of the same beliefs and aspirations. She appreciated that Asa wanted to know what she thought about things, not just share his own opinions.
In Memphis, Susan found a job teaching science in a church-run school. Asa took the initiative after her move, traveling across the state at least once a month to see her. Once he hitched a ride with a trucker. At the end of that weekend she drove him back across the Mississippi River to West Memphis to catch a ride back. She says he proposed marriage on her birthday, one year after their first date.
'ASA IS THE REPUBLICAN'
The newlyweds settled in Bentonville in 1974. Susan gave birth to their first child, Asa III, a year later.
"He was a young man in a hurry," Susan said of her husband.
Asa finished law school and lost his first race in the Republican primary for justice of the peace when he was 25. He next ran for the job of prosecuting attorney. "He said, 'Here's a phone book. Make a few calls,'" Susan remembers.
On election night, Susan heard a radio station report that the election had been decided in the Democratic Party primary. She called the station.
"I said, 'Hold your horses, there's a general election and Asa is the Republican candidate.'"
Asa lost the general election. Susan said her husband had been warned that he'd never succeed in politics as a Republican in Arkansas.
"People always liked him," she added. "They just voted Democrat."
But the family and Asa's law practice thrived. The couple attended church with Asa's parents, and shortly had two more children -- Sarah and John Paul. While party affiliation may have hurt Asa in popular local elections, it was rewarded nationally in 1981 when President Ronald Reagan named him U.S. attorney for the Western District of Arkansas, making him the youngest such prosecutor in the nation.
The Hutchinsons moved to the district headquarters in Fort Smith, where Susan expected her husband would make a steady income in a "nice, quiet job."
"Then it all broke open," she said.
"It" was her husband's prosecution of a white supremacist organization known as The Covenant, The Sword, and The Arm of the Lord, whose members had engaged in murder, robbery and other crimes. At one point, Hutchinson put on a flak jacket to negotiate the surrender of CSA members who had holed up in a heavily armed compound during a three-day standoff.
"Asa was calling me every day and saying, 'Susan, you've got to keep praying,'" remembers Susan, who had given birth to her fourth child, Seth, not long before.
Testimony in subsequent trials revealed that Susan and her children had been in danger, too, although they didn't realize it at the time. One day in December 1983, Richard Wayne Snell -- later tried, convicted and executed by the state for murder -- and three other CSA members had set out for Fort Smith intending to assassinate Asa.
"If me or one of the kids answered the door, they were going to kill us, too," Susan said.
A winter storm derailed the plan and left Susan more confirmed in her faith than ever.
"It's almost like we say it philosophically, 'God protects us, God looks after us.' We pray like that. You think you believe all that, but then when you find out specifically what happened, it's like, He really did. And you realize how little you had believed. It absolutely rocks you."
DEA, DHS, BTW
Asa lost races to Sen. Dale Bumpers in 1986 and Attorney General Winston Bryant four years later.
"It hurts to lose," Susan said, but "did he ever think he let me down? No."
Asa co-chaired the Arkansas Republican Party for five years. In 1996, he won his first election, to the U.S. House of Representatives for Arkansas' Third District, a seat that his older brother, Tim, had held.
Susan stayed in Fort Smith -- "I had two teenage boys," she said -- while Sarah accompanied her father to Washington.
"That was an important call for us to make, that she would stay here," Asa said. "She missed out on a lot because she made that decision, but I'm so grateful for her doing that."
"He came home every weekend," Susan said.
And Susan kept busy in Fort Smith. She worked as a substitute teacher, served on the boards of the local American Heart Association and Alzheimer's Foundation of America and was active in the Republican Women's Club in Fort Smith.
"I think it makes your marriage more interesting if you're both developing," she said.
In 2001, President George W. Bush appointed Hutchinson head of the Drug Enforcement Administration. With her children now grown, Susan followed Asa to Washington.
"It's unreal, it's not normal, it's not Arkansas, I can tell you that," Susan said of that city. In the next breath, though, she says Washington contains "some very serious people who don't lose faith." Susan says she regularly met with a group of people -- some of them household names -- to discuss spiritual matters.
In 2003, Bush asked Asa to lead the largest division of the Department of Homeland Security, which had been set up after the Sept. 11, 2001, attacks.
"He was leaving like at 7 in the morning and hopefully getting home by 8 at night. There were times when we weren't allowed to take any kind of side trips because they wanted him to stay within 25 miles" of work.
Asked whether she ever enjoyed the glittering receptions, access to powerful people and other supposedly glamorous aspects of life in the nation's capital, Susan said, "It's not like that movie [The American President] where Michael Douglas is president. No, uh-uh."
HOME, AND HOME RUN
The Hutchinsons returned to Arkansas, and Asa ran for governor in 2006. He lost narrowly to Mike Beebe. Asa started off behind in the polls and never tipped the scales, but "we always run or take on a race because we think that's what we should do," she said.
She was surprised by her husband's decision to run again in 2014. Asa's law practice and consulting business were thriving; their grandchildren were frequent visitors. "I thought, OK, this is what we're going to do this decade. He seemed happy and satisfied and content and everything."
There was no doubt she'd support the decision, and indeed, starred in her husband's first TV spot of the campaign, describing how the young Asa "got me with his smile" and promising voters he'd be "true to his word." This time, the tides favored Republicans.
"Arkansas had her eyes opened," Susan said. "It wasn't just us, it was everybody."
Asked if she's prepared to assume the role of first lady -- in effect the state's hostess -- Susan said, "I better be."
Asa said Susan has always been his sounding board, whether it's trying out opening statements in a court case or key phrases in a political speech.
"But that doesn't mean we don't have disagreements," he said.
By her own judgment she is "probably, um, more conservative than him" on issues such as vouchers for private schools, which she supports and Asa opposes.
As Arkansas' first lady, Susan hopes to advocate for more organizations such as the children's advocacy center on whose board she sits, noting that many of the state's residents do not have access to a similar resource.
"Child abuse happens everywhere," she said. "When it does happen, we need to know that positive steps can be taken."
She also hopes to promote musical opportunities for children, whether it's access to professional performances or inexpensive instruction. Susan has played the piano since she was a child, while Asa has been known to take out his trumpet at family occasions. All their children learned to play instruments.
"I'd love to see every child in the state learn to play an instrument, even if it's just for one year."
She hopes as many Arkansans as possible will take part in the activities surrounding Tuesday's inauguration. And she plans to stay "grounded" despite all the excitement of serving as the state's hostess by Asa's side.
"Life goes on. You're still being a grandmother, taking time for family and friends and remembering what's important in life. If you don't, any job will eat you alive."
High Profile on 01/11/2015